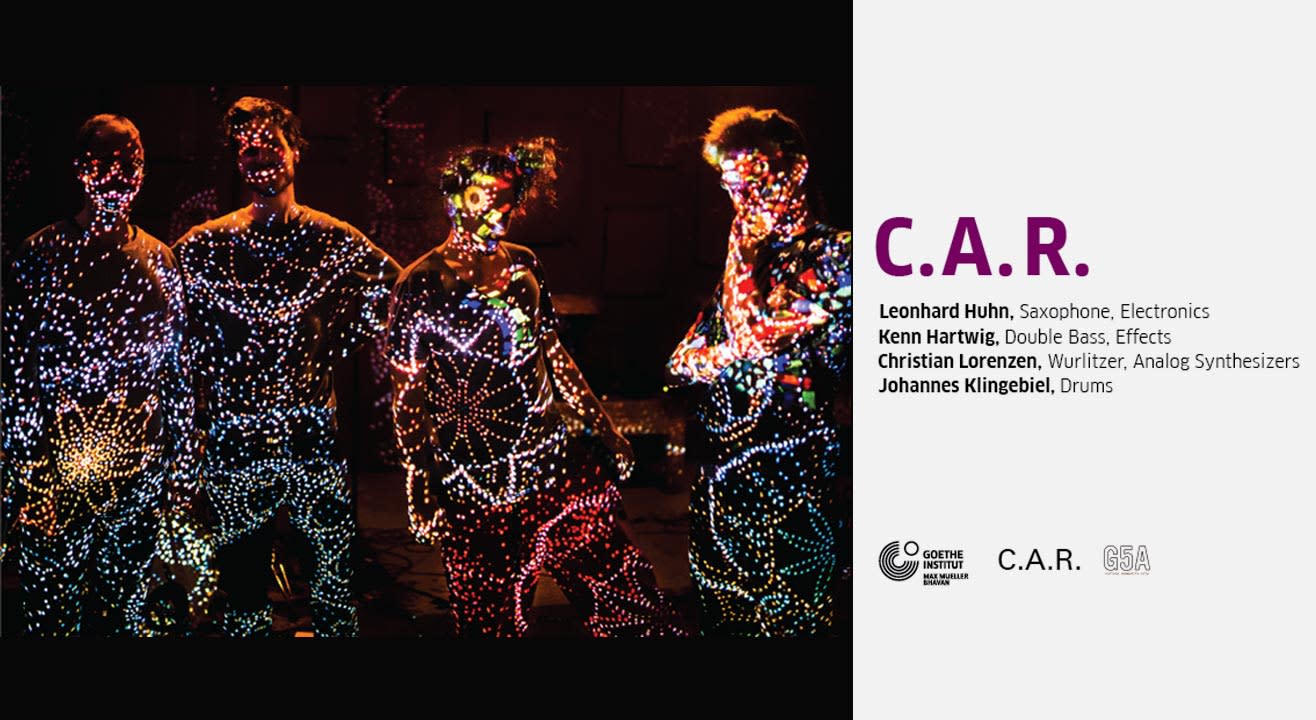 Music
C.A.R - Jazz and Electronics
G5A Foundation for Contemporary Culture, Mumbai
About
Four young musicians transform their musical faith into C.A.R., a quest for musical spirituality.


With flaming empathy, they develop a trip-like melange of jazz and electronics, improvisation and experiment, science fiction and film noir, krautrock and cyberpunk. Gleaming energy, kaleidoscopic thoughtfulness, subtle finesse and an undeniable love for the beat — capitalization of an intoxicating mix: C.A.R.


Line up:

Leonhard Huhn — saxophone, electronics

Christian Lorenzen — wurlitzer, synthesizers

Kenn Hartwig — double bass, effects

Johannes Klingebiel — drums
C.A.R. was founded in 2011 by Johannes Klingebiel and Kenn Hartwig in Cologne, Germany. Originally a quintet playing wild experimental jazz music with a pop approach, they eventually kicked the guitar and found their strength to be a subtly flowing melange of kraut-like arrangements infused with electronic and jazz sounds. Featuring drums, double bass, a wurlitzer stage piano, korg and oberheim synthesizers as well as an alto saxophone heavily altered by electronic effect devices, their tunes leave a lot of space for improvisation, but not in classical jazz way with one soloist dominating the music, but always as a delicate web of sound which has a potential to take their audience on an enticing trip. Among the highlights of the band ́s career were gigs at festivals such as at Fusion and L*abore.

The first album, "Beyond The Zero" was released in 2014 by the Swiss label Unit Records and was well received by audiences and critics alike. As of now, the follow-up EP "Interlude" was released in the summer 2017, while a new album was recorded in September.

"Delicate jazz textures with freakout noise and digital vamps. A journey worth taking."
- www.rockthebodyelectric.com

"Through a variety of electronic effects and a strong rhythm, their music becomes meditative indeed."
- Dietmar Ebert, Thüringische Landeszeitung

This event is presented by Goethe-Institut / Max Mueller Bhavan Mumbai.
The Goethe-Institut is the Federal Republic of Germany's cultural institution operational worldwide. They promote the study of German abroad and encourage international cultural exchange as well as foster knowledge about Germany by providing information on its culture, society and politics.
The G5A Foundation for Contemporary Culture is a not-for-profit organization, that supports contemporary art and culture, good governance, and sustainability. They believe that art and culture have the power to ignite change for the better – by challenging people to think critically, creatively, and courageously. Through a series of diverse programs and projects, G5A is committed to nurturing a vibrant, safe, and inclusive platform that encourages the creative and just – in thought and expression.
Venue
G5A Foundation for Contemporary Culture, Mumbai
Laxmi Mills Estate, Shakti Mills Lane Off Dr E Moses Road, Mahalaxmi Mumbai 400 011