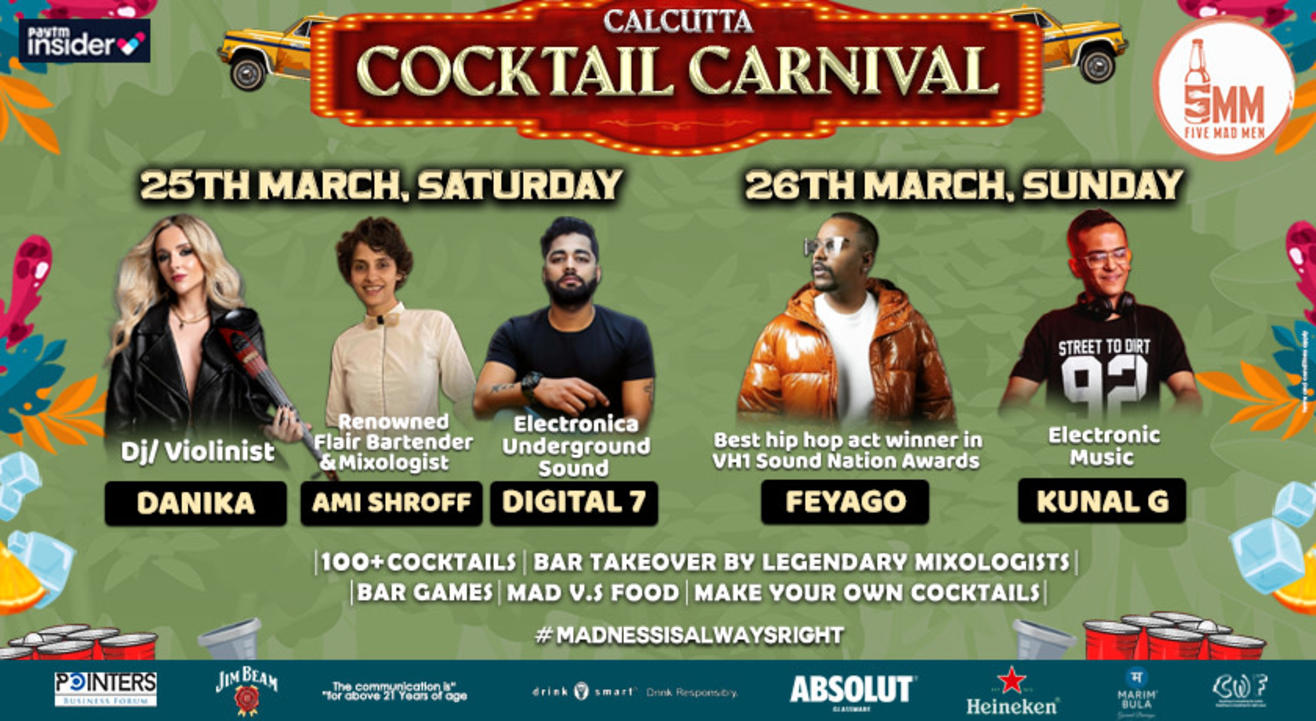 FIVE MAD MEN in association with PAYTM INSIDER, presents-CALCUTTA COCKTAIL CARNIVAL
March 25 | 1PM - March 27 | 1AM
Five Mad Men (5MM), Kolkata
Step out and enjoy this event
Invite your friends
and enjoy a shared experience
FIVE MAD MEN in association with PAYTM INSIDER, presents-CALCUTTA COCKTAIL CARNIVAL
March 25 | 1PM - March 27 | 1AM
Five Mad Men (5MM), Kolkata
Step out and enjoy this event
Invite your friends
and enjoy a shared experience
Invite your friends
and enjoy a shared experience
Something unforgettable & one-of-its-kind is coming to Kolkata, for the first time!
5MM x Paytm Insider, brings to you Calcutta Cocktail Carnival, a two-Day extravaganza for all the Cocktail lovers in the city of joy!
Apart from a range of 100+ cocktails & 10+ premium participating alcohol brands, the carnival will feature bar takeovers by renowned bartenders & mixologists in the city & the nation as well!
During the carnival, you'll also get to make your own Cocktails & get cocktails on the House for ONE WHOLE Year! Some additional entertaining affairs include a bunch of craziest of Bar Games with drinks on the House! A special event—MAN v/s FOOD—& Win Food and Drinks, on the House, for the next ONE YEAR!
Last but not the least, get to revel in an insane After party featuring some of the biggest names in electronic music industry!
All these sound pretty exciting and overwhelming, don't they?
Mark the dates—25th & 26th March, 2023—during which you're bound to feel satiated with numerous cocktails, performances, & games, only at the Coolest Spot for Gigs in town, Five Mad Men!
By accepting, holding or using a ticket, you acknowledge that you have read, understood, accepted and agreed to the full terms and conditions.
The organizer reserves the right to alter the schedule of the event without prior intimation.
The organizer, the venue and the ticketing company shall not be liable for any difficulties caused by an unauthorized copy or reproduction of this ticket and reserves the right to refuse entry to such ticket holders.
No refund on a purchased ticket is possible, even in case of any rescheduling, unforeseen circumstances or force majeure conditions.
Duplicate tickets will not be issued for lost or stolen tickets.
Each ticket admits only 1 person.
This a wristband access festival. In case wristbands are taken off, replacement wristbands will not be issued. Wristband removed or tampered with will be rendered invalid and will not be replaced.
Rights of admission are reserved, even for valid ticket holders.
Please remember to carry a valid government issued photo ID proof (Driver's license/ Aadhar card/ Passport). You may not be permitted to enter in the absence of a valid ID proof.
Liquor will be served to guests of Legal Drinking Age (LDA) only and on display of valid age proof. LDA bands will be provided at the venue on proof of age.
If an underage individual is found consuming alcohol, the ward's adult guardian will be liable for all resulting actions & consequences.
Artist line-up and event schedule can change without prior intimation.
The ticket permits entry to the festival venue only.
Security procedures, including frisking, remain the right of the management.
You agree that the creation, storage or use of any data or recordings, for any form of public advertisement, display, commercial gain or for any other purpose (except for your own enjoyment) is not permitted,without prior written permission from Five Mad Men
Please do not carry dangerous or potentially hazardous objects including but not limited to weapons, knives, lighters, guns, fireworks, laser devices and bottles to the venue. We may have to eject these things (with or without you) from the venue.
By virtue of purchasing a ticket, you agree and accept that entry to a live festival carries an inherent risk. The organizer/ sponsors/ performers/ management shall not be responsible for any claims, demands, causes of action, injury, losses, liabilities and expenses resulting or arising as a result of the festival or any part of it.
Consumption and possession of narcotics is strictly prohibited and those found possessing or consuming narcotics at the event will be immediately handed over to the anti-narcotics police.
Only sealed cigarette packs will be allowed inside the festival premises. Smoking will only be allowed in designated areas.
The management & organizers will not be held liable for claims that may arise due to the consumption or intake of any food or drink or any other products at the festival.
Parking near or at the festival premises is at the risk of the vehicle owner. The parking will be limited so please plan accordingly.
Five Mad Men hold the free right to use any photograph, video, graphic or other media form captured, shot or recorded by visitors at the festival and shared on public platforms including but not limited to Facebook, Twitter, Instagram, Pinterest, Blogs etc for usage including but not limited to commercial, advertising and branding purposes in perpetuity.
The holder of this ticket grants organizers the right to use, in perpetuity, all or a part of the recording of any video or still footage made of the holder on any channel or magazine for broadcast in any and all media globally and for advertising, publicity and promotions relating here to without any further approval required of the holder.
Areas at the festival are built to capacity. Management reserves the right to hold entry of ticket holders into the premises and certain areas of the festival until such time that the capacity opens up to safe limits to ensure a safe festival experience.
As a holder of a ticket, you agree to follow the rules & regulations of the festival and basic norms of decency. In the event of any damage and/or liability caused by you to the festival and/or its property, you agree to face prosecution that will be subject to the jurisdiction of and settled exclusively in the courts.
Visitors to the festival are requested to acknowledge the personal space of others at the event. Any recordings of other visitors in the form of pictures, video or audio recordings must not be captured and/or published on public platforms without their consent.
The management reserves the exclusive right without refund or other recourse, to refuse admission to anyone who is found to be in breach of these terms and conditions including, if necessary, ejecting the holder/s of the ticket from the venue after they have entered the grounds.
There is no storage facility at the venue.
By booking tickets for the event, you consent to your data being used for marketing and promotional activities by Paytm Insider and the organiser.
First aid will be provided. However the organisers do not take any responsibility for any problems arising.
Five Mad Men (5MM)
1st Floor, Omega Building, Bengal Intelligent Park Ltd ,Block EP & GP Sector - V Saltlake Electronic Complex, GP Block, Sector V, Bidhannagar, Kolkata, West Bengal 700091, India
GET DIRECTIONS
FIVE MAD MEN in association with PAYTM INSIDER, presents-CALCUTTA COCKTAIL CARNIVAL
March 25 | 1PM - March 27 | 1AM
Five Mad Men (5MM), Kolkata
Step out and enjoy this event
Invite your friends
and enjoy a shared experience