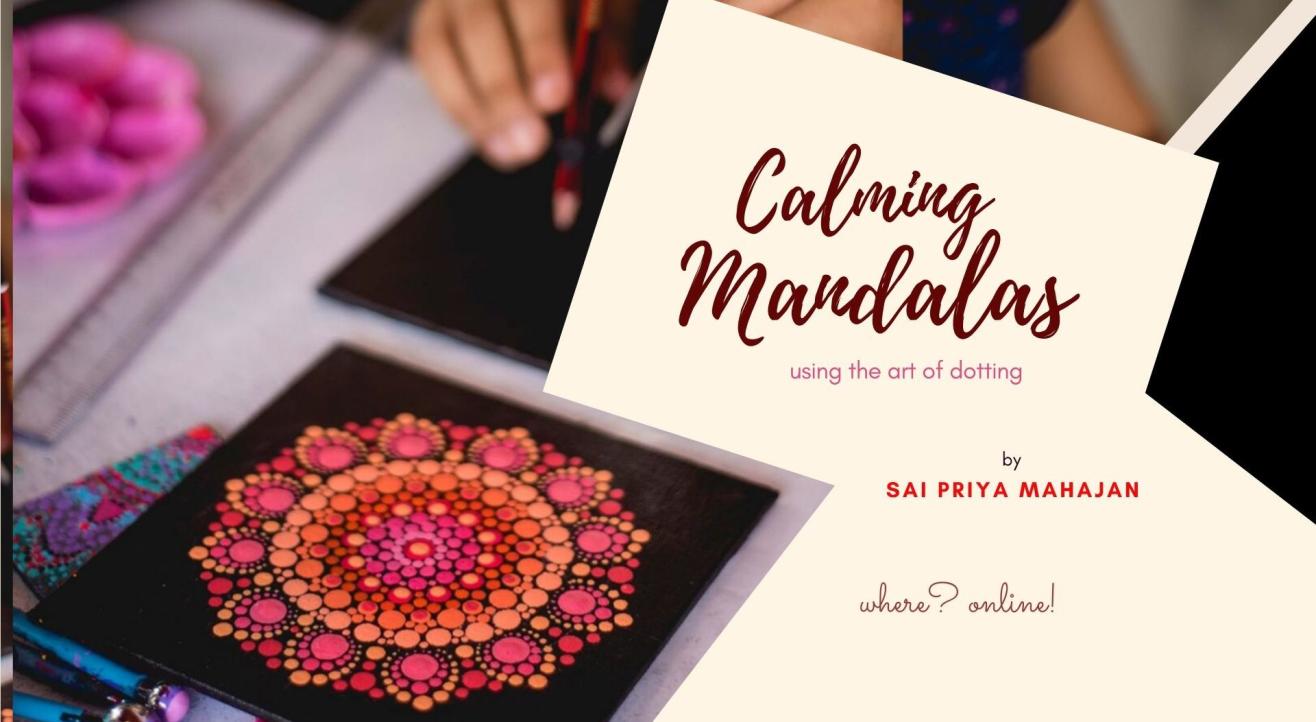 Calming Mandalas using the Art of Dotting
Invite your friends
and enjoy a shared experience
Invite your friends
and enjoy a shared experience
About the Event
Making mandalas using the art of dotting is a great way to calm your nerves, and engage in mindful creation of a beautiful art piece. This is what the dictionary definition of art therapy looks like. It is an extremely therapeutic exercise and is sure to make you feel refreshed and ready to take on the coming week! Try it this week and we can assure you that you will want to engage in making this again and again. Learn to create your own colorful Mandala with a few easy patterns and steps! We will be using simple tools to create beautiful Mandalas using the unique technique of dotting. This is a beginner friendly session, you will be a guided by a professional Artist who's taken 200+ art workshops over the past few years.
About the Instructor:
Sai Priya Mahajan is an Indian Contemporary Artist who recently won the Outstanding Watercolor Award at the Boldbrush Contest. An engineering graduate from IIT Bombay, she has now exhibited in India (Mumbai, Bangalore, Chandigarh) as well as internationally (NY, Philadelphia - USA, Toronto-Canada, Taipei-Taiwan) and is part of several Art Associations including the International Watercolor Society, Philadelphia Watercolor Society, National Watercolor Society, USA and a lifetime member of the Art Society of India. Sai loves to share the joy of painting by teaching various art forms and has conducted several art workshops in the past.
Age: 8+ yrs
Level - Good for beginners, intermediate and advanced levels.
Rough schedule
First 5 mins - Introduction & Demo
Next 2 hours - Markings & Making Mandalas using Dotting
Last 5 mins - Wrap up and photos.
Material: you have to arrange for this on your own. You will need a canvas - square or round in shape about 6X6 inches in size, fresh acrylic or fabric paints in various colors (paints should not be dry), 1 flat brush of about size 6-10, dotting tools in various sizes as in the photos above, pencil, eraser, compass, ruler, 1 small round brush, and some basics like tissues/rag, water and a plate/palette. For best results it is preferable to use dotting tools but if you don't have dotting tools you can also make do with brush bottoms, earbud, toothpick, pencil, etc.
Please be ready with all required materials at least 5-10 mins before the start of the session.
The ticket price is per user per session. For example, if two people are attending using one login, please pay for 2 people. Tickets once booked, cannot be cancelled/ rescheduled.
To simplify communication, please register using the participants name and phone number (on which whatsapp is functional). Please note the all timings are in IST (which is GMT+5:30hrs).
Because of logistical reasons, it will not be possible to take in late entries. Also, we would recommend you familiarise yourself with Zoom and its usage so you have no trouble during the session. We will be sending you a link 10 mins before the start of the session, on whatsapp, on the number you provided during registration. You can join in to the session through that Zoom link.