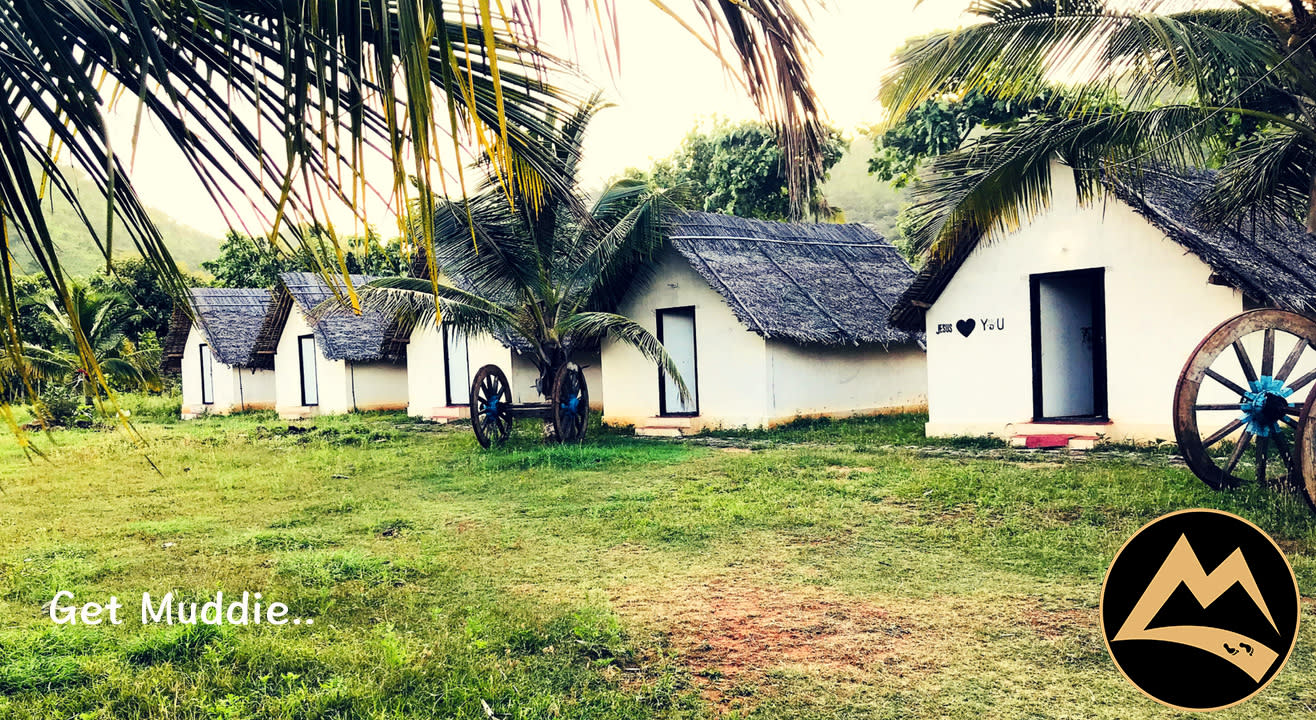 Trek
Camp, Hike, Cauvery Dip, Open Air Movie & Musical Night | Muddie Trails
Near Shivanasamudra with Muddie Trails
About
Disclaimer: NO ALCOHOL meetup!
Don't want to go too far away from home this weekend?
Wish to escape the city and spend an amazing day & night amidst nature?
Wish to sing? Wish to play? Wish to socialize?
How about an open-air movie?
How about a place surrounded by mountains, lush green fields & close to the river?
How about a finger lickin food with campfire in chilling weather?
A dip in the Cauvery river?

We have it all for you in the Picnic near Kaveri!
Come #getmuddy
Group size: 12 to 20
Accommodation: At our beautiful campsite (Huts and Dormitory on sharing basis)
Travel: A mini-bus or tempo traveler
Starting time: Saturday 8 AM
Ending time: Sunday 2 PM
Food: 1 Breakfast, 1 lunch, 1 dinner included
Optional mini-trek(s) difficulty: Easy to moderate
Things to carry: Will be updated in our WhatsApp group to all registered folks
Pick-up/drop locations: Tin Factory, Indiranagar 100 ft Road, Koramangala Sony World signal, Silk Board, Jayadeva Flyover
Saturday

- Leave Bangalore around 8 AM morning after breakfast (5 pick up spots - Tin Factory, Indiranagar, Koramangala, Silk board, Jayadeva Flyover),
- Self-ride also available! (just 3.5 hours journey).
- Reach campsite, get to know surroundings, have sumptuous lunch, relax, take a dip in Kaveri river, freshen up for the musical evening, play, sing together, Karaoke, delicious food, spend the night in the village style huts or dorm on shared basis.



Sunday

- Wake up, leisurely breakfast, start back to Bangalore and reach afternoon!
Travel by Tempo traveler or mini-bus
Breakfast
Lunch
Movie & Musical night & dinner (Veg & Non-veg)
Stay at our beautiful campsite amidst mountains on sharing basis
Organizer(s) from Muddie Trails
Group activities & games
A hell lotta entertainment!
Any other personal expenses not mentioned in the inclusions above!
Travelers are expected to sign a Liability/Waiver form given by the organizers before starting the trip/trek/event
Everyone must get their photo ID cards - like Aadhar or Driving License!
Muddie Trails is NOT a tour operator. Muddie Trails is an offbeat travel experience provider.
Our facilities are basic. If you expect any luxury, please do not register.
Our itinerary is flexible & Organizer may choose to switch/re-arrange parts of itinerary based on need. Please co-operate with organizer & other travelers.
Do not forget to read our "Terms & Conditions" before registering!
The "Offbeat" theme of Muddie Trails
Muddie Trails provides real offbeat tours for the travelers like trekking, adventure activities, camping in tents, bonfire, barbecue, visiting exploring and experiencing the unknown but awesome destinations that are not crowded with tourists. We do NOT take travelers to a tourist place unless it is required as a "filler" in the itinerary between two offbeat places.
Travelers are requested to refrain from asking our organizers to take them to ABC temple or XYZ church. The itinerary is already decided and posted based on our offbeat theme. The organizer will only change the itinerary if any place cannot be done because of unpredictable reasons. If you have a wish list of tourist places to tick off in your mind, then probably Muddie Trails is not for you and we request you – please do not register.
No alcohol & smoking during Treks & adventure activities. There would be separate window and space (usually at night) to have these at campsite/homestay for interested people (only if the campsite/ homestay permits)
We assure awesome memories every trip, but not awesome facilities! No Luxury. We provide basic facilities in terms of food, travel & accommodation. In some places, especially for treks & forest-related Meetups, expect not so neat washrooms/change rooms, and basic but edible food
We wouldn't want to waste time in sitting at a restaurant and munch our food for hours during trips. This wastes our precious time. So we pack our food whenever possible to avoid unnecessary delays.
In some Meetups, especially treks involving wild forest, expect leeches and other insects. However we can take precautions to avoid them – we discuss these things in our trip's WhatsApp group.
Our itinerary is flexible. It may happen we do not cover all the places mentioned in the itinerary because of unpredictable reasons like weather, wild animal presence, abrupt blocking of sites by the forest department, delay in travel because of an issue with our group itself, traffic conditions etc. In most cases, if the time permits, we try to travel to an alternative place. But in some cases, we may have to skip a place altogether.
Absolutely no littering during our travels. We swear to protect our environment.
Please co-operate with the organizer in following the schedule set for the day (especially getting up and getting ready in the morning). This will ensure we won't miss out on the real fun part – that is traveling.
You are responsible for your own safety while traveling with Muddie Trails. Don't indulge in any illegal or silly activity that causes harm to you or fellow travelers.
Travelers are expected to sign a Liability/Waiver form given by the organizers before starting the trip/trek/event.
Everyone must get their photo ID cards – like Aadhar or Driving License!
Nobody shall deviate from Trek path led by Organizers/Guide.
During the meetup Muddie Trails is not responsible in case of any injuries or animal attacks or reptile bites.
Expect the unexpected in case of wild forests like the sudden closing of trek path by govt/forest department(because of wild animal sighting/landslide/some crime), in which case we may have to cancel the trek (This is very rare – never happened till now). In this case, the Organizer will plan for alternate trek/trip. If this is not possible then Muddie Trails will refund the remaining amount after removing the travel cost.
Travelers are expected to respect each other and help each other.
Avoid discussing sensitive matters like SEX, POLITICS and RELIGION/RACE.
Using foul or abusive language or arguing with fellow travelers/ organizer will not be acceptable and will stand a chance of being deserted by the travel group.
Do not advice organizer on the schedule or activities.
Cancellation and Refund Policies
10% convenience charges will be deducted in any kind of refund done online- 90% refund if you make a request before 3 days of the meetup start date.
50% refund within 3 days and before 24 hours from meetup start time.
No refund within 24 hours from meetup start time
No refund during/after the meetup.
Registration fee is non-refundable.