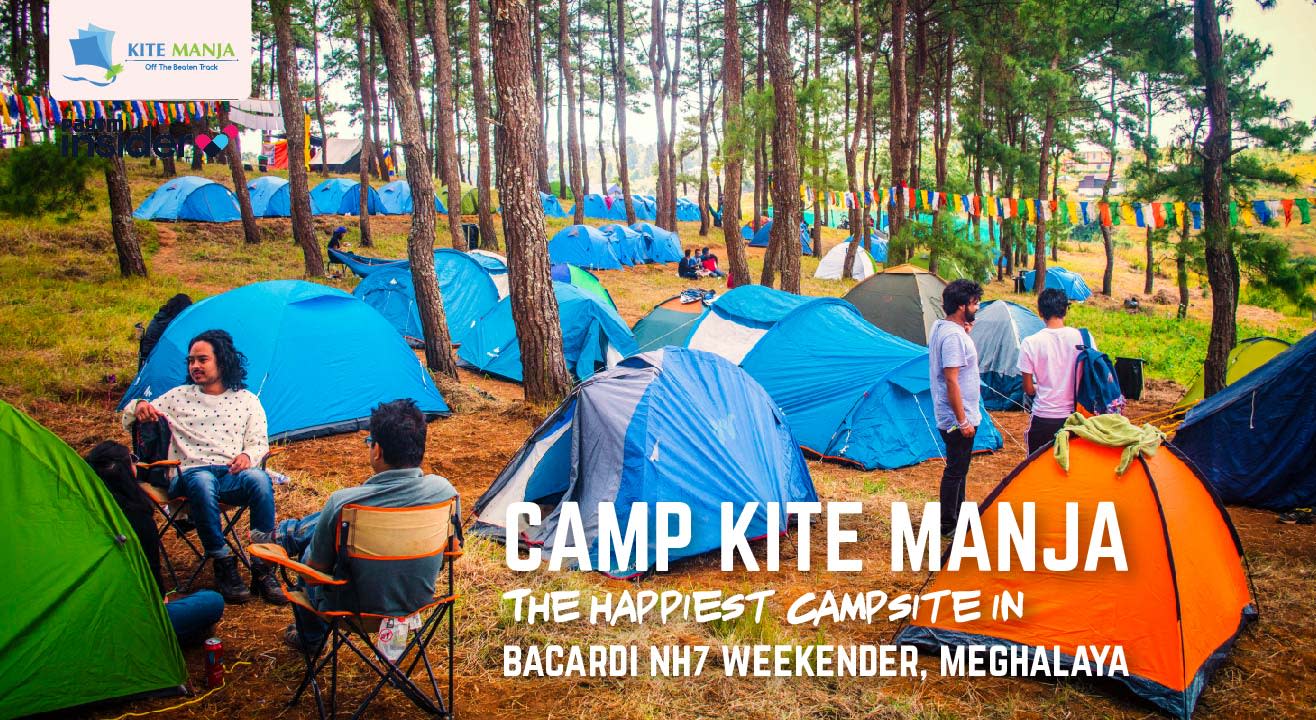 Camping
Camp KITE MANJA in Bacardi NH7 Weekender, Meghalaya
October 31 - November 2 | 10AM
Camp KITE MANJA, Meghalaya
About
KITE MANJA has come back with its 4th edition of the happiest campsite at the NH7 Weekender Meghalaya after its successful camping ventures in all the major tourism festivals of India's North-East since 2013.
On its tenth year and the fifth edition in Meghalaya (November02-03), Bacardi NH7 Weekender is even more special! Watch out for amazing new artists, iconic favorites, food and flea bazaar, art installations, and take home a lifetime of memories! Undeniably it is one of the most anticipated music festivals in India; Bacardi NH7 Weekender is all about the music, the vibe and a soul stirring music festival experience.
KITE MANJA Campsite:
Camp KITE MANJA is located in scenic Lad Basic, Mukhla village and just 500 meters from the Weekender NH7 box office. From the Box office to the stage, it's around one kilometer. Hidden from the maddening crowd and covered by verdant pine trees it is a perfect place for those who yearn for nature and has an equal obsession for music. Camping in woods, the chirping sound of Crickets, the disparate shades of green at the adjacent paddy field and nights under the stars will make your stay at Camp KITE MANJA an ebullient experience.
Also, watch out for incredible jam sessions, art installations, scrumptious food and warm bonfire nights. Do make new friends and take home a lifetime of memories!
We provide Pre-pitched Dome tents 02-sharing, 03-sharing and 04-sharing with Sleeping Mats-Bags/Blankets. Other available facilities are 24 hours accessibility to water, common lobby and charging plug points and eco-friendly toilets with dedicated maintenance team. Camp kitchen serves Buffet meals with Indian and continental menu.
1. Public transport is rare in this circuit.
2. Hotels are already packed since it's a season time for Meghalaya.
3. On the spot booking is with least hope.
4. Venue is away from any township.
5. It can rain at any time in Meghalaya.
1. Torch light for camping.
2. Personal shawl or sheet.
3. Personal first-aid kit.
4. Prescribed medicine if any.
5. Light woolen cloth for the event and good woolen cloth for Meghalaya sightseeing.
6. Good walking shoes
Click here for Band's Line up, Location and other event related updates.
Nh7 Weekender Meghalaya Camping 2019