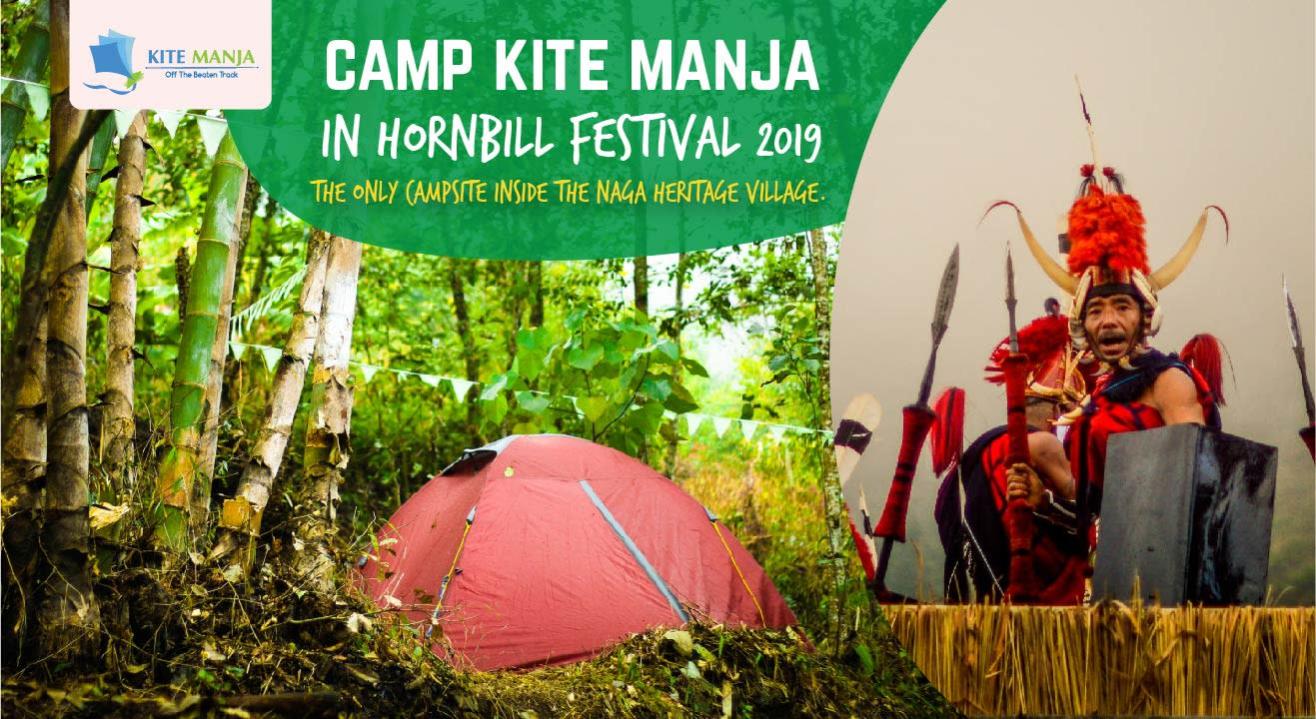 Camping
Camp KITE MANJA in Hornbill Festival 2019, Nagaland
November 30 - December 10 | 10AM
About
KITE MANJA invites you to the sixth edition of its exclusive campsite inside the festival gate (100 meters from the main festival arena) during Hornbill Festival in Nagaland during 1st-10th of December (camping starts from November 30th night for those who don't want to miss the opening ceremony on 1st December morning). KITE MANJA has its successful camping ventures in all the major tourism festivals of Northeast.
Accessibility: The Hornbill Festival venue - Naga Heritage Complex is at Kisama village situated 12 km away from Kohima on NH-39 (Imphal highway). The venue for the Rock battle/concert is at Dimapur. Nagaland is well connected by Road, Air, and Train. Nearest Airport and Railway station are at Dimapur which is at a distance of 70 km from the state capital Kohima. Regular shared vehicles are available from Dimapur Railway Station/airport. Guwahati to Dimapur is connected by various trains and Shatabdi-12067 is the best option. By road, it is 340 Km and around 8 hour's journey from Guwahati. Daily overnight buses from Guwahati ISBT are available. Private vehicles on hire are available from Guwahati, Jorhat, Kaziranga and Dibruhgarh.
KITE MANJA Campsite: Pre-pitched Dome and Alpine shaped tents 02-sharing, 03-sharing and 04-sharing with Sleeping Bags/Blankets-Mats will be provided by us. We do not provide pillow and bed sheet. You can come with inflatable pillow along other personal belongings. Other available facilities are 24 hours access to water, common Lobby and Charging Plug Points, Angami Naga Kitchen, Snacks, eco-friendly toilet-bathrooms and Hot water on request. The campsite is 100 Meters away from the main stage and just behind the festival police outpost. The campsite is on the terraces overlooking the Kohima town.
Bonfire and Open Sky for Jamming, Dzukou Valley trek, Japfu peak and world's tallest Rhododendron tree trek and Naga village visits.
• All are requested to carry good warm clothes and a shawl / small blanket for camping.
• Well fitted trekking shoes and water proof outfits are advisable for trekking. Though not by rain, dew can make your clothes wet while on trekking.
• All are requested to carry Torchlight, first aid kit, and prescribed medicines if any.
• Due to overuse, finding mobile network during the festival is a bit problem within the venue.