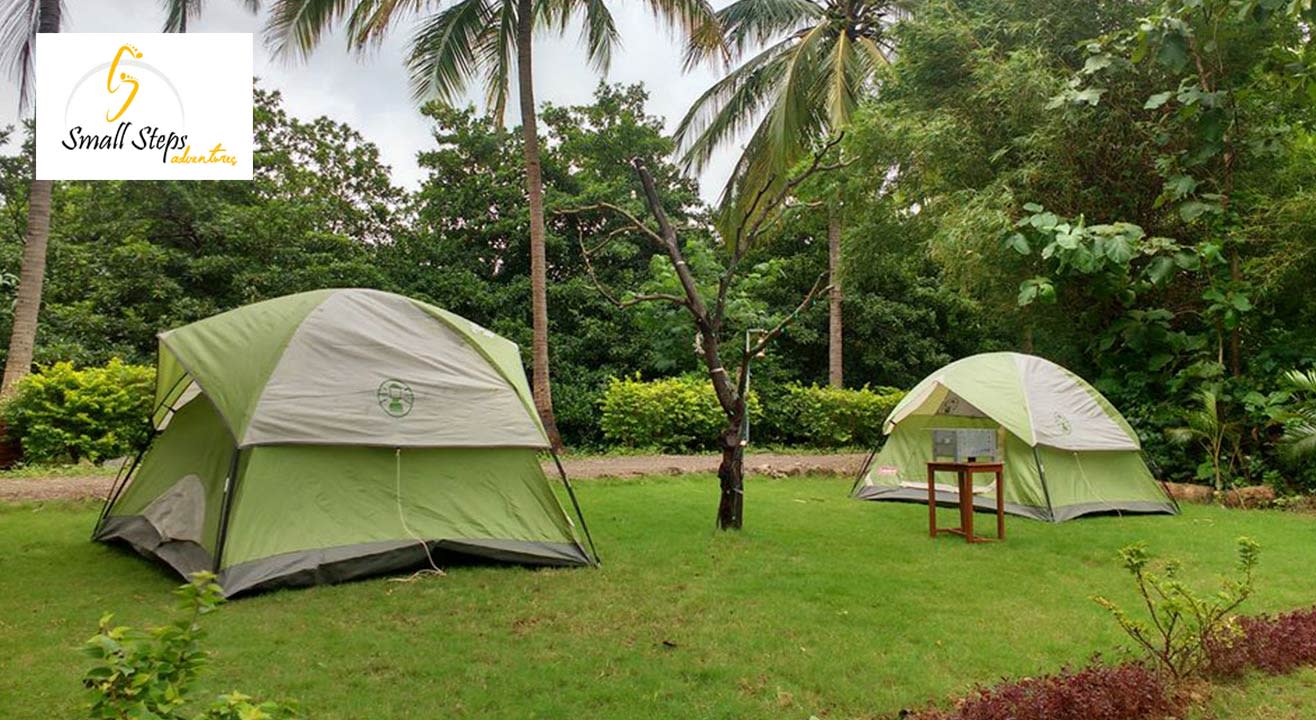 Camping
Camping at Orchard Farm - Dahanu
About
Small Steps Adventures invites you for a night of camping at Dahanu Farm.


Indulge in some great experiences with Mother Nature, away from the city, for some cool breeze, a dark night, campfire and bright stars. Enjoy a peaceful dinner, dance with friends and family, feel relaxed in the camping tent, sleep in the lullaby of the environment and wake up with the mist!


The campsite is well furnished with the nursery equipment all around, spread across 8 acres of land in Dahanu region. Dahanu Beach is 10 kms away from the campsite. The major part of the campground is covered with chickoo plants.
Check-in: 4:00 PM
Check-out: 10:00 AM (next day)
High-quality weatherproof tents
Mobile charging facility
Pillow & blankets
Portable lamps
Toilet (western style) and bathroom facility
Music system
Football, board games, etc.

Evening snacks
Dinner
Breakfast
Tent accommodations
Camping lights and music
Camping mats (for cushioning)
Bonfire (except in the monsoon)

Any other personal expenses other than that mentioned in inclusions.
Carry woolen clothes or jacket, muffler, shoes & warm cap for the night
Those who are not used to cold nights should carry personal extra blankets. (Small Steps Adventures will be providing bed, cushion & 1 pull over as part of the package)
Please carry ID proof; eg. PAN card, driving license.

Do not carry valuables or items like jewellery, laptops or any other things.
Management & campsite is not responsible for any kind of loss or Damage of your belongings.
Do not smoke or light any items inside the tent as it may cause fire in the tent.
Please remove your footwear outside the tent and keep tent neat & tidy.
Weapons or any inflammable things are not allowed on the premises or in the tent.
If any damages are caused to the campsite, tent or bedding, camper/guest will be responsible for the damage and will have to pay the charges for the same.
Strictly no use of drugs in any kind or any form or any other kind of intoxicants.
All guests must follow the camping rules.

Is washroom and changing facility available?
- Yes

What is the age group criteria?
- Any age group can enjoy at lake side, as campsite is fully safe. There's college group, reunion camping, company team outing, family picnic, etc.

Is there any parking facility?
- Yes, there is a parking facility

How will be the stay facility?
- Stay will be in tent (sharing of 3-4 basis) along with bedding, blanket and pillow.

Is BBQ available?
- Yes. BBQ is available with additional cost of INR 400 per Kg with BBQ kit.


Cancellation and Refund Policy
If cancellation is done prior to 15 days of outing 75% will be refunded.
If done prior to 10 days of outing 50% will be refunded.
After that no refund will be provided.

Small Steps Adventures want people to come out of their comfort zone and ordinary life; experience the great nature and its beauty. Adventure, thrill, fun and memorable moments that is what they offer with best safety standards, thanks to their professionals and volunteers with proper experience. The activities they carry out are trekking, camping, waterfall rappelling, river rafting, rock climbing and valley crossing.
Dahanu is a coastal town and a municipal council in Palghar district of Maharashtra state in Konkan division. It is located 110 km from Mumbai city. Dahanu is famous for its beaches and rural tourism, making it a great weekend plan, especially for those who live in Mumbai and Surat.