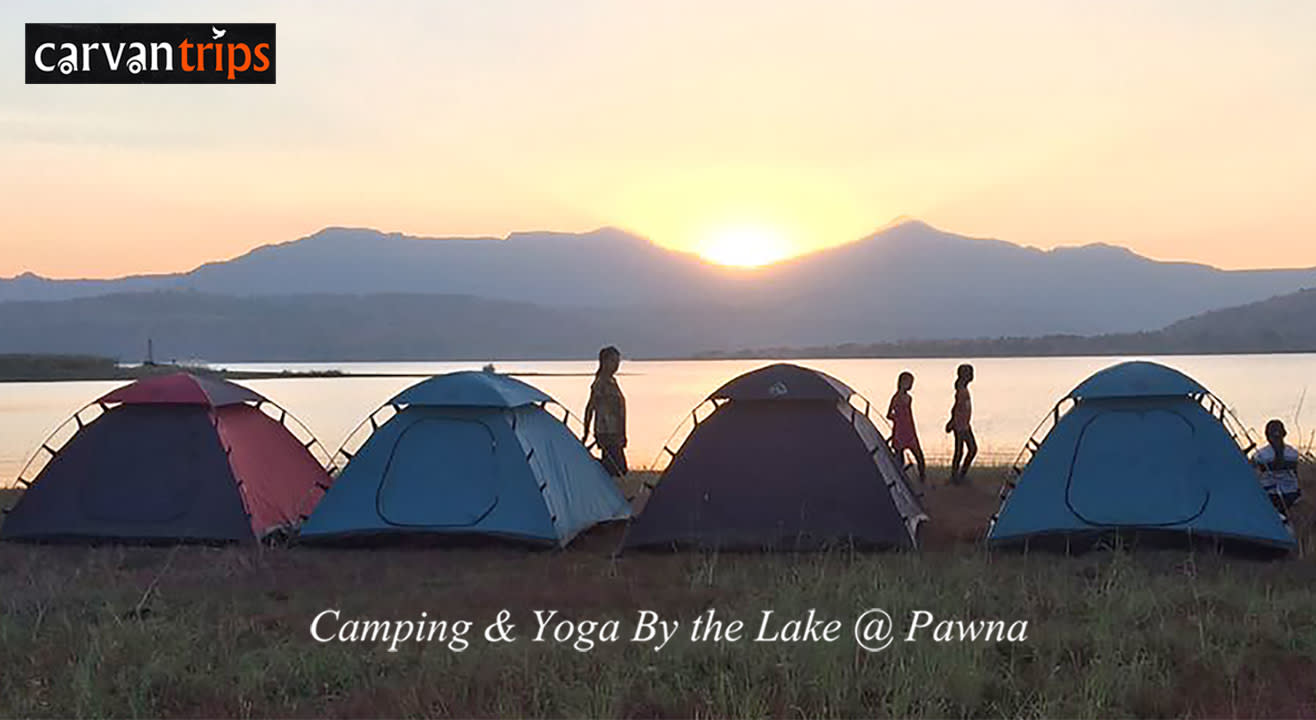 Camping
Camping Next To A Serene Lake
About
"I walked slowly to enjoy this freedom, and when I came out of the mountains, I saw the sky over the prairie, and I thought that if heaven was real, I hoped it was a place I never had to go, for this earth was greater than any paradise." Daniel J. Rice
Difficulty level – Easy
Camping is a dream of every outdoor lover. Driving along the Golden country side, enjoying the water mirroring the sky, camping in the middle of nowhere, pitching tents next to the lake, collecting wood for campfire, and singing away the night.
Such is the small pleasure that makes a soul happy and gives freedom from materialism.
We bring you a chance to experience camping first hand! Learn how to pitch your own tent, create campfire, engage with everyone as you play interesting games, get lost into the infinity of stars, and share your spooky horror story.
Pawna is an extremely huge and adorable lake near the popular hill station of Lonavala. There are many historical forts around like Lohagad, Visapur, Tikona, etc. to trek around. We will try and trek early morning to one of these mighty forts to catch the first ray of sun from the top!
Meeting point & Pickup point 1 (Time 12:30 PM, Saturday)
Andheri - Talwalkar Gym, outside Chakala Metro Station (J.B Nagar) Andheri East. GPS - https://goo.gl/maps/fgZ1nnPb3aq .

Pickup point 2 (Time 1:45 PM, Saturday)
Vashi - Y.B. Chavan Marg Junction sector 17, Vashi, Navi Mumbai GPS- https://goo.gl/maps/GHeXeDqAy1m
Day 1
12:30 PM – Meet at Andheri Pick Up Point and board the vehicle to the campsite
01:45 PM—Meet at Vashi Pick up point
05:00 PM – Reach at the campsite and relax
05:30 PM – Start pitching your tents
06:00 PM – Explore the place and enjoy the sun setting and its reflections on the surface of Pawna Lake
06:30 PM – Enjoy BBQ OR Snacks
09:00 PM – Dinner (authentic local food)
10:00 PM – Time to engage with games, some inspiring sagas, and Ghost stories!
11:30 PM – Get inside your cozy tent and retire for the night

Day 2
08:00 AM – Wake-up call & Wrapping up of tents
09.00 AM – Have fresh breakfast
10:00 AM – Debrief and start departure for home with beautiful memories

Note:
- This is a budget nature trip. The facilities available at the campsite are minimal. The tents are simple but cozy, non-luxury tents. The food will be simple but tasty authentic village food.
- Since the campsite is at an eco-sensitive zone, permanent toilets are not available at the campsite but can be accessed at a walking distance.
- In case of any unexpected change in weather or other unforeseen situations that are beyond our control and due to which camping may not be feasible, we will try our best to make alternate stay arrangements in the nearby homestay OR village (subject to availability).
- The itinerary is indicative only. A circumstantial delay can be expected on the day. Please make post trip plans after adding a buffer accordingly. - In case it rains, campfire will not be possible.
- Do not jump into any water body or go away from the group/campsite as it can be hazardous to life.
- Group safety is our top priority and the trip leader has the final and binding authority to take all final decision on the spot.
- Morning trek will be carried out if more than half of the participants are willing to go for it.

Casual clothes for the night.
Sandals/Floaters to walk around the campsite.
For Trekking –
Full/ Half sleeve T-shirt with stretchable Gym Pants/ Yoga/ Track pants/ Shorts.
Please DO NOT WEAR Denims or formals.
Trekking/ Hiking shoes or a comfortable pair of sport shoes with a good grip.
Things to be carried by you
Water (2 Litres) Compulsory
Torch (compulsory)
Personal First Aid Kit
Jacket/ Sweater for night
Cap, goggles, sunscreen etc.
Electral powder / Glucon D / Tang
A backpack to carry everything (No handbags or jholas)
Personal Sanitary Kit
Extra Pair of Clothes and socks
A light pair of slippers in the bag (for post trek).
Sleeping bag, Mat
Dinner, Breakfast, Barbeque OR Evening Snacks & Tea, Non - Ac Transport from Andheri to the campsite and back, tented accommodation, Shared Sleeping Mat (for two), Expertise charges
Blanket, Pillow, Lunch and other charges not mentioned.
Venue
Talwalkars Andheri East
196, Tegh House, Kurla Road, Opp Kohinoor Continental Near Icici Bank,J B Nagar, Andheri, S B Singh Colony, J B Nagar, Andheri East, Mumbai, Maharashtra 400059