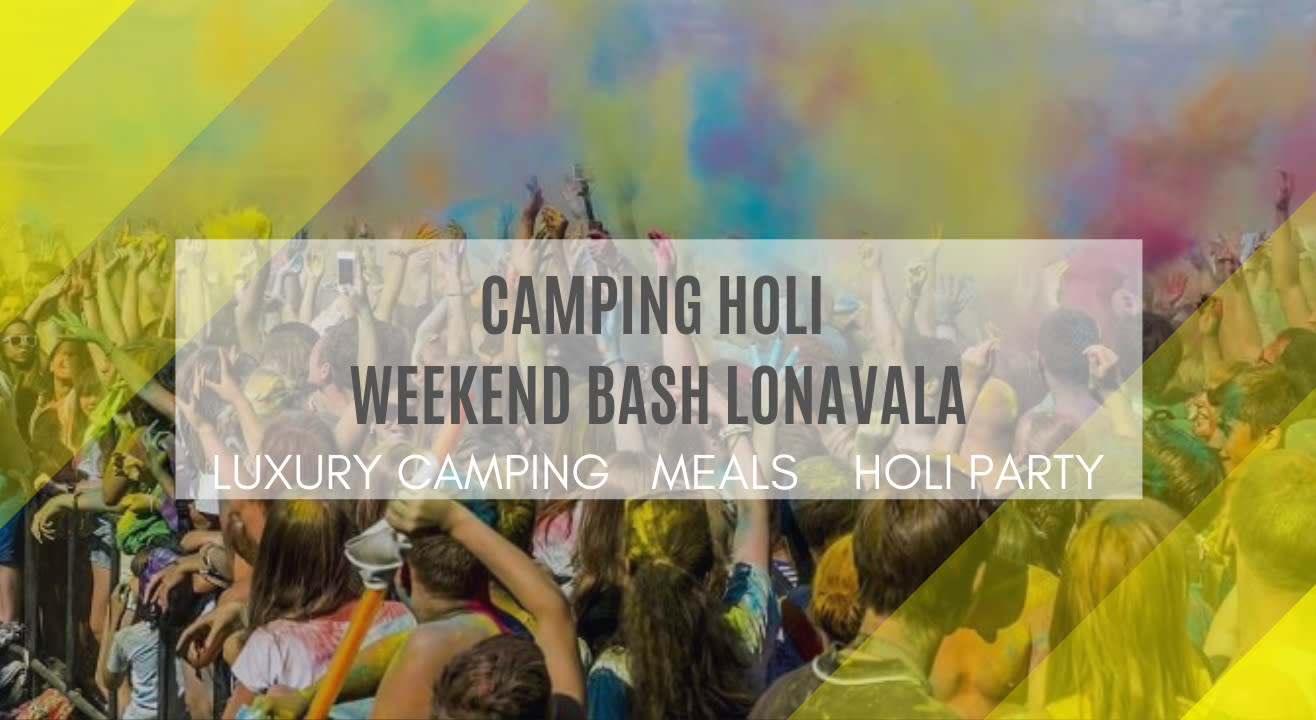 Holi Party
Campout Holi Weekend Bash Lonavala
March 20 - 21 | March 23 - 24 | 4PM
About
Holi the festival of colors calls for new beginnings. Spend your Holi by experiencing wonderful jungle outdoor camping at Lonavala Campout Holi Weekend Bash 2019. Jungle Camps offers a blissful atmosphere to celebrate this special occasion with your friends and family. An all-inclusive deal for Holi guarantees stay at a blissful and close to nature venue, unlimited food, great combination of Plug and Play and live acoustic music, a perfect way to spend the festival of colors & good vibes. At Campout Holi Party you can expect a leisurely camping weekend along with lip-smacking local food, live acoustic music. Enjoy the joys of being in nature without compromising on facilities like luxury tents with washroom, electricity and proper built washrooms to relish a curated glamping experience.
Buy a ticket & get 15% stashback upto ₹500. Use code: TRAVEL15 (T&C apply)
Day 1 –
16:00 hrs Reach Campsite
16:30 hrs Grab a Tent
17:30 hrs Watch Sunset and chill
18:00 hrs Indulge in activities at the campsite
19:00 hrs Barbeque and Starters will be served
21:00 hrs Dinner will be served
22:00 hrs Bon Fire will be lit
22:30 hrs Acoustic Music starts
00:00 hrs Relax and Rejuvinate with friends and family
01:00 hrs Party winds up but you are free to chill till wee hours

Day 2 -
07:00 hrs Enjoy Sunrise
08:00 hrs Unlimited Breakfast
09:00 hrs Music with colors and Rain Dance Party
11:00 hrs Snacks will be served with Thandai OR Soft Drinks
12:00 hrs Freshn up and Check Out with memories of a lifetime
Accomodation in well-appointed tents (with mattress and quilt)
2 meals Dinner with starters and munchies on day 1 / Breakfast on Day 2
BYOB safe party
Live Acoustic Music Performance on Day 1.
Usage of board games and activities like archery, darts.
Thandai Soft Drinks and Snacks on Day 2
Lunch on Day 2
Limited Holi Colors
Water Supply
Tanker Rain Dance
Free Car Parking
Transportation to and from the campsite
Mixers and beverages
Water bottles
2 - 8 People Tents – Sharing Dormitory Style accommodation Reserved for Men
2 – 6 People Tents – Sharing Dormitory Style accommodation Reserved for Women
2 – 8 People Tents – Sharing Dormitory Style accommodation Reserved for Mixed Groups
2 Person Alpine camping tents available on request at extra cost and on pre booking.
Use code HOLIYAY to get a 25% OFF on all purchases up to INR 250 per transaction on purchase of 3 or more tickets
Extra INR 50 cashback if used on the Insider.in app, usable against movie bookings