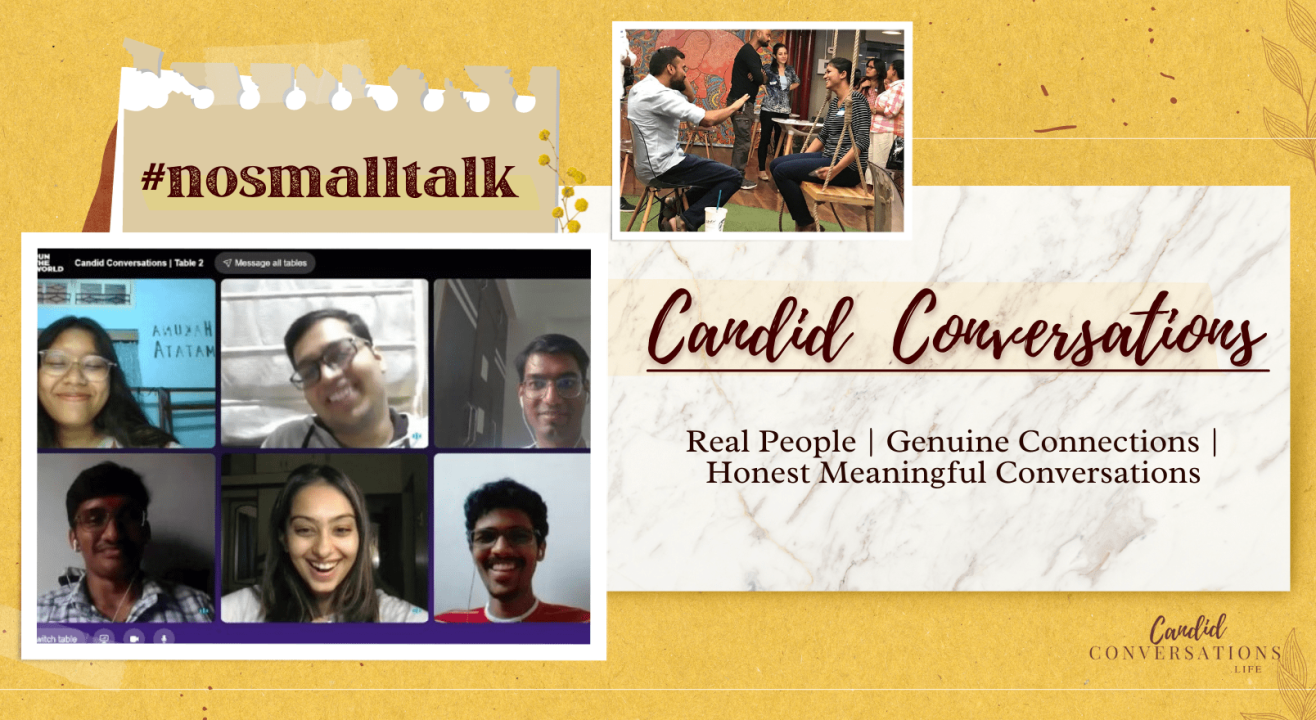 Enjoy this event from your home
Event Guide
For Age(s)
Family Friendly
Interactive show
Be a part of the show
Invite your friends
and enjoy a shared experience
Enjoy this event from your home
Event Guide
For Age(s)
Family Friendly
Interactive show
Be a part of the show
Invite your friends
and enjoy a shared experience
Event Guide
For Age(s)
Family Friendly
Interactive show
Be a part of the show
Invite your friends
and enjoy a shared experience
The best things in life often start with a Candid Conversation!
A place where people can have candid conversations & enter without labels or legacy of their jobs, failures & successes, with just mutual respect for the human in front of them. It's an idyllic vision, but if this connects with you, be there.
A small, cozy (virtual) gathering that lasts between 1.5 to 2 hours. The number of seats is limited, and we would want the group to be as diverse as possible.
Our Format
We don't talk about our jobs
For most of us, the second or third question is - "So what do you do?" We need to have an identity beyond our designations, money, or our family. It would be interesting if we avoided these questions - and talked about our interests and who we are.
No small-talk
A 'No Bullshit policy' where we don't do small talk. Where you have conversations without pretense or political correctness and where, when you don't want to talk about something, you just say "I don't want to" instead of employing some random BS to avoid.
Respect
Please be candid and respectful towards other attendees, even if you strongly disagree with them. Also, be conscious of the details you share with others. We do not share your data with any 3rd party and any communication will only be regarding any such events or similar platforms.
Deep philosophical stuff- to pretty much all that matters
Not deep philosophical stuff only, but all that matters - from first love to dreams to inane but brilliant movies to weird experiences - let's hear them!
No distractions, especially digital ones.
While this is a virtual meetup, and we are all for freedom of choice, but we should be able to have 'real conversations' without constantly scrolling through our Facebook or other digital distractions.
Why do we need to have honest, meaningful conversations...
In a world where urban loneliness is increasing rapidly, where people are more stressed and this is impacting their work & personal lives; where despite being more connected than ever- we are more divided than ever, where social media often reduces our opinions or beliefs to binary opinions, and where people often fail to share with each other what's really on their minds...
The event link will be shared approximately one day before the event. In case it is not received, ping us on https://twitter.com/CandidConversat.