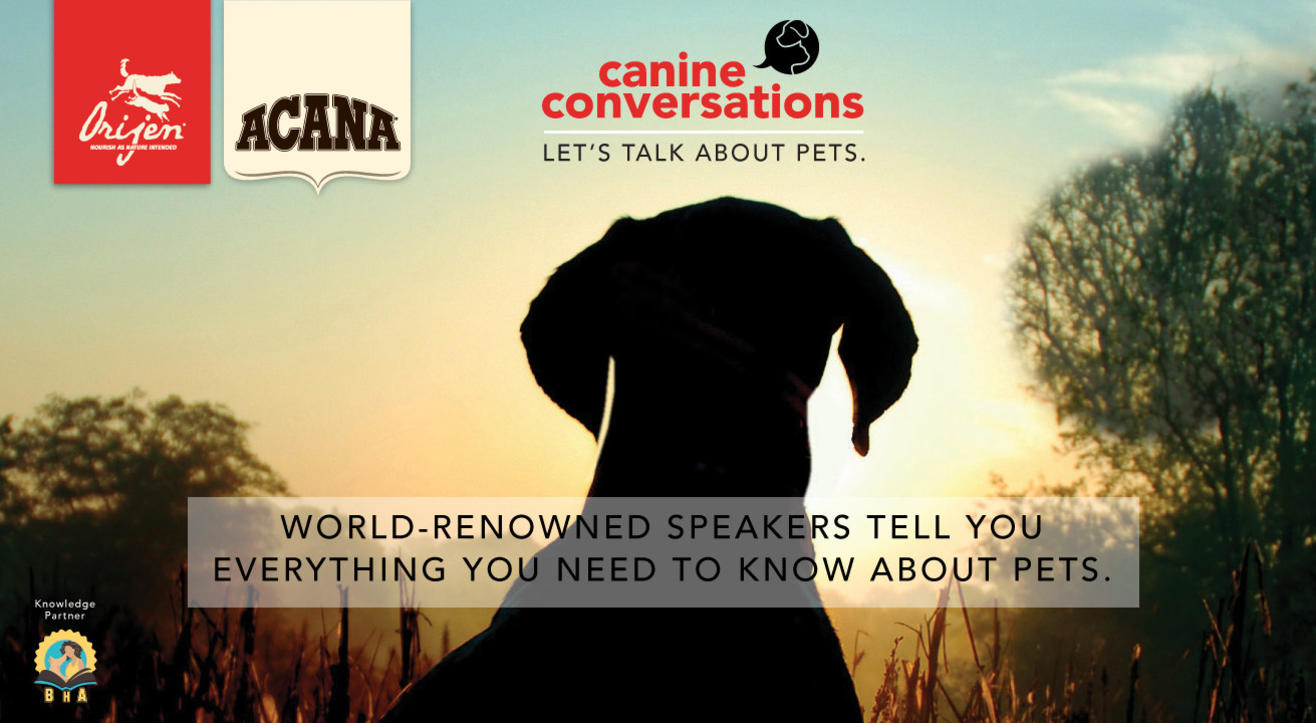 Talks
Canine Conversations – Let's Talk About Pets
October 21 | 10:30AM - 5:30PM
The Lalit Ashok, Bangalore
About
Come and join us at this first-of-its-kind event in India where you will witness four global pet experts share their precious knowledge. This well-curated panel of speakers range from doctors to PHDs to researchers and behavior specialists, and they will cover topics like vaccination, nutrition, behavior, physiotherapy, and cancer in pets. So if you're a pet parent or a practicing veterinarian, a feeder or a behavior enthusiast, or if you are just curious to know more about the animals that we co-exist with, these experts have answers to all your questions. A complimentary lunch will be provided by us for all the attendees. Also, a goody bag for your pet and some mental stimulation for better parenting. Come let's talk about pets!
This is a first of kind knowledge festival in India. This is for anyone who wants to have a deeper understanding of their pets. Our ideal audience will be pet parents and professionals who want to know about the latest trends and practices from around our globe. Our experts are doctors, PHDs and researchers from all corners of the world. Our topics will include vaccinations, nutrition, behaviour, physiotherapy and cancer in pets.
Dr. Jean Dodd (DVM)
Dr. Jean Dodds received the D.V.M. degree with honors in 1964 from the Ontario Veterinary College, University of Toronto. She served as Executive Director, New York State Council on Human Blood and Transfusion Services until 1986 when she moved to Southern California to establish Hemopet, the first nonprofit national blood bank program for animals. Dr. Dodds is very well-known for her minimum vaccine protocols and as Co-Trustee of The Rabies Challenge Fund. She has co-authored The Canine Thyroid Epidemic: Answers You Need for Your Dog, which was rewarded the Dog Writers Association of America, Best Care and Health Book for 2011 and the Eukanuba Maxwell Canine Health Award. Her second book, Nutrigenomics: Foods that heal your dog, was published in January 2015. DR. JEAN DODDS DVM In 2011, Dr. Dodds released NutriScan, a food sensitivity and intolerance diagnostic test for dogs. To her credit, Dr. Dodds has multiple US patents and awards, most notable of which are Outstanding Woman Veterinarian of the Year, AVMA Annual Meeting in 1974 and Holistic Veterinarian of the Year Award from the American Holistic Veterinary Medical Association in 1994

Dr. Anthony Zambelli (BSC(HONS)(ZOOL) BVSC DIPLSNRMGMT MMEDVET(MED)
Dr. Anthony is the Sole owner, Inanda Veterinary Hospital and Partner and founder, St Helier Specialist Veterinary Centre. He leads the procedures and specialist care, marine mammals at uShaka Marine World & SAAMBR. His Teaching responsibilities at University of Pretoria include Oncology, Endocrinology, Clinical training of undergraduates, Radiation Therapy. Dr. Anthony has many lay press publications for local and national pet magazines and newspapers on animal health to his credit, as well as many CPD-accredited articles for VetNewsand Vet360.

Dr. Martina Načeradská (PH.D., MANZCVS FELINE MEDICINE)
Dr. Martina is a specialist in behavioral disorders of dogs and cats and an excellent internist and surgeon. She specializes in dentistry and cytology and leads the team of the first "Cat friendly clinic " in the Czech Republic. She is a member of ISFM (International society of feline medicine, Practice certificate "cat friendly silver clinic"), ESVD (European society of veterinary dermatology) and PDTE (Pet Dog Trainers of Europe, country representative). Dr. Martina has published several papers about feline wellness and given lectures to breeders and the public and actively participated in seminars and conferences.

Sindhoor Pangal (Canine Behaviour Consultant and Galen Myotherapist)
Sindhoor is a canine behaviour consultant, Galen myotherapist and educator in Bangalore, India. She is the country representative for Pet Dog Trainers of Europe (PDTE), the founder of BHA, a premier canine education academy and the founder of Bangalore Hundeskole, a consultation service for holistic canine care. Her studies on street dogs has been published in several international journals, was presented at the PDTE AGM in UK and has even been mentioned in a book by the world's leading cognitive ethologist. She has been formally learning about and studying dogs for more than 5 years and considers this only the beginning of her journey.

SEE YOU THERE!
Venue
The Lalit Ashok, Bangalore
Kumara Krupa High Grounds, Next to CM Guest House, Kumara Park East, Sheshadripuram, Bengaluru, Karnataka 560001