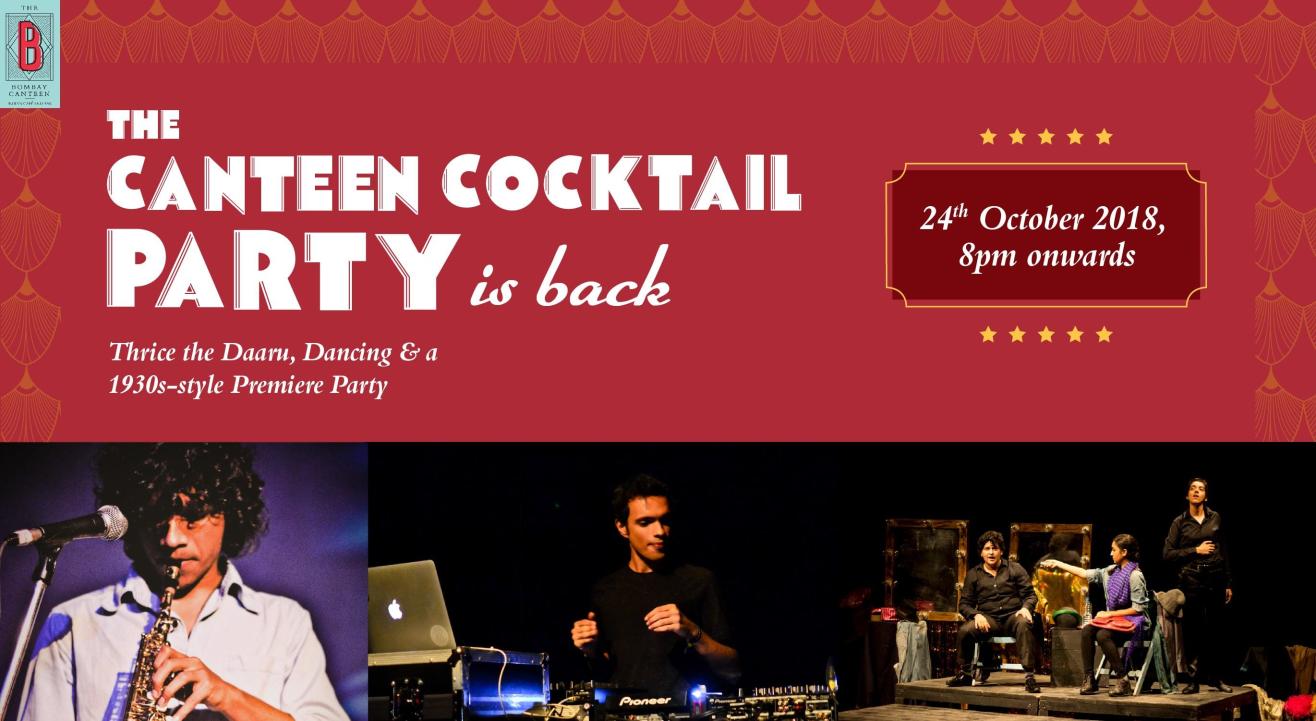 Drinks & More
Canteen Cocktail Party | 3rd Edition
The Bombay Canteen, Mumbai
About
We don't need a reason to party, just an excuse!
On opening night, we introduce you to the first look and taste of our 6 new Canteen Cocktails, inspired by the masala, madness, and glamour of the Talkies of Bombay!
Come travel back in time with us to the glitz and glam of the 1930s! We're bringing back the charm of a premiere at the movies for you and it'll be a night full of daaru, dancing and some more.
Swing to some old school tunes with the sounds of saxophones curated by Nigel Rajaratnam and Abhi Meer. And for one night only, catch the hilarious, drag king performance - The Gentlemen's Club AKA Tape - by Patchwork Ensemble, which pays homage to Shammi Kapoor and the golden era of Hindi cinema.
Dress your red carpet best and re-live the magic of a Talkie premiere!
Nigel Rajaratnam
Nigel Rajaratnam is a multi instrumentalist, songwriter and producer of Sri Lankan origin. He has been playing music and studying jazz and other genres since childhood and began working on films and independent albums at a very young age. He currently produces music for television, films as well as for several bands and independent artists.

Abhi Meer
Abhi Meer, based out of Mumbai, India, is a touring DJ, music producer and the Chief Content Officer of online community radio station Boxout.fm. His regular radio shows explore the underbelly of global electronic music, and appearances at Boiler Room, Magnetic Fields Festival and several residencies have cemented his reputation as a conscientious selector of music across the spectrum. Abhi Meer has also been responsible for music curation at both The Bombay Canteen and O Pedro since their inception.

Puja Sarup
Puja Sarup is the co- founder of Patchworks Ensemble. At Patchworks Ensemble she has co- directed the award winning show "Ila", as well as the critically acclaimed drag king show "Gentlemen's Club AKA Tape". Most recently she has also devised and co-directed their latest production - "Fly by Night". She has been active in theatre since 2003. Her stage credits include "Hamlet - The Clown Prince" (for which she won the META award), "S*x, M*rality & Cens*rship", "All About My Mother", "Grey Elephants in Denmark", "Ila", "The Gentlemen's Club AKA Tape" and "Fly by Night".

Sheena Khalid
Sheena Khalid is the co-founder of The Patchworks Ensemble. Their first production "Ila" opened in 2014 and since then has travelled extensively and played in front of countless audiences. She has also co- directed and co- devised the show "Gentlemen's Club AKA Tape" and been a performer in their latest show "Fly- by- Night". She has completed a full time 2-year course in theatre at the London International School of Performing Arts. Other works include the site-specific projects "Importance of Being Earnest" and "The Weird and the Wonderful" and most recently "What's Done is Done" directed by Rajat Kapoor. Sheena teaches drama workshops for both adults and children.

Ratnabali Bhattacharjee
Ratnabali Bhattacharjee is an Indian actress and writer. She is known for her roles in the films, The Epiphany (2013), Mumbai Calling (2007), Sold (2014) and Waiting (2016). She has also acted in numerours theatre productions such as Eat, The Real inspector Hound and Bombay Talkies to name a few.


Venue
The Bombay Canteen, Mumbai
Unit-1, Process House, Kamala Mills, Near Radio Mirchi Office, S.B. Road, Lower Parel, Mumbai, Maharashtra 400013