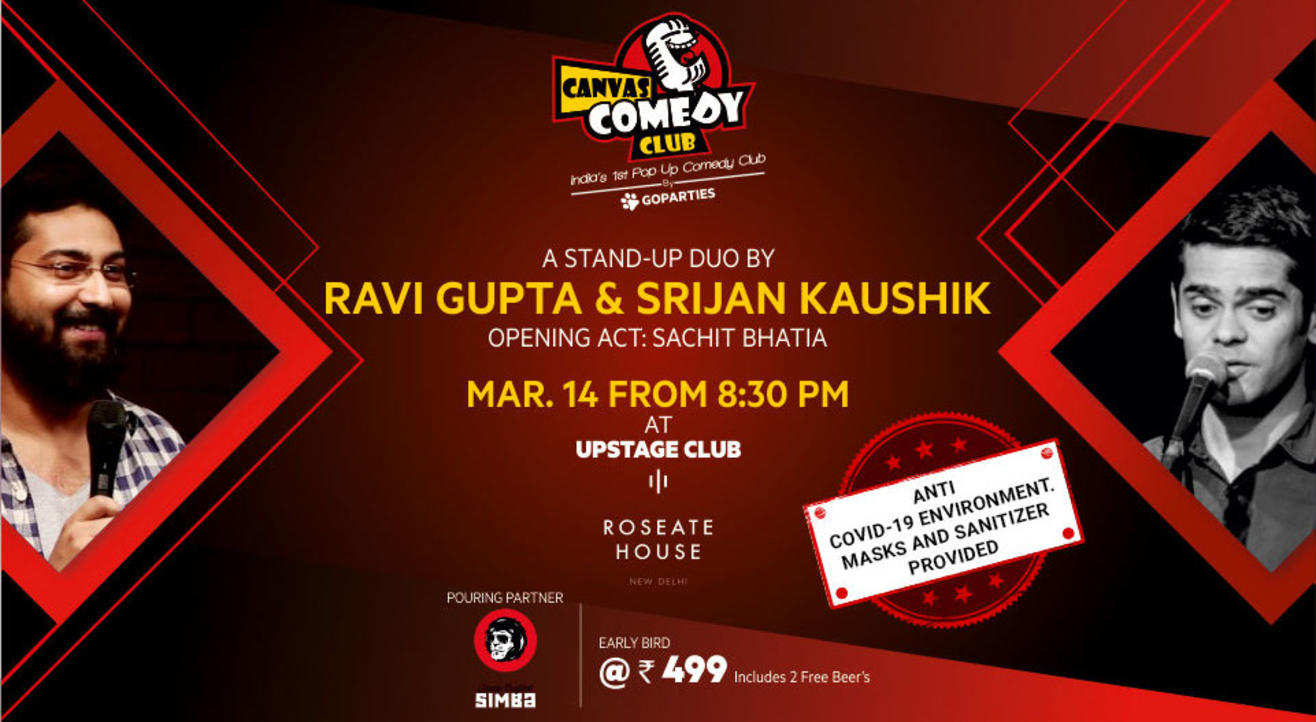 Comedy
Canvas Comedy Club presents Ravi Gupta and Srijan Kaushik Live
About
Canvas Comedy Club powered by GoParties presents Ravi Gupta and Srijan Kaushik Live !
Here's an evening of Fun & Giggle as Ravi Gupta And Srijan Kaushik will be on his high in a special solo at Canvas Comedy Club.
Save the date & Book your seats now for Saturday, Mar. 14th, 08:30 pm onwards. at Upstage Club, Roseate House, Aerocity, Delhi !!
Opening Act: Sachit Bhatia
Book your seat at INR 499/-
Free Two Beers Unconditionally.
If laughing out loud is your thing, join us for a fun evening.
Performers:-
Ravi Gupta: From the lanes of Varanasi to the roundabouts of Delhi, Ravi Gupta, a cartoonist, and a stand-up comic has seen it all and loves everything around humor and all that it entails.
Srijan Kaushik: His humor, drawn from his experiences, also suffers the same fate as his identity often a confused, incoherent monologue that leaves the audience gasping for the fresh air outside.
About The venue:
The luxurious theatre is the first of its kind in India, with 71 push recliners, wooden floors, contemporary interiors and a 4.7*3.1 meter screen with Dolby Atmos sound. it's fully equipped to host award nights, seminars, lectures, book readings and much more due to its versatility.
Japan Vs India | Stand-up Comedy by Ravi Gupta
Venue
Upstage, Roseate House
Asset 10, Hospitality District, Aerocity, Indira Gandhi International Airport, Aerocity, Indira Gandhi International Airport, New Delhi, Delhi 110037
GET DIRECTIONS