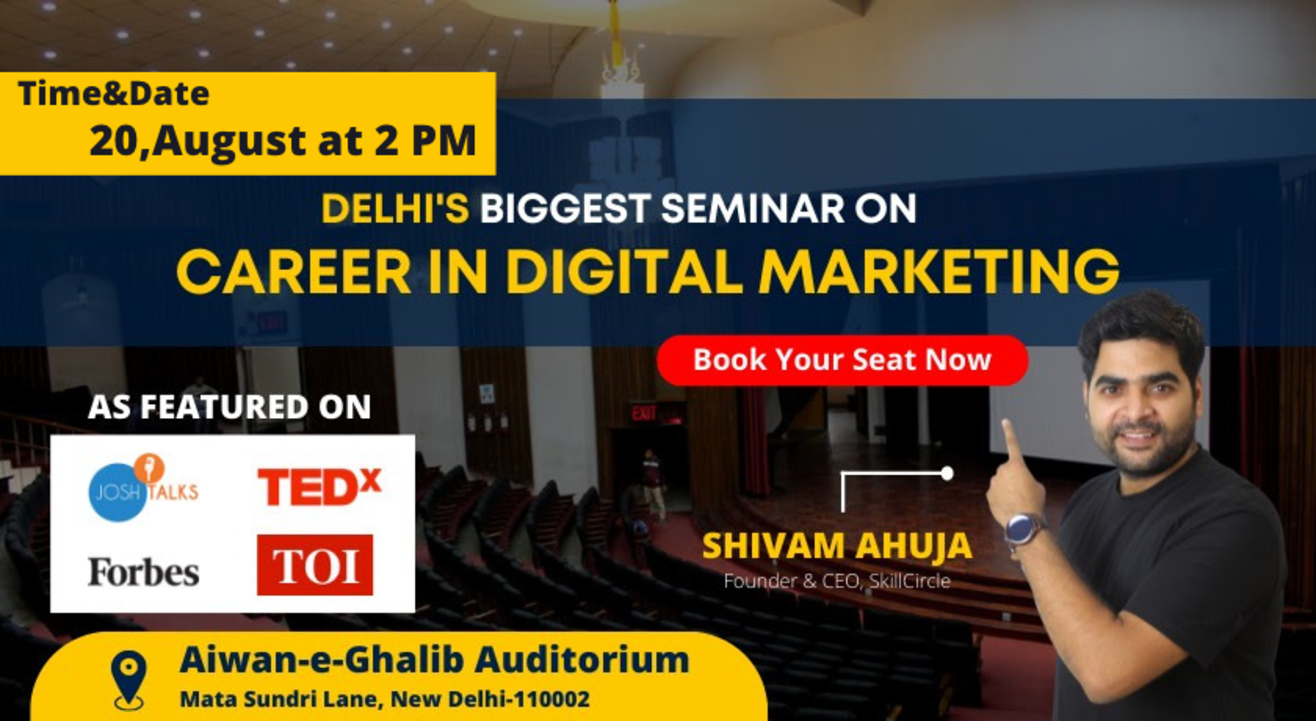 Career in Digital Marketing Seminar With Shivam Ahuja
Aiwan-e-Ghalib Auditorium, Delhi
Step out and enjoy this event
Event Guide
For Age(s)
Family Friendly
Masterclass
Learn from an expert
Invite your friends
and enjoy a shared experience
Career in Digital Marketing Seminar With Shivam Ahuja
Aiwan-e-Ghalib Auditorium, Delhi
Step out and enjoy this event
Event Guide
For Age(s)
Family Friendly
Masterclass
Learn from an expert
Invite your friends
and enjoy a shared experience
Event Guide
For Age(s)
Family Friendly
Masterclass
Learn from an expert
Covid 19 Safety Measures
This event adheres to the following

Health & safety measures
Social Distancing
Face Masks Required
Invite your friends
and enjoy a shared experience
Covid 19 Safety Measures
This event adheres to the following

Health & safety measures
Social Distancing
Face Masks Required
Ready for growth?
Digital Marketing, as one of the most popular specialities in the digital age, provides a wealth of employment prospects for students and professionals from all backgrounds, from creative to technical.
Do you want to hear from an industry expert about employment prospects in digital marketing?
We're organizing a brainstorming session to figure out how we can become digital marketing experts.
So, if you want to pursue a career in digital marketing, this event is absolutely for you.
What we will cover in this session:
- You will learn how to use dozens of proven digital marketing strategies
- Emerging Technologies for Digital Marketing
- Learn how to launch your Startup
- Learn how to optimize for firm success
- Reaching and Engaging the Customer
- Understanding Job Placement in Top-Notch Companies
- Understanding what the job demands from you
- Understanding Freelancing Opportunities
- Making Digital Work: Strategies for Paid Ad Campaigns
- Learn how to build a strong network for your business
For Whom is this event for?
If you are seeking a well-paying job or freelance chances, or if you need an insight into the Digital Marketing industry and clarity on how to make your brand—big or small—stand out.
This is it. So, whether you're a student, a working professional, a business owner, a budding entrepreneur, a blogger trying to expand your reach, or a social media influencer, this event is for you.
What benefits you'll get?
- Learn about the key requirement to becoming a Digital Marketing Specialist
- Get a clear understanding to choose for you the correct institution
- You will be able to learn how to pitch your million-dollar concept to potential clients.
- You will gain an understanding of freelance prospects.
- You will be able to earn from your hobbies.
- You will discover the secrets of successful freelancers.
- Discover online earning secrets.
- Resolve your digital marketing concerns.
Meet Your Speaker, Mr Shivam Ahuja
CEO & Founder of SkillCircle
Shivam Ahuja is a web 3.0 enthusiast, a public speaker and the founder of SkillCircle. He has worked for top Startups from India & abroad as a Digital Marketing Consultant and Growth Hacker including Oyo, Innov8, and BLS international where he helped brands to scale globally with their marketing Campaigns. For the last 8 years, his teaching efforts have impacted thousands of lives by managing to train 20,000+ students and corporations online and offline making him the ideal person to learn Digital Marketing from.
- Stanford University alumni
- TEDx speaker
- Trained CxO level employees of BLS International,
OYO Rooms, Abhinav.com, Lupine and many more
- Featured by Forbes, Josh talks, Times of India, entrepreneur.com & many more.
This is your chance to make a promising and respectful career for your shining future.
Don't miss it. Limited Seats Reserved.
Book your ticket now.
Seminar on
A career in Digital Marketing
Venue - Aiwan-e-Ghalib Auditorium
Mata Sundri Lane
New Delhi - 110002
Date & Time - 20 August 2022 at 2:00 pm
Offline Event
For Age 16+
Language- Hindi & English
Seminar - Learn from Industry Expert
Call: 9899140180
Aiwan-e-Ghalib Auditorium
Ghalib Institute, Near, Mata Sundari Ln, Mata Sundri Women's College, ITO, Mandi House, New Delhi, Delhi 110002, India
GET DIRECTIONS
Career in Digital Marketing Seminar With Shivam Ahuja
Aiwan-e-Ghalib Auditorium, Delhi
Step out and enjoy this event
Event Guide
For Age(s)
Family Friendly
Masterclass
Learn from an expert
Invite your friends
and enjoy a shared experience