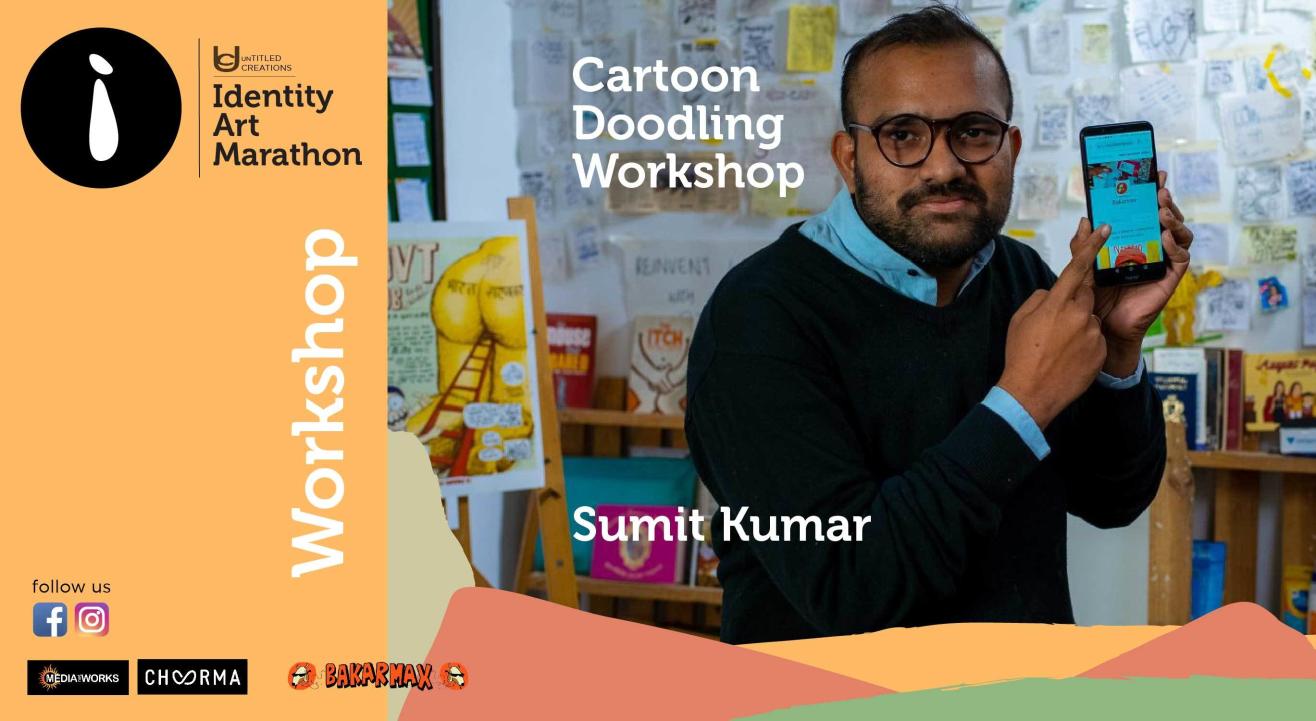 Doodling
Cartoon Doodling Workshop by Bakarmax
About
Cartoon Doodling Workshop by Bakarmax (Sumit Kumar)
9th June 2019
4 - 6 pm
We'll first remove your fear of drawing with simple exercises - making circles, cartoons, and panels, while I take you through different drawing types and my own methods. After getting comfortable with drawing exercises we will explore how comics tell stories using a sequence of images as we attempt our own 2-panel comic.
We'll talk about 'A day in the life of a Cartoonist' and also - my tools, comics under work, projects and my inspirations.
After that, I will take you through my process when it comes to ideas and stories. We will create fun stories using mundane examples and you will take a shot at drawing a simple single page doodle comic.
I will introduce you to other amateur cartoonists to inspire you. In the end, I will share resources and methods for you to continue drawing - the same way that I did years ago. And a free poster from my webcomic for everyone!
I've been making comics for 10 yrs. They have appeared in The Guardian, BBC & other outlets.
"The Itch You Can't Scratch" and "Amar Bari Tomar Bari Naxalbari" are two of my bestselling graphic novels – Sumit Kumar
What I'll provide:
Paper, Pen, Pencils
What to bring:
Puns, jokes and observations
An absolutely empty brain
Bad drawing skills
Part of 'I AM - Identity Art Marathon',
24 day multi disciplinary art festival from 24th May to 16th June 2019
Curator: Aakshat SInha
Organiser: Untitled Creations Private Limited
Media partner: Media net Works
Design partner: Choorma
Venue Partner: Arpana Fine Arts Gallery, New Delhi
https://www.facebook.com/identityartmarathon/
Buy a ticket & get ₹150 off. Use code: LEARNMORE150 (T&C apply)
Book any workshop ticket and get a 7-day cult.fit pass FREE. Offer valid till 31st September. (T&C apply) Click here for more information
Venue
Arpana Fine Arts Gallery
Arpana Fine Arts Gallery, Academy of Fine Arts and Literature, 4/6 Siri Fort Institutional Area, Opp. Gate No. 2, Siri Fort Auditorium, New Delhi 110049. Metro Green Park.