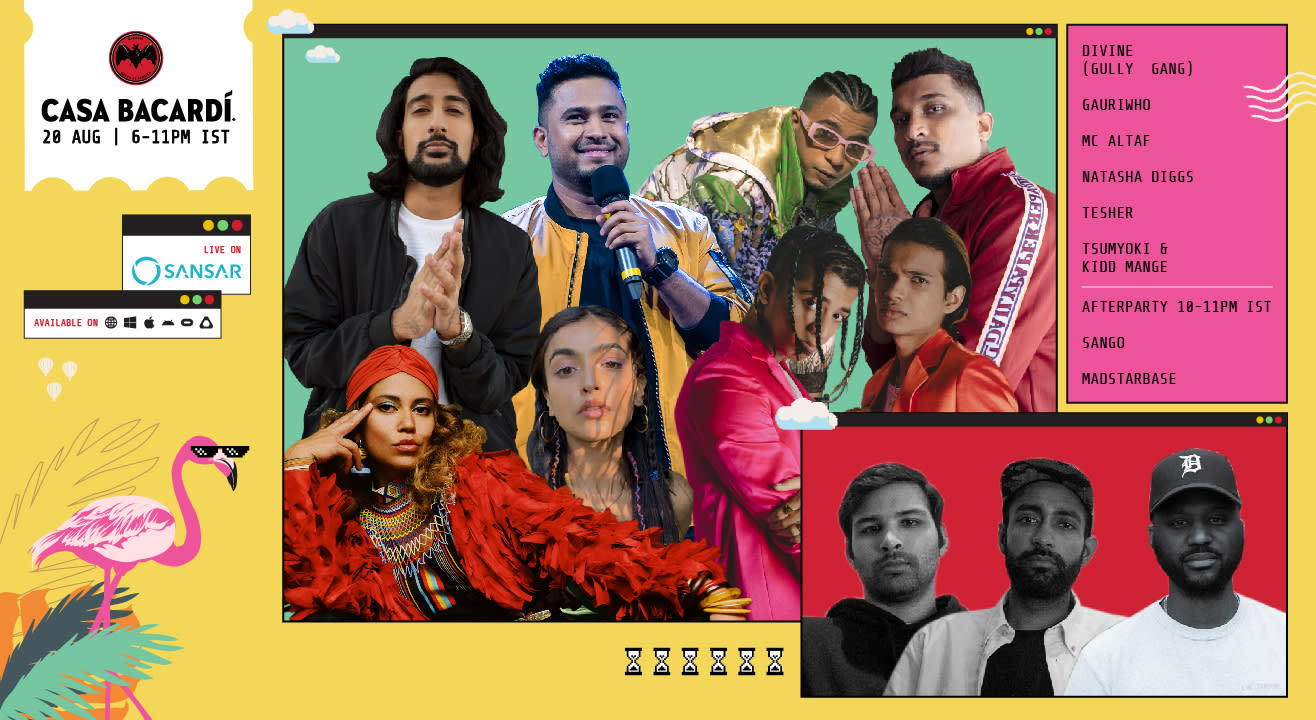 Enjoy this event from your home
Event Guide
Live Performance
Enjoy a unique experience
Invite your friends
and enjoy a shared experience
Enjoy this event from your home
Event Guide
Live Performance
Enjoy a unique experience
Invite your friends
and enjoy a shared experience
Event Guide
Live Performance
Enjoy a unique experience
Invite your friends
and enjoy a shared experience
Teleport to your virtual island of Casa BACARDÍ
Bring home some Caribbean vibes and get grooving to your favourite beats at a music experience like never before.
Casa BACARDÍ is a whole new virtual world on Sansar, with an epic stage for your favourite artists to perform on, games to play with your friends, hang out with them, play cocktail games and meet new people. Enjoy all of this and more from the comfort of your home along with your favourite BACARDÍ Cocktails.
You can even design your own look & express yourselves through your avatar before you land on Casa BACARDÍ Island. Festival fashion doesn't go away, you know?
Find liberation from the real world on a virtual Caribbean island. Teleport to Casa BACARDÍ this Rum Month.
Book your tickets now!

DIVINE and Gully Gang:
Your hip-hop star from the 'gully' who paved the way for generations of rappers to come. His lyrical complexity and relatable storytelling will draw you in, and get you moving. He'll be joined by the one and only Gully Gang.


Tesher
The international social media music scene is blowing up and Tesher is at the forefront. A rapper, singer, songwriter with a modern fusion sound that's infectious and bound to draw you in and get you moving.


MC Altaf:
He may be young, but he's a formidable force on the mic. With equal doses of lyrical flair, topical ingenuity and razor-sharp delivery, MC Altaf has blazed a trail in the ever-growing Indian hip-hop scene.


Tsumyoki with Kidd Mange:
Hailing from Goa, Tsumyoki is here with a flow that's unbreakable and a voice that charms. His emotive and evocative expression shines through in his music, and his sonic energy aims to heal people that can relate to the stories he's telling.

Kidd Mange is one of Goa's top MCs at the head of the Goa rap movement. Preferring to rap over old school boom bap type beats, he has explored genres from trap and pop to afrofusion, Lo-fi and indie. And now he's coming to Casa BACARDÍ to drop some verses that will get you in that Caribbean mood.


Natasha Diggs:
She's an internationally renowned DJ keeping alive the analog DJing tradition. Her record collection only adds to the soundscapes she creates. From New York to Tokyo and Sydney, she's known for keeping the party moving and grooving. And now she's coming to Casa BACARDÍ.


Gauriwho:
Gauriwho brings a feeling of oneness to the dance floor. With work spanning from afrobeat rhythms to progressive glitch trance, she'll take you on an organic adventure through the body, mind and soul.

AFTER PARTY

Sango
He's an American DJ known for creating afro funk beats using both synthesized and analog sounds. He brings a vibe that's raw and uplifting and easy to lose yourself in.


MadStarBase:
Ase and dubSekhri come together as a DJ production duo to create music that spans over space age and future music infused with classic hip-hop, reggae and dub. Their music is genre-free, fresh and progressive with some wonderfully surprising infusions of local movie tunes and beats.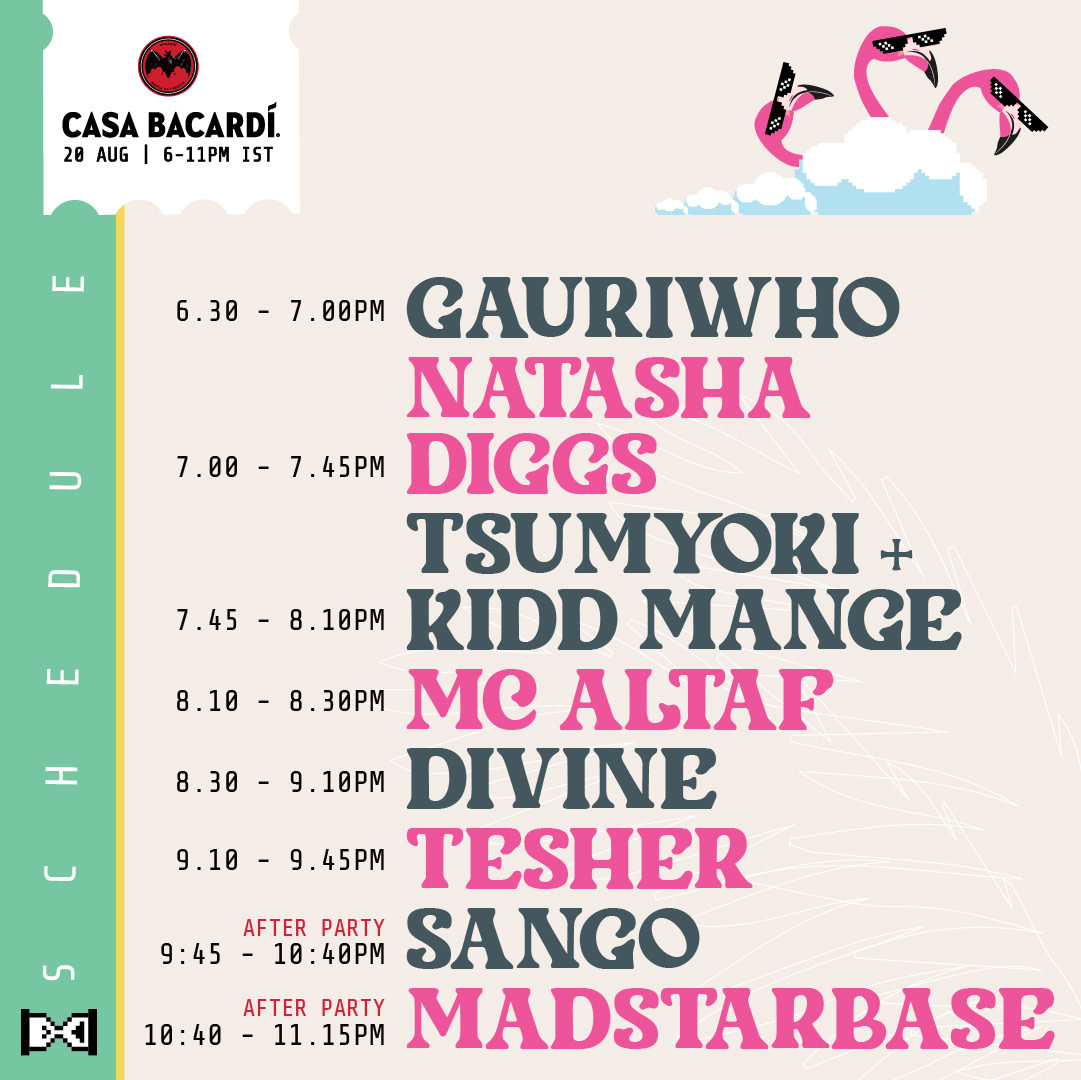 For tickets:
WHAT IS THE MINIMUM AGE REQUIRED TO JOIN THE EVENT?
You need to be of legal drinking age in your state to attend the event. If you've not crossed that milestone yet, stay tuned to our social media pages. There'll be something for you soon enough.

CAN I TRANSFER MY TICKET TO SOMEONE ELSE?
Sorry, as this year's edition of the festival is digital, tickets are non-transferable.

CAN I CANCEL MY TICKET?
Sorry, no takesies backsies here. We will not be able to cancel or refund tickets.

WHAT'S THE LAST DATE TO BUY TICKETS?
You can buy tickets up to 30 mins before the event.

WHAT ARE THE DIFFERENT TICKETS TYPES AND PRICES?
Three different types of tickets are available.
1.Boarding Pass
Ticket - RSVP
With your boarding pass, you have all you need to teleport to Casa Bacardi Island.

2. Boarding Pass + Limited After Party Access
Ticket - RSVP
Don't just teleport to Casa Bacardi Island. Stay back for the after party with a special lineup.

3.Casa Experience Package*
Ticket Price - 999INR
Get yourself the boarding pass, access to the after-party along with an exclusive tropical kit to enjoy the virtual festival on the island. You don't want to miss it.

*The Casa Experience Package will only be sent to serviceable pin codes. You must place your order for the Casa Bacardi Package before 12th August, 2021 if you wish to receive it before the festival. However you can still order it up to the festival date, in which case you will receive it a few days later.

WHAT PAYMENT OPTIONS ARE AVAILABLE?
We accept VISA, MasterCard, American Express, Debit Cards, International Cards via Stripe, Net Banking, Wallet, UPI, and PayU Money.

CAN MY GROUP OF FRIENDS AND I USE THE SAME TICKET/LINK/LOGIN?
No. Each ticket is attached to a unique redemption link for user and only one user will be able to attend the event via the link

WILL I BE NOTIFIED WHEN THE EVENT STARTS?
Yes. You will receive a reminder email from Insider before the event begins.

IS THERE A LIMIT TO HOW MANY TICKETS I CAN PURCHASE?
Yes. You can purchase one ticket with one email ID.

I DIDN'T RECEIVE MY UNIQUE REDEMPTION LINK WHEN I PURCHASED MY TICKET?
If you've bought your ticket through the PaytmInsider platform, please write to help at PaytmInsider.

For streaming:
HOW DO I ACCESS THE FESTIVAL STREAM ON SANSAR?
You can access the festival stream by following these steps:
1. Click the Unique Redemption link sent to your email by Sansar
2. Create your account on Sansar to successfully redeem your ticket
3. Create your avatar. Pick and choose different effects and gear for your avatar to look its best at the festival.
4. Finally, Log in to your Sansar account on 20 Aug, to access the Casa BACARDÍ festival that will be available in your Sansar calendar at 6:00 p.m IST

Pro Tips:
If you're on a Mobile or Tablet, you will need to download the Sansar app to your device.
If you're using a Browser, you access Sansar through www.sansar.com.
If you are on a Mac Desktop or Laptop Computer, when prompted by Sansar, select WEB not IOS.
Only select IOS if you are using a Mobile or Tablet.
Download the Sansar app to your phone and create your account BEFORE the event starts.
For the best experience, join the festival on the Sansar desktop app or on your VR headset. #HeadphonesOn
Still need help? Drop us a line on Instagram @casabacardiin

CAN I STREAM THE FESTIVAL FROM MULTIPLE DEVICES AT ONCE?
Nope, unfortunately you can only stream from one device at a time.

For the schedule:
WHAT TIME WILL THE EVENT START AND END?
The event will start at 6:00 p.m. IST on the 20th August 2021. Stay tuned to our social channels on Instagram and Facebook for the schedule.

For event:
WHAT WILL I GET TO SEE AT CASA BACARDI?
In terms of music genres, expect afrobeat, hip hop, electronica and dance music to name a few. Basically, get ready to get your groove on.

WHAT IF I MISS MY FAVOURITE ARTIST'S SET?
Grab yourself a schedule and make sure you've got an eye on your screen, because all acts will be one-time performances only.

I'M A REALLY BIG FAN OF AN ARTIST - ANY CHANCE OF BEING ABLE TO INTERACT WITH THEM?
You never know your favourite artists might be hanging around as an avatar somewhere in the venue.

For festival kit:
WHAT'S IN MY Casa Experience Package?
Your Casa Experience Package will include a Pineapple Kit with some fairy lights for a warm ambience, Festival Tote Bag, Casa BACARDÍ Stickers, BACARDÍ T-Shirt, Inflatable Drink Holders, Casa BACARDÍ Fridge Magnet, Bar Mats and a few more Casa BACARDÍ surprise elements.

Festival Kits are available to audiences residing in India and are available for purchase through Insider.

HOW LONG WILL MY CASA EXPERIENCE PACKAGE TAKE TO REACH ME?
The packages may take up to 10 days to reach you, subject to COVID-19 mandates set by the government. While we'll be doing our best to get your packages to you as soon as possible, we can't make promises when it comes to logistical eventualities. The earlier you buy it, the greater your chances are of experiencing the festival with it.

For social media:
WHAT'S THE OFFICIAL HASHTAG?
Use #DOWHATMOVESYOU and #CASABACARDI on Instagram, Twitter and Facebook, and we might holla at you.

THE FAQS HAVEN'T ANSWERED MY QUESTION. HOW DO I CONTACT YOU GUYS?
Write to us at help at PaytmInsider

For Sansar platform:
WHAT IS THE SANSAR PLATFORM?
Sansar is a social virtual reality platform that enables user-created 3D spaces where people can create and share interactive social experiences, such as playing games, watching videos, and having conversations in VR. Each participant is represented by a detailed avatar that is the graphical representation of the user including speech-driven facial animations and motion-driven body animations.

WHAT CAN I DO ON SANSAR?
Sansar is a new destination for live events & entertainment. Catch mind-bending live performances from your favorite artists without having to travel to their shows. Meet friends, snag merch, snap selfies, and dance 'til you drop - all in fantastical worlds and clubs straight out of science fiction. In Sansar, anything is possible.
Come for the show, stay for the after party.

WHAT IS THE BEST MEDIUM/DEVICE TO WATCH ON SANSAR?
Sansar supports both virtual reality headsets (including the Oculus Rift and HTC Vive) and Windows computers, and is free to use, with advanced features available for paying subscribers.

You can also watch the show on your mobiles by downloading the Sansar app from the app store. The passive stream can also be viewed on your mobile/desktop browser by logging onto the Sansar website where you can watch the artists perform through various camera angles.

Features on Sansar:
- Look good, feel good. Shop the Sansar Store before a big show + get your avatar party-ready.
- Meet friends & snap selfies from backstage. Anything can happen at the night show.
- Hit the shoot, do the Shiggy, or floss it out. Express yourself with dozens of custom emotes + have your - friends join in through new group emotes.
- After the show, there's the afterparty. Keep the fun going by exploring thousands of virtual worlds with friends.
- Join friends at virtual meetups, game nights, dance parties and more.
- Create your own amazing hangout, lounge, or engaging experience
- Discover amazing new events every day, from watch parties to karaoke nights to DJ residencies to sell out shows. There's something for everyone.
- Shop for virtual merch. Thousands of creator-made items in the Sansar Store and a deep creator's marketplace where you can craft and sell items for real money
- No VR? No problem. You can party just fine on desktop
Casa Bacardi Trailer 2021
Enjoy this event from your home
Event Guide
Live Performance
Enjoy a unique experience
Invite your friends
and enjoy a shared experience