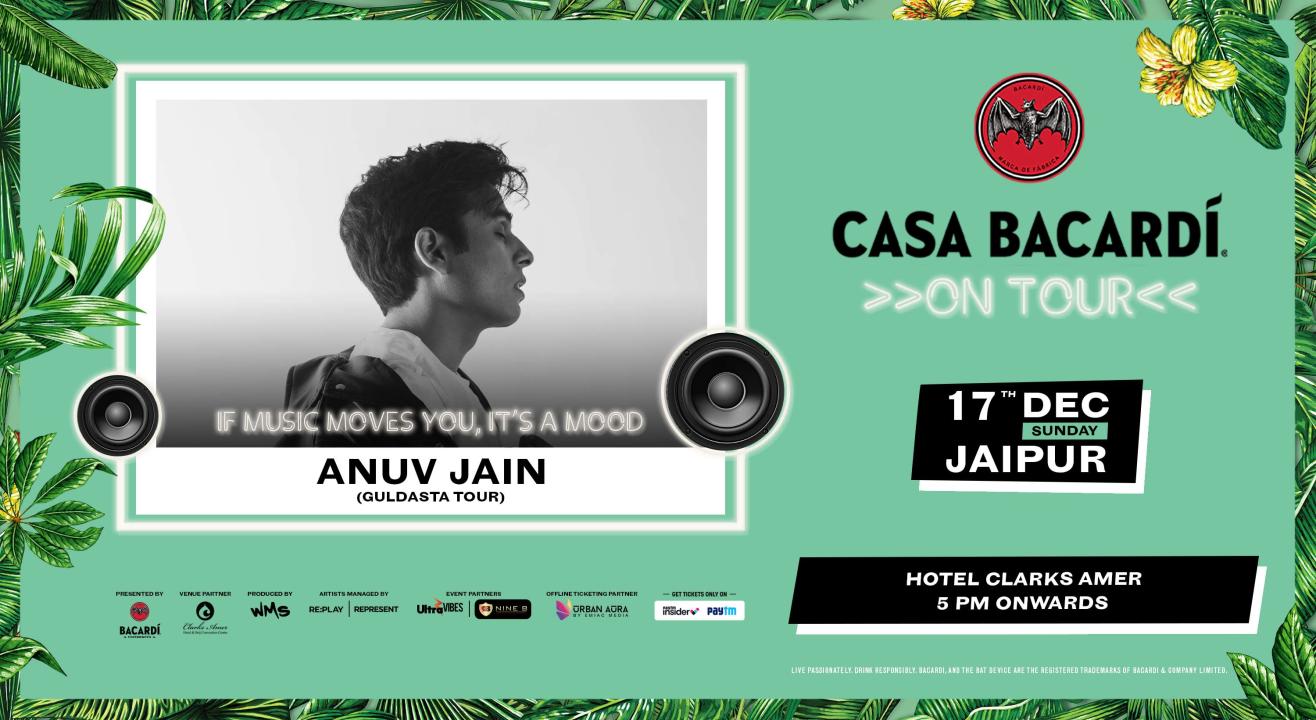 Casa Bacardi on Tour - Jaipur Ft. Anuv Jain | Guldasta Tour
Hotel Clarks Amer, Jaipur, Jaipur
Event Guide
Live Performance
Enjoy a unique experience
Invite your friends
and enjoy a shared experience
Casa Bacardi on Tour - Jaipur Ft. Anuv Jain | Guldasta Tour
Hotel Clarks Amer, Jaipur, Jaipur
Event Guide
Live Performance
Enjoy a unique experience
Invite your friends
and enjoy a shared experience
Event Guide
Live Performance
Enjoy a unique experience
Invite your friends
and enjoy a shared experience
#JAIPUR are you ready for the BIGGEST PARTY IN TOWN?
Bacardi Experiences brings #CasaBacardiOnTour to Jaipur, this December!
If Baarishein moves you, #ItsAMood!
Experience Anuv Jain perform Live for you on the 17th of December, 2023.
Get your tickets NOW!
Artist Lineup:
Anuv Jain + Supporting acts
About Anuv Jain:
Anuv Jain is best described as "a singer-songwriter for every human experience". The 28-year-old from Punjab, India went from being an online sensation to becoming one of the most popular artists in the world. He first came into the limelight with 'Baarishein', which has now surpassed 100 million streams on Spotify, further bolstering his standing in the indie music realm. Such achievements have allowed him to enjoy a cult following who have popularized his songs on every acoustic playlist. His music, a blend of honest lyrics and evocative melodies, has led him to garner over 10 million monthly listeners with hits like 'Gul,' 'Alag Aasmaan,' 'Mishri,' and his 10th release, 'Antariksh.'
His first all-India tour in October 2021 sold out across all 10 cities — a significant feat for a young independent artist during the pandemic. In 2022, he drew an awe-inspiring crowd of more than 20,000 people to the Delhi Beat Street Festival. Anuv was also among the select few artists to feature on the lineup leading to international singer Post Malone's performance in India. Beyond his musical feats, he has been recognized for his influence and impact, getting listed on 'Forbes 30 under 30' and earning a spot in GQ's 2023 '35 Most Influential Young Indians list.
Event produced by: WMS
Presented by: Bacardi Experiences
Hotel Clarks Amer, Jaipur
Jawahar Lal Nehru Marg, near Jaipur Airport, Lal Bahadur Nagar, Chandrakala Colony, Durgapura, Jaipur, Rajasthan 302018, India
GET DIRECTIONS
Casa Bacardi on Tour - Jaipur Ft. Anuv Jain | Guldasta Tour
Hotel Clarks Amer, Jaipur, Jaipur
Event Guide
Live Performance
Enjoy a unique experience
Invite your friends
and enjoy a shared experience