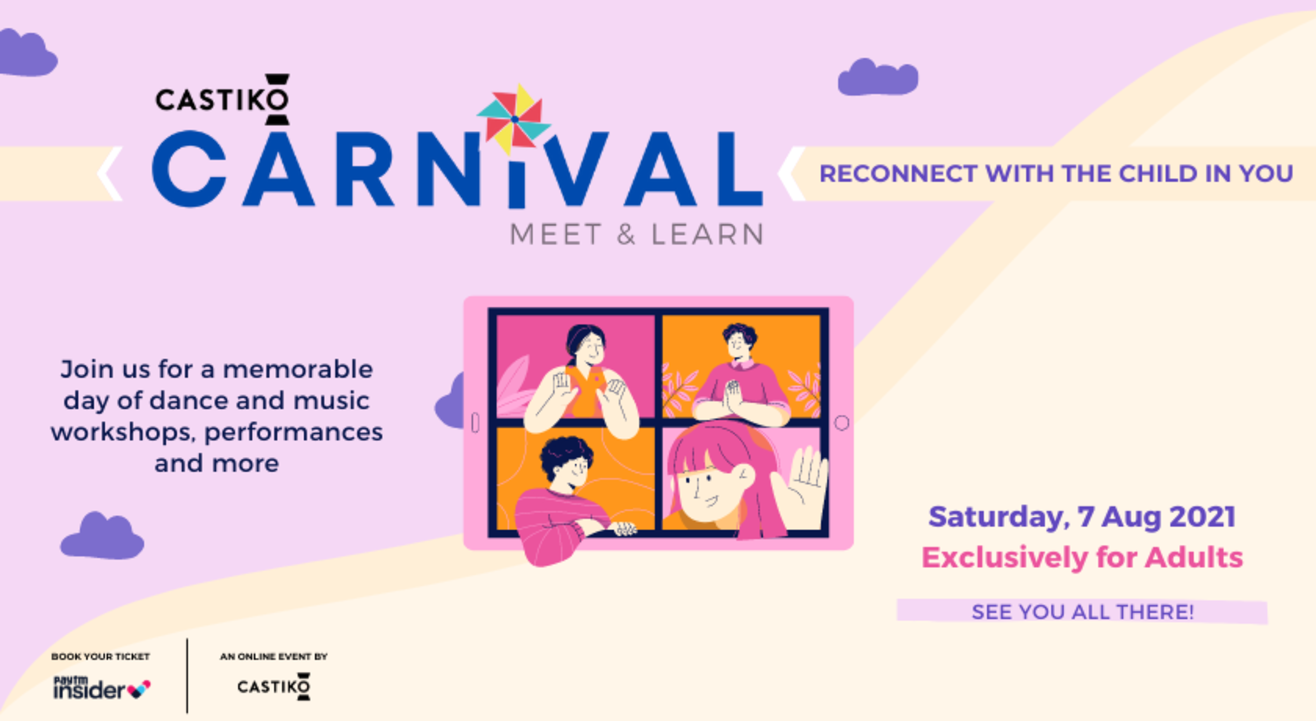 Enjoy this event from your home
Event Guide
Masterclass
Learn from an expert
Invite your friends
and enjoy a shared experience
Event Guide
Masterclass
Learn from an expert
Invite your friends
and enjoy a shared experience
About the Event
Castiko Carnival is a day of workshops for beginners. Our focus is on FUN and PERFORMANCE! If you've always wanted to learn, and don't know where to start, this is just the opportunity for you. Workshops available in:
Hindustani Vocals
Western Vocals
Guitar
Keyboard
Bollywood Dance
The Program on Saturday, 7 Aug
MORNING: GUITAR & KEYBOARD
10am: Launch Party and Open Mic #1
11am: Guitar Workshop
12pm: Keyboard Workshop
AFTERNOON: WESTERN VOCALS & DANCE
3pm: Launch Party and Open Mic #2
4pm: Western Vocals Workshop
5pm: Dance workshop
EVENING: HINDUSTANI VOCALS
7pm: Launch Party and Open Mic #3: Finale Antakshari
8pm: Hindustani Vocals workshop
Your Ticket Includes:
Access to a maximum of 3 workshop sessions
To enrol, you have to confirm attendance in a minimum of 1 workshop session
Access to all open mic sessions (optional participation, but we highly encourage you to jump right in!)
A Certificate of Coolness from Castiko: our way of telling you to keep at it, and always give your passion a chance


Castiko's Focus is on FUN and PERFORMANCE:
Isn't that why we learn the arts in the first place? Our sessions, program and workshops are all designed to keep you having fun, with a community of other learners and enthusiasts just like you.
Plus, within a month of you joining Castiko, we will put you in front of an encouraging audience and get you to start performing. That's the best way to learn, and it's also the best way to keep yourself moving forward quickly.


In Each Workshop, You Will Learn:
A rehearsal/riyaaz routine that you can use to jumpstart your learning journey
Some absolute basics of your art form, including some theory, and a little practice. For example, in guitar, you will learn how to play and write down the C major scale, and then move on to playing a simple song using that.
Castiko's Teachers are Fantastic:
From internationally travelled concert artists, to recording musicians with several albums under their belt, to certified trainers and educators with decades of experience - with Castiko, you are in excellent hands.


How to Make the Most of this Workshop:
Figure out what you always wanted to learn
Sign up for that session
Come for the launch, and show off your skills (even if you're just a beginner, just share!)
Attend the workshop and ask all your doubts to the trainer. Don't know which guitar to buy? Not sure if you're the 'right age' to start? Not clear on how to chart your learning journey? Ask our experts and let them help!
Got More Questions:
Write to us at hi@castiko.com or WhatsApp on +918454096250 and let us help you understand.
Castiko: Learning has to be fun!