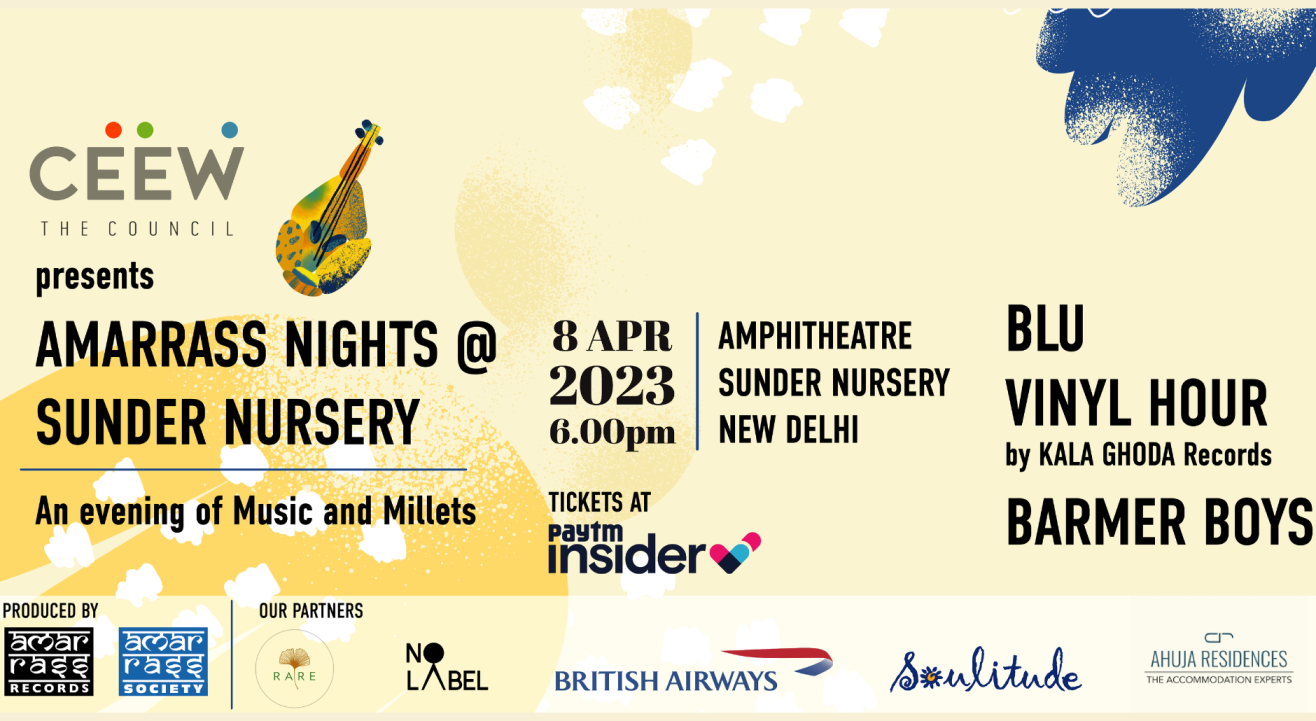 CEEW presents Amarrass Nights @ Sunder Nursery - an evening of Music and Millets
Event Guide
For Age(s)
Family Friendly
Invite your friends
and enjoy a shared experience
CEEW presents Amarrass Nights @ Sunder Nursery - an evening of Music and Millets
Event Guide
For Age(s)
Family Friendly
Invite your friends
and enjoy a shared experience
Event Guide
For Age(s)
Family Friendly
Invite your friends
and enjoy a shared experience
CEEW presents Amarrass Nights @ Sunder Nursery - an evening of Music and Millets on 8th April 2023 with the next generation of Rajasthani folk Barmer Boys, Delhi-based blues band BLU, and a special vinyl hour with Kala Ghoda Records.
A special event celebrating the International Year of Millets, in partnership with Council on Energy, Environment and Water (CEEW), with themed foods and drinks that celebrate the rich and diverse cultural heritage of India.
Featuring:
BLU
Vinyl Hour by Kala Ghoda Records
Barmer Boys
Date: 8 April 2023, 5:00pm - 10pm (show starts at 6.00)
Venue: Sunder Nursery Amphitheatre, New Delhi
Right of admission is reserved with the event organizers.
Please carry a valid ID proof along with you.
Security procedures, including frisking remain the right of the management.
No dangerous or potentially hazardous objects including but not limited to weapons, knives, guns, fireworks, helmets, lazer devices, bottles, musical instruments will be allowed in the venue and may be ejected with or without the owner from the venue.
Seating is on first-come-first-serve basis.
Reserved seats are ONLY for Senior citizens and Amarrass Partners/Associates.
Tickets once purchased are non refundable.
PETS are NOT ALLOWED AT THE SHOW.
ENTRY IS FREE for kids under 12 years, provided they are accompanied by an adult parent/guardian.
People in an inebriated state may not be allowed entry.
Organizers hold the right to deny late entry to the event.
Venue rules apply.
Amarrass Nights Show Reel
Sunder Nursery
Bharat Scouts and Guides Marg, Opposite Humayun Tomb Park, Nizamuddin, National Zoological Park, Sundar Nagar, New Delhi, Delhi 110013, India
GET DIRECTIONS
CEEW presents Amarrass Nights @ Sunder Nursery - an evening of Music and Millets
Event Guide
For Age(s)
Family Friendly
Invite your friends
and enjoy a shared experience