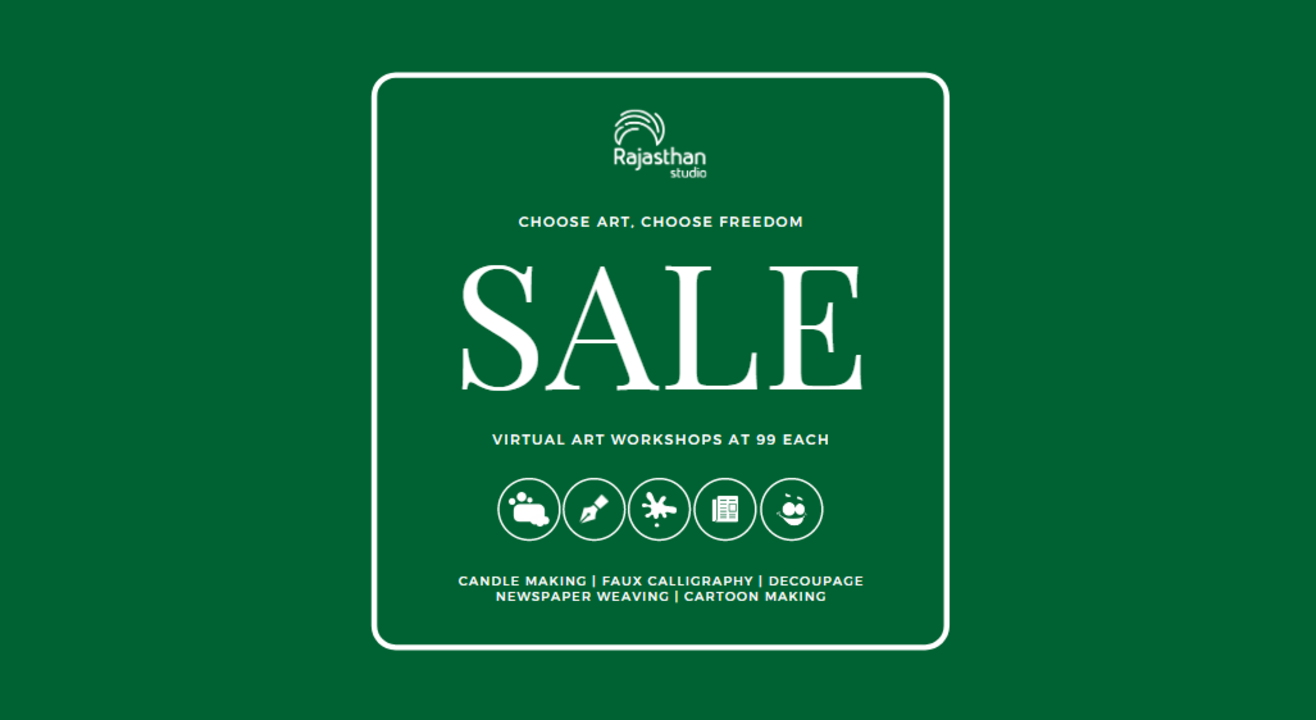 Celebrate Your Freedom Through Art Workshops by Rajasthan Studio
January 26 | 12:22PM - February 7 | 3:00PM
Enjoy this event from your home
Invite your friends
and enjoy a shared experience
Invite your friends
and enjoy a shared experience
About the Event
Art is the journey of a free soul. Gift yourself the freedom to express and experience, let yourself create something forever through paper or thread or brew beauty through soap, or paint yourself a world through ink. Republic art fest shall be your ticket in 99 into the world of art and learning, where you don't play roles but give character to the elements in your hand and motion them into a new life. Learn freedom in a new language by the masters of the language and get five experiences through one ticket.
Natural Handmade soap making workshop:
The workshop will guide you around to make soaps that are made of natural elements and will educate you about the composition of each product being used assuring you about the composition of the soap made and its safe use. As it will be handcrafted by yourself you can add the elements of your choice and experiment according to your requirement also making it a precious gift for your loved ones.
Cartoon making workshop:
This workshop will let you give your life the edge it needed, if scribbling was your hobby in school just know it's way more sophisticated than it. The workshop will be held by a renowned instructor who will make sure you follow her pace and enjoy the workshop thoroughly.
Newspaper weaving workshop:
Our newspaper weaving workshop can be said to be one of the most eco-friendly workshops we have, all you need is a stalk of some old newspaper and your creativity on the desk while the skill required is taken care of by our host. You will be astonished by the quality of the final product and how something like a newspaper ready to be thrown can be shaped so well.
Decoupage workshop:
Decoupage is the art of creating patterns by gluing pieces of paper and tissue together and giving them meaning through paint. Our host, an expert in decoupage instructs you around the entire process very well, showing you how it is done and making sure that the end product is clean and quality.
Faux calligraphy:
Faux calligraphy is taught with fine precision requiring calmness and a meditative state of mind, our host to teach you this art will inculcate a seed of this art in you and guide you through it. All queries regarding the art and even doubts while attending the workshop will be answered during and around the workshop to ensure a fulfilling experience.
Price for Each of the above mentioned Workshop INR 99/-
Price for All Workshops Inclusive INR 499/-
Venue: Online Workshop over Zoom App
Let's Celebrate this Republic Day with Art.
See You!