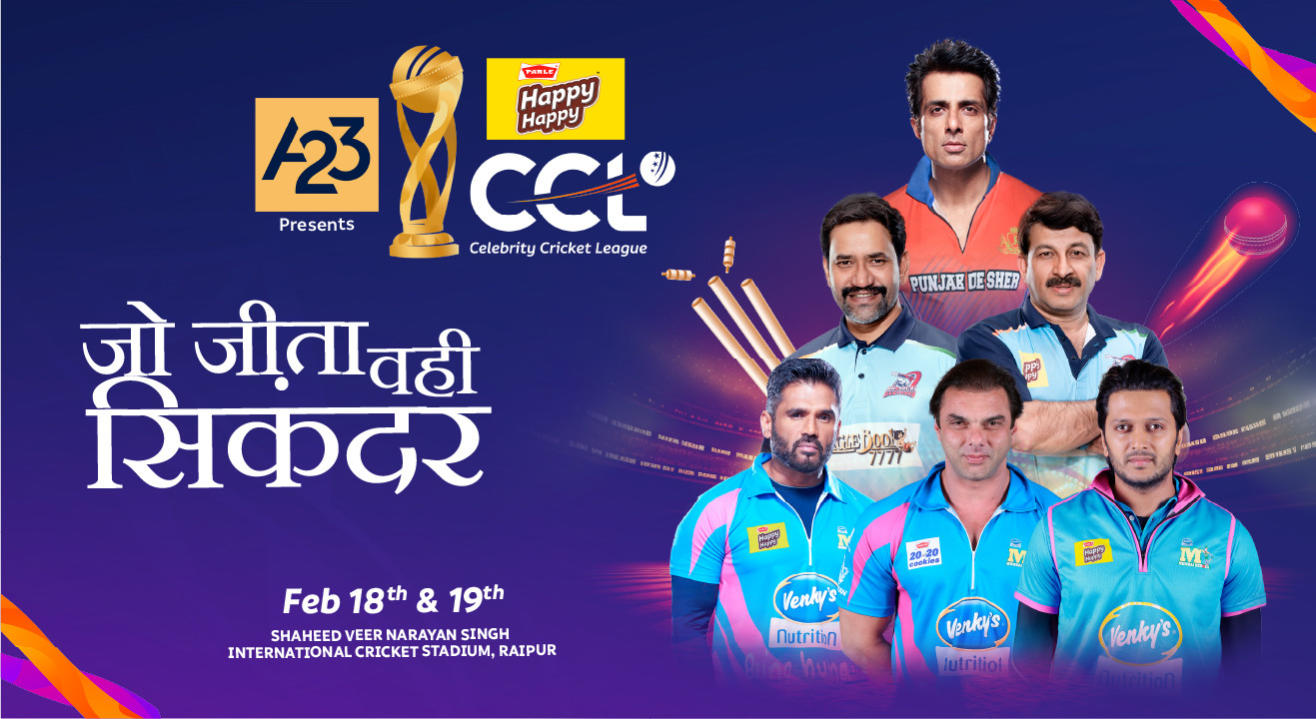 Celebrity Cricket League - Raipur 2023 (Season ticket - Both days)
February 18 & 19 | 2:00 PM
Shaheed Veer Narayan Singh International Cricket Stadium, Raipur
Step out and enjoy this event
Invite your friends
and enjoy a shared experience
Celebrity Cricket League - Raipur 2023 (Season ticket - Both days)
February 18 & 19 | 2:00 PM
Shaheed Veer Narayan Singh International Cricket Stadium, Raipur
Step out and enjoy this event
Invite your friends
and enjoy a shared experience
Invite your friends
and enjoy a shared experience
This is a SEASON TICKET and valid for both dates (18th an 19th Feb 2023). You can directly walk into the stadium
Think your favourite movie star could be a great cricket player? Find out at the Celebrity Cricket League, 2023!
India's biggest forms of entertainment - Cricket and Cinema, join forces to deliver the ultimate experience: The CCL 2023, where
India's top actors showcase their cricket skills.
The Celebrity Cricket League is contested by eight teams representing eight major, regional film industries of Indian Cinema.
Starting in 2011, CCL has grown leaps and bounds, with match day attendances and TV viewership increasing every year.
Oh and the actors have definitely improved their game, too :P
Get ready for the Raipur leg of CCL 2023 and come support your favourite film industry ;)
18th Feb 2023 – Saturday
2:30 pm to 6:30 pm: Bengal Tigers Vs Karnataka Bulldozers
7:00 pm to 11:00 pm: Chennai Rhinos Vs Mumbai Heroes
19th Feb 2023 – Sunday
2:30 pm to 6:30 pm: C3 Kerala Strikers Vs Telugu Warriors
7:00 pm to 11:00 pm: Punjab De Sher Vs Bhojpuri Dabanggs
This is a season ticket you can enter the stadium on both dates with the same ticket
Shaheed Veer Narayan Singh International Cricket Stadium
Raipur, 6R3F+9HF, Sector 3, Parsada-3, Atal Nagar-Nava Raipur, Chhattisgarh 492101
GET DIRECTIONS
Celebrity Cricket League - Raipur 2023 (Season ticket - Both days)
February 18 & 19 | 2:00 PM
Shaheed Veer Narayan Singh International Cricket Stadium, Raipur
Step out and enjoy this event
Invite your friends
and enjoy a shared experience