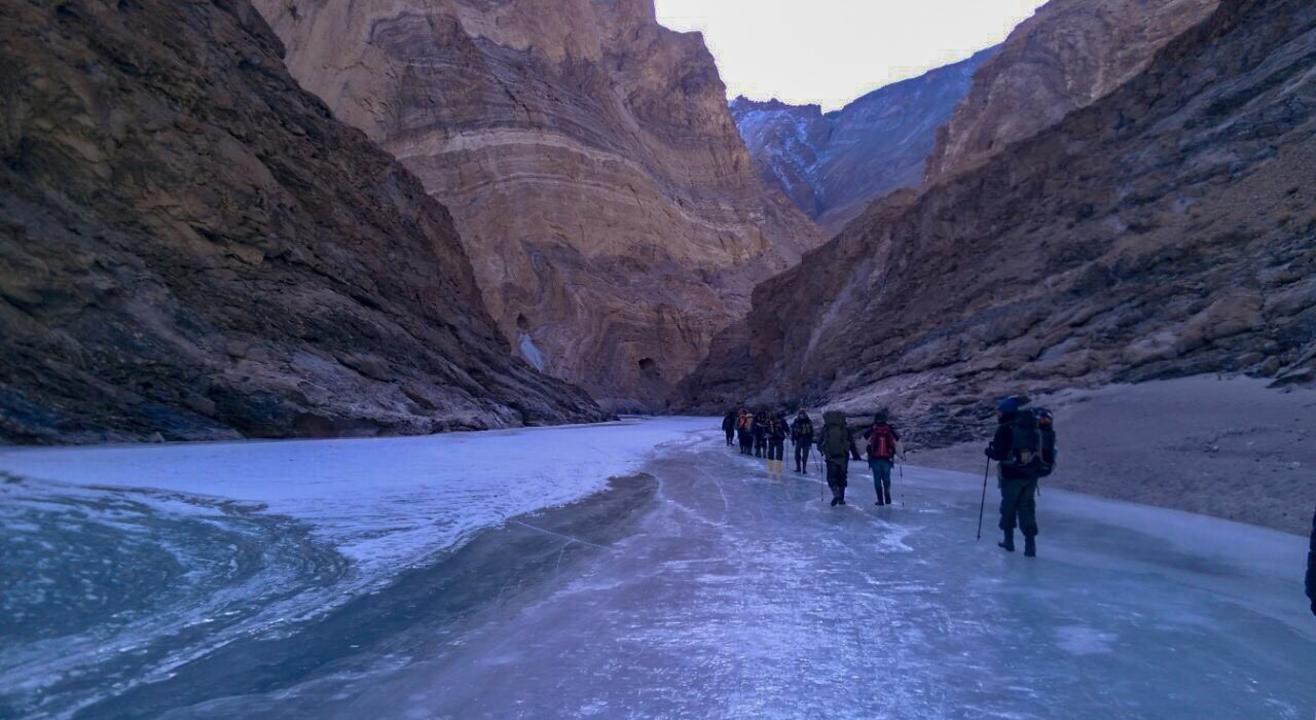 January 2 | 11:30AM - January 10 | 6:30PM
Invite your friends
and enjoy a shared experience
Invite your friends
and enjoy a shared experience
About the Event
Description
Imagine walking on the surface made of ice and frozen river. Sounds enthralling? One can have this experience on the Chadar Trek. The trek is like no other trek in Himalayas. However, one can find frozen rivers or frozen lakes on other treks too but the experience of Chadar trek remains completely different and exciting. Walking on a thick glass made of ice having huge and lofty mountains on both sides is an experience of a lifetime. The trek offers an opportunity to explore and experience the Zanskari and Ladakhi culture and hospitality. Apart from all this, the frozen waterfalls leave you in awe. The best months to do this trek is January and February and seeing the difficulty level, the trek is not recommended for beginners.
Day 1 : Reporting day at Leh
Reach Leh and get amazed by the breathtaking views of Leh town. It is advisable to wear warm clothes and take rest on this day as there are high chances of getting AMS due to high altitude and low temperature. However, you can explore the local market in the evening. Try to get used to the cold temperatures as it would help you during the trek.
Day 2 : Acclimatization Day
As per the norms, a trekker should should spend atleast 2 days in Leh before leaving for Chadar trek so that his body gets acclimatized properly. Trekkers can also spend time by visiting other places in the vicinity.
Day 3 : Getting a medical check-up at SNM Hospital
Due to the perplexing nature of this specific trek, it is mandatory according to the government, for participants to obtain medical certification before undertaking Chadar trek. A clearance certificate will be issued after a medical check-up only when satisfactorily fit and acclimatized for the trek.
Day 4 : Drive from Leh to Shingra Koma and trek to Tsomo Paldar (Drive 65kms, 4-5hrs/ 3kms trek 2 hrs)
After enjoying morning tea and breakfast, we start our journey by driving to Shingra Koma. This ride is definitely not for the faint-hearted as rough roads and hairpin bends are quite common on this route. The sight of the surrounding high mountains will give you a sense of awe. After a while, you will have to deboard from the vehicle and trek towards Somo Paldar campsite. Your Chadar trek expedition will start from here.
Day 5 : Trek Tsomo Paldar to Tibb (15kms / 7-8 hrs)
After spending a cold night in the tent, have a wholesome breakfast and a hot cup of tea that will reactivate your senses in the morning in such subzero conditions. As you start trekking towards Tibb cave which is our next campsite. This trek route has some of the most attention-grabbing frozen waterfalls that one can encounter. Lunch will be served midway to Tibb cave. After walking for a couple of hours you'll reach your campsite, you will be camping near the Tibb cave which is encircled by dry sand.
Day 6 : Trek Tibb to Naerak Camp (13kms/ 6-7 hrs)
As you move towards Nerak, the most anticipated campsite of the trek. Today, the route is almost 13km that takes you to the most iconic landmark of the Chadar trek i.e. the frozen waterfall. Hot lunch will be served on your way to the campsite. Considerably, Nerak will be the coldest campsite on the trek where the temperature goes down to -30 degrees during the night. Trekkers are advised to wear proper layers to stay safe from the freezing cold. If we are able to to reach the waterfall on time, there are chances we might visit Nerak Village as well. Camps will be set at a distance of 15-20 minutes from the waterfall.
Back from Nerak:
There are many stories that trekkers might have heard stories of how unpredictable the weather patterns can get on the Chadar trek. There are times where you might find that the formation of Chadar no longer exists and at some places a new layer of Chadar is formed. Even though the route remains unchanged, it's amazing to see how different it appears while we return.
Day 7 : Trek Naerak to Tibb (13kms / 5-6 hrs)
Today, we start our return trip walk back to Tibb. The route of the return would not be easy as the river can rapidly react to any change in the temperature. By this time the icy river might have taken a completely new form. On our way back, we can admire the beauty of the valley and click pictures.
Day 8 : Tibb to Shingra Koma & Back to Leh (9kms Trek 5-6kms/ 75kms drive, 4-5 hrs)
After having a hot breakfast, we get ready to leave Tibb and move towards Shingra Koma, crossing Gyalpo. En route you will a chance to see high mountains and observe pugmarks of wild animals like snow leopards, ibex and foxes. If you are lucky enough, you just might spot a leopard; and in any case you do not, then at least be sure, you would be watched by them. In the evening, drive back to Leh and stay overnight at the hotel.
Day 9 : Depart from Leh
Departure from Leh. Take an early flight from Leh


Inclusions
04 Nights tented accommodation on triple sharing basis while on the trek.
04 Nights Homestay/Guest House accommodation in Leh on triple/quad sharing basis
All veg meals from Lunch on Day 4th to Lunch on Day 8th
Basic First Aid Medical kits with an oxygen cylinder.
Qualified and experienced Trek Guide and support staff.
Tents, Sleeping bags and Sleeping Mattress
Transport from Leh Guest House to Tilald do and return as per Itinerary
Exclusions
Wildlife Fee/Environment Fees
ALTOA Fees
Medical expenses (apart from first aid) and insurance of any kind.
Mineral Water & any kind of beverages
Airport Transfers / Transportation of any Kind
Any expenses arising out of unforeseen circumstances like flight delay/ cancellation/hike in fare, strike or any other natural calamities or any emergency evacuation expenses.
Meals in Leh
Anything not mentioned in above inclusions.
Cost Escalation due to "Force Majeure" and evacuation charges.
Things To Pack
Backpack (Min 60 Ltrs) with Rain Cover
Trekking Shoes. (Quechua Forclaz 500 M Wenge Hiking Boots (43))
Gumboots
4 Pairs of Full sleeve shirts/T-Shirt and Track Pants (1 should be waterproof/windproof)
4 Pair of cotton socks. 3 pairs of woolen socks.
2 Full Sleeve Sweater (Quechua Forclaz 50 Fleece, Men's Large (Black))
One Heavy Down Jacket (Quechua Warm Down Ski Jacket, XXL (Black)
Thermal Inner -2 Pair
2 pair waterproof hand gloves
2 Pair woolen Gloves
Sun Cap
One Scarf
Light towel
Lip Balm
Cold Cream & Sun Screen (SPF 40+)
Water Bottle 1 Lt (Thermos Preferable)
Headlamp or torch with a fresh pair of batteries
Personal Toilet Kit and toilet paper
Personal Medicine Kit
Dark Sunglasses (U/V protected)
Walking Stick (At least one)
People who were spectacles- Should avoid contact lenses and use photochromatic glasses instead.
Things To Know
Fitness Required: The Chadar Trek falls in the category of Moderate treks. The trail is fairly laid out path and has very few steep ascends or descends. Water is available throughout the trail. But still, if you are thinking of your first big Himalayan trekking experience it's better to be prepared. Here is the training schedule to prepare for the trek.
Our treks are generally planned in a way that on an average you have to cover around 9 Kms in 6 hours although there may be a slight variation depending on the terrain. This works out to roughly 1.5 kms per hour which is equivalent to walking in the plains at 6 kms per hour.
You can train yourself to run 3 kms in 30 minutes as per the schedule given below. Remember always start your training program with stretching and warm-up exercises.
Follow this training schedule for trekking fitness required.
Week 1: Start with 10 minutes of brisk walk and then jog for 10 minutes and finally 10 minutes of easy walk.
Week 2: 5 minutes of brisk walk 15 minutes of jog 5 minutes of easy walk
Week 3: 5 minutes of brisk walk 15 minutes of jog 5 minutes of easy walk
Week 4: 5 minutes of brisk walk and jog for 25 min and cool down your body