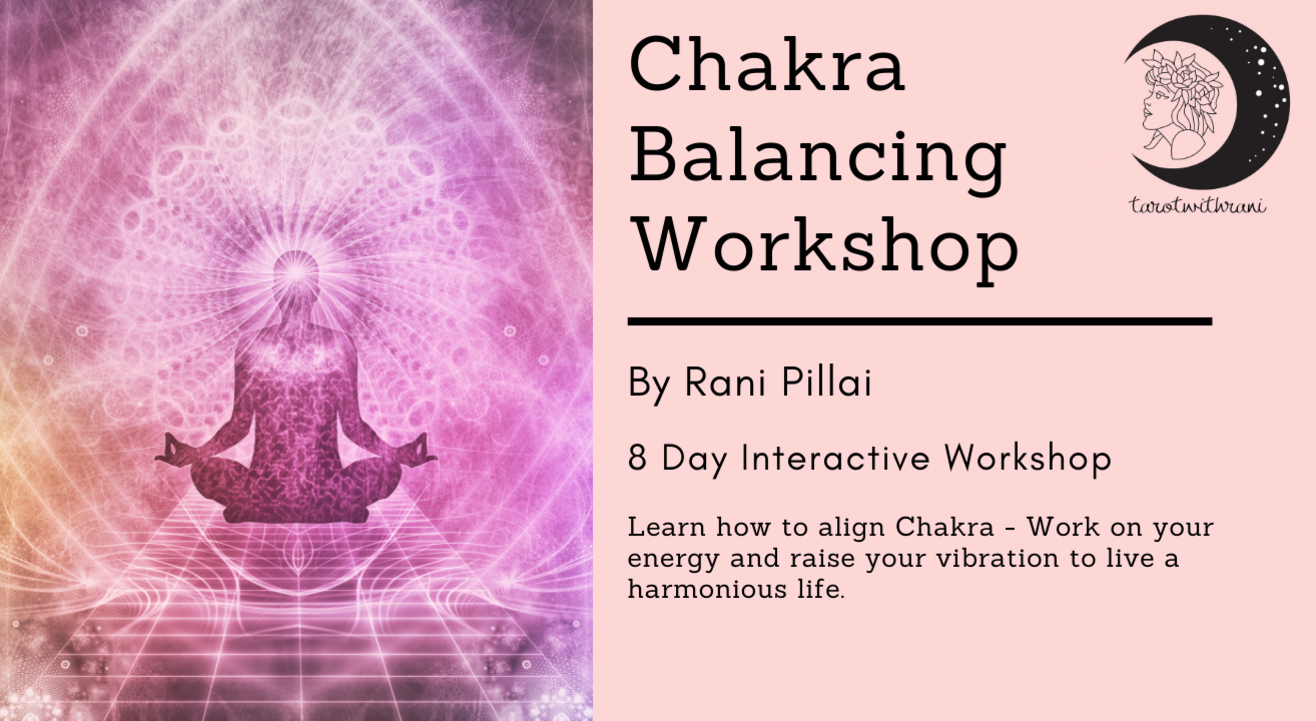 Chakra Balancing Workshop
September 20 | 8AM - September 27 | 9AM
Event Guide
Digital Event
Watch on Zoom
Masterclass
Learn from an expert
Invite your friends
and enjoy a shared experience
Event Guide
Digital Event
Watch on Zoom
Masterclass
Learn from an expert
Invite your friends
and enjoy a shared experience
About the Event
Rani Pillai- Introduction
A creative soul and a spiritual seeker strongly believe in the concept of energy healing through meditation, chakras, sounds, mantras, and conscious living. As a former Corporate Professional, with more than 4 years of practice in the area of energy healing, I am passionate about living life to the fullest and strives to make others embrace the simple energy healing practices as a part of their lifestyle and help everyone achieve a happy balance in their life. Also, a Tarot Reader, Yoga Instructor & Ayurveda Practitioner. I started learning the power of self-healing through meditation and chakra balancing during my Yoga journey. This workshop is designed for people in worldly pursuits, not aimed to make anyone a monk!
Chakra Workshop - 8 Days Interactive Sessions- 1 Hour (Beginners)
Dates: 20th Sep 2020 to 27th Sep 2020
Time: 8am to 9am
Fees: Rs.2800/-
What the workshop will cover?
1. Introduction to Chakras & their importance in well-being
2. All chakra explained in details
3. Identify the imbalances in your chakra and your daily activities impacting chakras
4. Learn various balancing methods like affirmations, color, food, yogic and breathing exercises & sound meditations.
How does chakra healing & balancing help?
1. Discover your emotional, behavioral & thinking patterns through chakras.
2. Work on negative emotions & actions related to chakras
3. Understand physical ailments related to chakras
4. Break bad habits & negative thought patterns
5. Create a new healthy, happy lifestyle
Guidelines:
1. You need to dedicate 1 hour for the workshop without fail for 8-days
2. Your last meal should be 2 hours before the workshop and no water intake at least 15 to 20 mins before the session
3. Wear comfortable clothes
4. Keep the room lights a bit dim and you can light a candle or incense sticks for positive energy
5. During this 1 hour there shouldn't be any disturbance around you – Preferably in a very quiet place and no one should disturb you
Workshop Flow:
Day 1 to Day 7:
1. Explanation of each Chakra in each day
2. Mantra & Visualization Meditation
3. Yogic Exercise for the particular Chakra
4. Closing Meditation/Prayer & Affirmation
Day 8: Breathing exercise, Beej Mantra Chanting, Colour Visualization, Guided Meditation for all 7 Chakra
Freebies: You will get all written content of this workshop in the end for future reference.
For more details about Rani Pillai or for any queries connect with her on her Instagram profile @ranipillaiyoga & @tarotwithrani