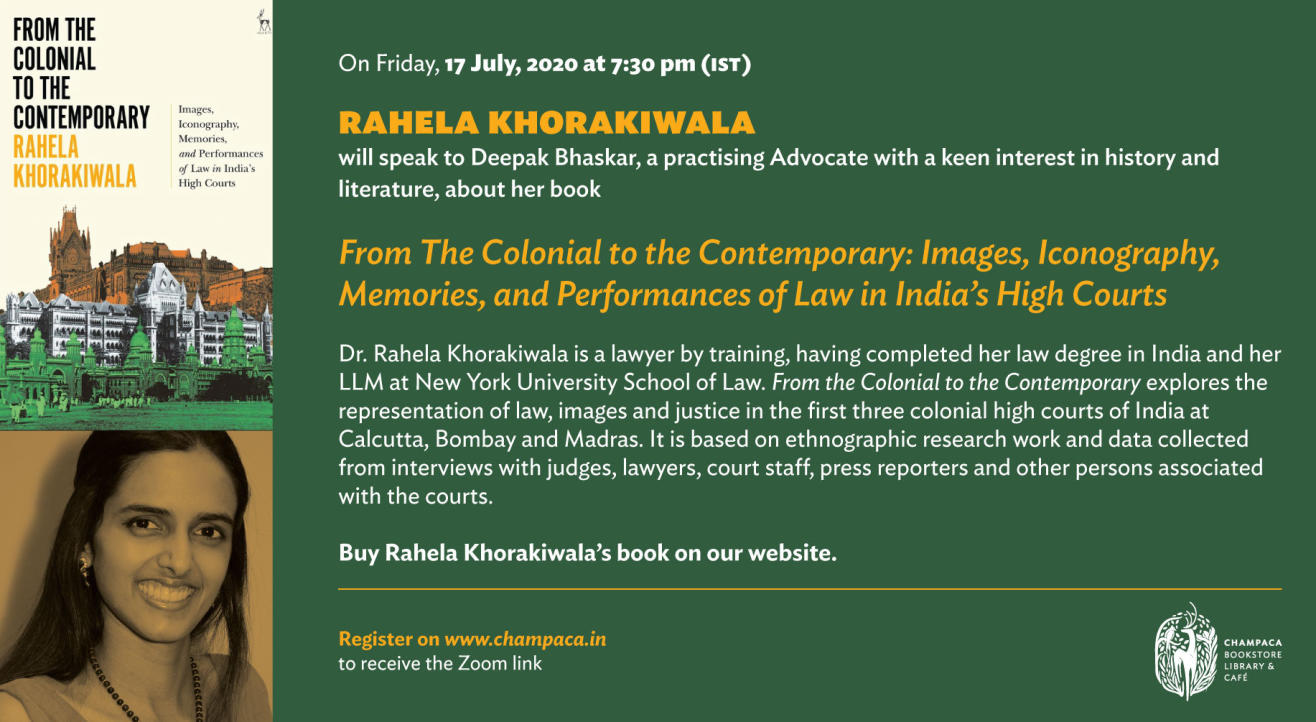 Champaca Bookstore presents a talk with Dr. Rahela Khorakiwala on her book From the Colonial to the Contemporary
Enjoy this event from your home
Invite your friends
and enjoy a shared experience
Champaca Bookstore presents a talk with Dr. Rahela Khorakiwala on her book From the Colonial to the Contemporary
Enjoy this event from your home
Invite your friends
and enjoy a shared experience
Invite your friends
and enjoy a shared experience
On Friday, 17th July, 2020 at 7.30PM, Rahela Khorakiwala will speak to Deepak Bhaskar about her book, From The Colonial to the Contemporary: Images, Iconography, Memories, and Performances of Law in India's High Courts.
About the speakers:
Dr. Rahela Khorakiwala is a lawyer by training, having completed her law degree in India and her LLM at New York University School of Law. Rahela has worked as a legal consultant with the Ministry of Foreign Affairs in New Delhi and the World Bank in Kabul. She has completed the integrated MPhil/PhD from Jawaharlal Nehru University, New Delhi where she did an ethnographic study of the colonial courts of India, studying them as a legal anthropologist. Rahela has eight publications to her credit, including peer-reviewed contributions to the Indian Law Review and the Asian Journal of Law and Society. Her research has an extensive outreach as she has presented her work at several conferences across the world. After completing a postdoctoral fellowship at the Max Planck Institute in Frankfurt, Rahela has most recently published her first book titled, From the Colonial to the Contemporary: Images, Iconography, Memories, and Performances of Law in India's High Courts.
Deepak Bhaskar is a practising Advocate, with a keen interest in history and literature.
About the book:
From the Colonial to the Contemporary explores the representation of law, images and justice in the first three colonial high courts of India at Calcutta, Bombay and Madras. It is based on ethnographic research work and data collected from interviews with judges, lawyers, court staff, press reporters and other persons associated with the courts.
The three colonial high courts studied in this book share a recurring historical tension between the Indian and British notions of justice. This tension is apparent in the semiotics of the legal spaces of these courts and is transmitted through oral history as narrated by those interviewed. The contemporary understandings of these court personnel are therefore seen to have deep historical roots. In this context, the architecture and judicial iconography of the high courts helps to constitute, preserve and reinforce the ambivalent relationship that the court shares with its own contested image.
Purchase her book on our website.
About Champaca:
Champaca is an independent, women-run bookstore, children's library and cafe. We bring diverse stories and perspectives for our readers and in our children's library through our books and events. And we run a small cafe for our community to spend a quiet few hours with a book and a hearty meal. We are located in Bangalore, India, and have an online store that ships across India.
Champaca Bookstore presents a talk with Dr. Rahela Khorakiwala on her book From the Colonial to the Contemporary
Enjoy this event from your home
Invite your friends
and enjoy a shared experience