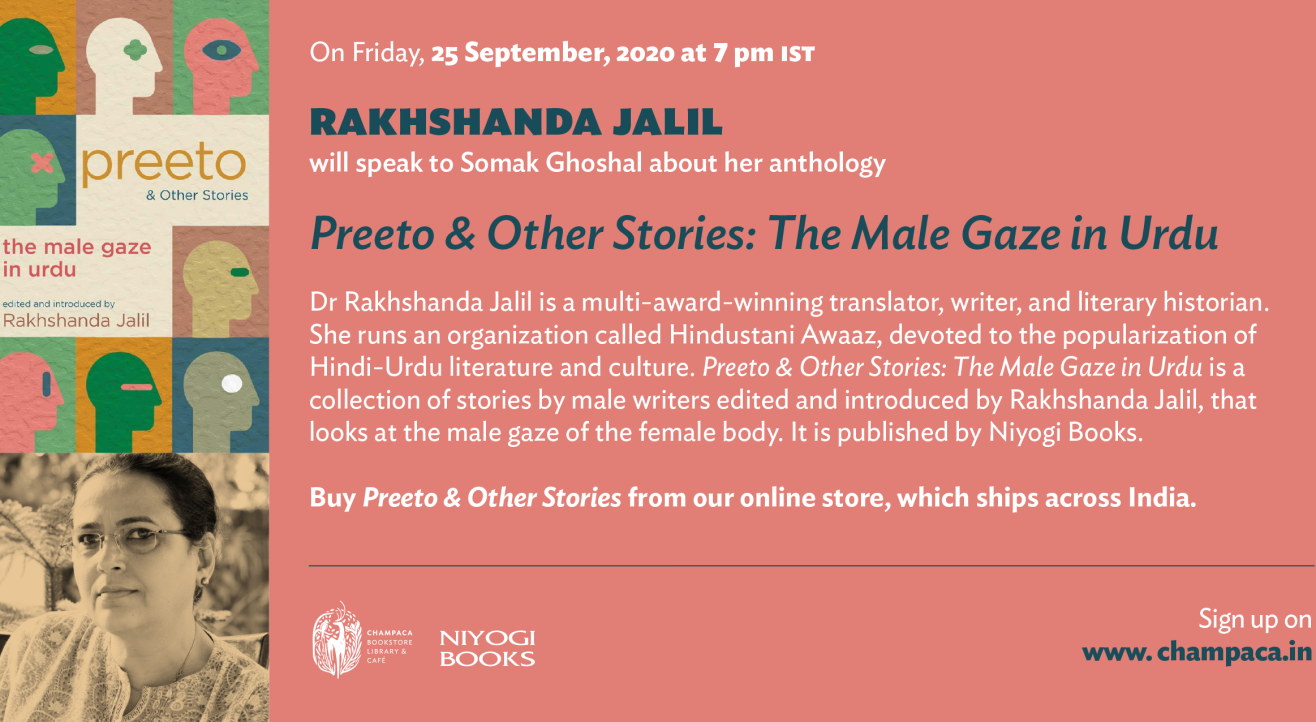 Champaca Bookstore presents writer and translator Rakhshanda Jalil in conversation with Somak Ghoshal
Event Guide
Digital Event
Watch on Zoom
For Age(s)
Family Friendly
Interactive show
Be a part of the show
Invite your friends
and enjoy a shared experience
Champaca Bookstore presents writer and translator Rakhshanda Jalil in conversation with Somak Ghoshal
Event Guide
Digital Event
Watch on Zoom
For Age(s)
Family Friendly
Interactive show
Be a part of the show
Invite your friends
and enjoy a shared experience
Event Guide
Digital Event
Watch on Zoom
For Age(s)
Family Friendly
Interactive show
Be a part of the show
Invite your friends
and enjoy a shared experience
On Friday, 25 September, Rakhshanda Jalil will speak to Somak Ghoshal about her anthology, Preeto & Other Stories: The Male Gaze in Urdu.
Preeto & Other Stories: The Male Gaze in Urdu is a collection of stories by male writers edited and introduced by Rakhshanda Jalil, that looks at the male gaze of the female body. It is published by Niyogi Books. Purchase the book on www.champaca.in.
About the author:
Dr Rakhshanda Jalil is a multi-award-winning translator, writer, and literary historian. She has published over 25 books and written over 50 academic papers and essays. Her book on the lesser-known monuments of Delhi, Invisible City (2008), continues to be a bestseller. Her recent works include: Preeto & Other Stories: The Male Gaze in Urdu (Niyogi) and Kaifiyat, a translation of Kaifi Azmi's poems for Penguin Random House and Jallianwala Bagh: Literary Responses in Prose &Poetry (Niyogi Books). Her latest book is But You Don't Look Like a Muslim (Harper Collins), a collection of 40 essays on religion, culture, literature and identity.
She runs an organization called Hindustani Awaaz, devoted to the popularization of Hindi-Urdu literature and culture. Her debut collection of fiction, Release & Other Stories, was published by Harper Collins in 2011, and received critical acclaim. She was awarded the Kaifi Azmi Award for her contribution to Urdu, the First Jawad Memorial Prize for Urdu-Hindi Translation and the Distinguished Translator Award by Vani Prakashan at Jaipur Litfest. She writes regularly for major newspapers such as Hindustan Times, Indian Express, The Hindu as well as magazines such as Outlook, Scroll, The Wire, etc. She is the Editor of the Taj magazine, a bi-annual book-length journal of the Taj group of hotels.
About Champaca:
Champaca is an independent, women-run bookstore, children's library and cafe. We bring diverse stories and perspectives for our readers and in our children's library through our books and events. And we run a small cafe for our community to spend a quiet few hours with a book and a hearty meal. We are located in Bangalore, India, and have an online store that ships across India.
Champaca Bookstore presents writer and translator Rakhshanda Jalil in conversation with Somak Ghoshal
Event Guide
Digital Event
Watch on Zoom
For Age(s)
Family Friendly
Interactive show
Be a part of the show
Invite your friends
and enjoy a shared experience