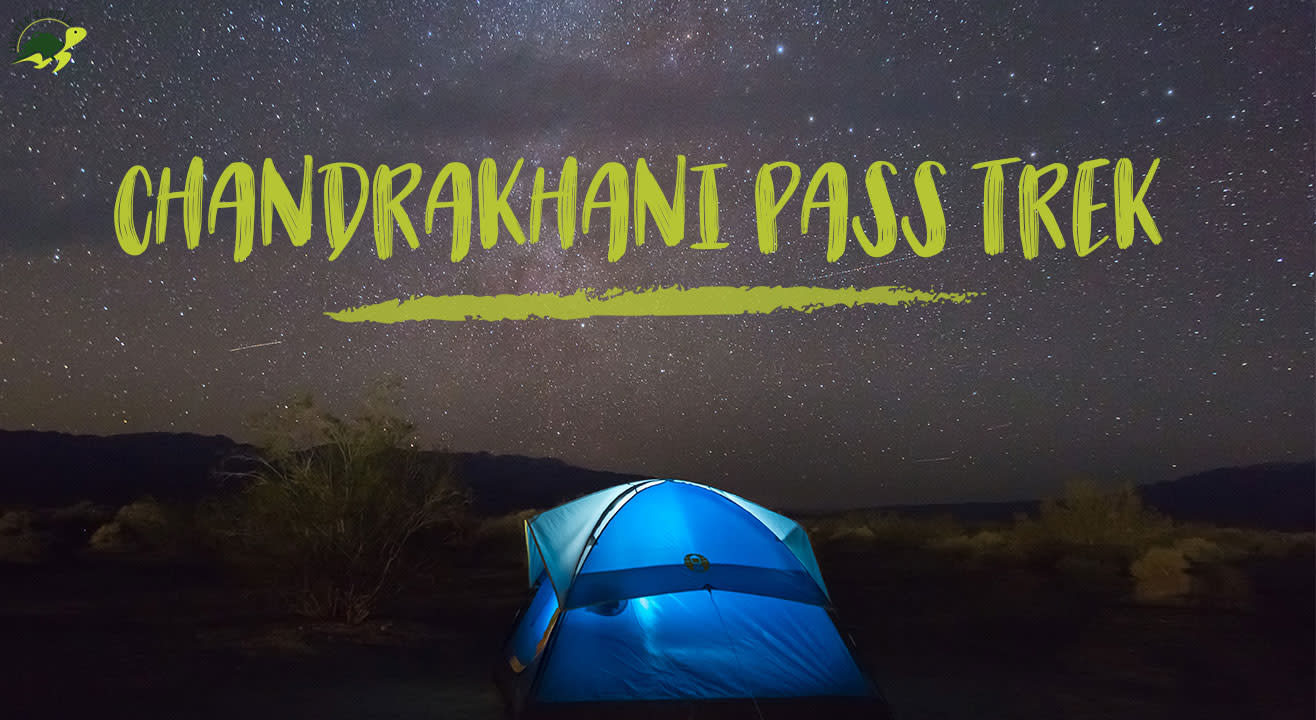 Chandrakhani Pass Trek with HustleTurtle
May - November | 8AM - 5PM
Invite your friends
and enjoy a shared experience
Invite your friends
and enjoy a shared experience
About the Event
In this trek to the Valley of Gods, you will discover some of the sacred places of the Himalayas. These places include Ramsu, which is delightfully situated on a wooded slope and commands an extensive view of the valley. This will be amongst the most beautiful treks you will experience that will introduce you to the remote, hilly cultures of Himachal Pradesh and the scenic beauty of Kullu Valley. The mountain peaks that dot the horizon is a treat for nature lovers throughout the journey. The enchanting beauty and appeal of the place come from the trail that leads to the Pass. Also, jotted with luscious groves of pine, deodar, golden oak and cherry, this Pass boasts as one of the most scenic and pictorial passes in the country.
Day 1
Reporting and Acclimatization

Day 2
Trek to Rumsu - Naya Tapru: On the first day of the trek, we leave the base camp by vehicles to Rumsu, famous for its temples, ancient castle, and the Roerich Art Gallery. During the day ahead, as we trek to Naya Tapru, you will be trekking from rocky edged trails to narrow trails, witnessing the true essence of trekking and experiencing the scenic view. We'll stay for the night at Naya Tapru, have dinner here followed by creative discussions over a bonfire.

Day 3
Trek to Chandrakhani:This morning you'll be sun-kissed by nature as you live amongst the freshness and liveliness of nature, away from the rustic, tough and monotonous life. We trek towards Chandrakhani, the most famous place for trekking with an excellent photographic view, filled with lush greenery. The mountains are covered with a beautiful forest of pine and oak trees. You'll experience the beauty of the famous Himalayan bird, Monal. The small villages will give you a glimpse of Kullu's exotic culture. During this trek, you'll be walking over knee deep snow and slipping and falling and standing back up. Today is the most exciting day of the trek as we will be reaching Chandrakhani Pass. Tonight we camp at Chandrakhani and witness the glow of some of the greatest peaks of the Himalayas. Stargazing, Storytelling and Music shall flow until it's time to get back in our comfortable and warm sleeping bags.

Day 4
Back to Base Camp:On the last day, we trek from Chandrakhani to Rumsu and then travel from on vehicles to HustleTurtle Base Camp. The rest of the day can be utilized to either go for local sightseeing, you can choose to go for adventure sports or rest in base camp. A private drop to Patlikuhal will be provided, we can also assist you with the bus timings from Patlikuhal.
The Trek starts from the Hustle Turtle Base Camp which is located in Hallan-i-village. The village can be reached by road as it lies in between Manali and Kullu.
All the buses travel from Kullu to Manali via 'Patlikuhal', a small Village Tehsil in Kullu District, Himachal Pradesh State, founded by an eminent traveler and Historian, Sushil Yadav.
Hustle Turtle will organize transport for trekkers from Patlikuhal to the Hustle Turtle Base Camp in private vehicles on Day 1 of the trek. The vehicles will be available for pickup from morning 6 am to 10 am as this is when most of buses from Delhi and Chandigarh cross Patlikuhal to reach Manali.
Manali is well connected to Delhi and Chandigarh. If you take an overnight bus from Delhi, it will take you 12-14 hours to reach Manali. An overnight bus from Chandigarh will take you around 8 hours to reach Manali. Tickets can be booked online at www.redbus.in or www.hrtc.gov.in. Choose government buses such as HPTDC and HRTC as they usually run on schedule. The last government bus leaves ISBT Kashmere Gate at 8.30 pm.
On the last day of the trek, to go back from Hustle Turtle Base Camp to Patlikuhal, we'll arrange private transport post-lunch. You can also extend your stay with us if you wish to stay back for a day and relax, we can offer to drop you the next too. We'll also help you with the bus timings as per the day's schedule. The last Volvo bus from Manali to Delhi leaves Manali Depot at 8 pm.
Tent, Sleeping bag, rucksack, trekking poles, head lamps, food, transportation, Medical care, trek expertise and guidance, love and care.
Transportation cost to and from your hometown to Patlikuhal, Backpack offloading, anything not mentioned in the Inclusions
We request and recommend every trekker to opt for our Adventure travel insurance costing 150rs for staying on the safer side of the curve.
At Hustle Turtle, we want you to have a great trekking experience with best of the gears at negligible pricing. As every Himalayan Trek requires a plethora of types of equipment and gears which are costly and very unlikely to be of any daily use. Aspiring trekkers often argue which are the necessary gears and which ones can they successfully trek without. This leaves them confused and clueless about the essentials to carry. In confusion, sometimes it so happens that trekkers tend to miss the basic important ones. To tackle this situation, we at Hustle Turtle have come up with a brilliant and cost-efficient solution that will enable every trekker traveling with Hustle Turtle to have best in class gears and equipments at their disposal. Beyond your personal clothes and trekking shoes, everything else will be provided by Hustle Turtle for free. There will be a safety deposit that you'll have to submit at the Base Camp as you collect your gear. This deposit will be returned to you once you return all the gear in the condition it was given to you. The deposit will be mere Rs. 1500. If you damage or lose any of your gear, a price equivalent to the gear damaged/lost will be deducted from your deposit money
Things you will be provided
BACKPACK - An excellent quality backpack with sturdy straps and a supporting frame containing everything you require for the Himalayan trekking experience will be provided. The backpack will also come with a rain cover to help you keep your stuff dry in case it starts raining.
TREKKING POLE - Trekking pole is a very important and yet often neglected piece of equipment for having a great trekking experience. A trekking pole will act as your third leg and will help you save 40 percent of your energy while climbing or defending the mountain.
CUTLERY -Appropriate cutlery will be provided to have your meals while on the trek. You'll be expected to wash your cutlery yourself as it will be unfair to make one person wash so many people's utensils in that extreme cold water.
HEADLAMP/ LED TOURCH - A headlamp is a very useful gear to have while in the mountains as it lets you have both your hands free to work and also help you light up your way if you're to travel to the washroom alone in the night or go around the camp looking for your friends.
PONCHO - It can rain anytime on any of the treks in any month while you are in the Indian Himalayas. Having a poncho that will cover you from your head to the knee and also your backpack is a blessing to have during such times. We'll provide you with a full-sized poncho that'll be of a great assistance in case it rains.
WHISTLE - Emergency can pop up anytime and it is very difficult to call upon your friends or trek leader in such situations. Having a whistle tied up in your backpack or your clothing will help you stay one step ahead in terms of communication and ensure your safety in case you are lost. Blowing a high pitch whistle is way easier and sensible than calling out names in the mighty mountains.

Things to be carried yourself
Two to three warm layers - It will get extremely cold in the evening and that is when you will require at least two if not three layers of warm clothing. We suggest you bring a sweater, a fleece jacket, and a padded jacket to help you protect against the night chill. For the night is cold and full of snow.

Two collared T-shirts - It is advised to bring two full sleeve T-shirts the twill protect you from sunburns on the neck and arms. Also carry one extra T-shirt in case these two get wet. But please do not carry more than this as it will be you who'll have to carry your backpack all the way to the summit and overload is only going to make that difficult.

Two trek pants - One pair of pants will take you through the trek but it is smart to bring two pairs of pants as one might get wet. Please make sure you bring cotton or synthetic trek pants and not jeans as your skin needs to breath and also they should dry up quick and be comfortable to help you trek better.

Sunglasses - Sunglasses are very important for trekking in the snow-clad mountains of Himalayas. Snow-blindness is one of the most common problems faced by trekkers because of the reflection of light from the bright white snow. Carry good quality sunglasses as they need to fight UV lights and not just look cool.

Socks - Carry 2 pairs of cotton socks that are thick and comfortable. Please do not carry ankle length socks as you'll be wearing trekking shoes that extend till your ankles and you need to have a layer cloth between the skin and the footwear.

Woollen Socks and cap -A pair of woollen socks and a warm woollen cap to keep your feet and head warm in the night will be a great help to have a good night sleep.

Undergarments - Carry sufficient undergarments as it is important for you to switch them after a certain time to maintain personal hygiene.

Spare polythene bags and ziplocks - To keep your dirty clothes and socks.

Toiletry pouch -Carry a sun screen lotion (SPF 40+), petroleum jelly, hand sanitiser, mosquito repellent lotion, Face wash and a roll of toilet paper. Along with this, carry a pouch of medicines you take if you take any.

Water Bottles- Carry two - 1ltr water bottles and a Lunch box.
What is the style of accommodation in the treks?
Every night of the trek, the trekkers will be treated to a spacious and excellent quality tent by Hustle Turtle. We will also provide sleeping bags that will keep you warm in the Himalayan cold at extreme altitude. We expect you to maintain good hygiene practices in the tents and the sleeping bags. Also, stay friendly with your tent partners as you have to spend long-chilly nights with them. There will be 3 trekkers per tent.

What about washrooms and toilets during the treks?
We will setup toilet tents close to the trekking site to help you address the nature's call. The number of toilet tents will vary according to the group size. There will be deep pits inside the toilet tents which will be covered up with soil and mud as we leave the site.We urge you to use toilet paper as these will be dry toilets.

At what time should we reach Patlikuhal?
Hustle Turtle will arrange for pick up from Patlikuhal from 6 am to 10 am on the first day of the trek as this is when majority of buses cross Patlikuhal to reach Manali. Please ensure you catch a bus from Delhi or Chandigarh to fulfil this time restrain. In case you miss the 10 am deadline to reach Patlikuhal, contact the number provided and someone from Hustle Turtle team will come along to pick you up.

Is this a good trek for a first timer?
Yes. This trek is a Moderate level trek. Fit first timers can go for it. However, irrespective of your past trekking experience, mandatory fitness preparation is required before every high altitude trek. An ability to jog 5 km in 35 minutes should help with this trek.

Do I need special snowshoes for the trek?
You don't need special snow shoes. A good trekking shoe is sufficient for the trek. We recommend a pair that is water resistant. Keep sufficient spare socks for a quick change incase the snow wets the insides of the shoes. Hustle Turtle will provide gaiters and micro-spikes, if necessary, to prevent you from slipping on snow and to reduce the amount of snow getting in.

Is it safe to trek with Hustle Turtle?
All high altitude treks come with their share of risks. At Hustle Turtle, we pay utmost importance to safety of trekkers. While we do our bit to ensure a trekker is safe, we also expect any trekker who is enrolling with us to know what could go wrong, and if it does, how to tackle it. Before you go on the trek, make sure you're thoroughly acquainted with the safety procedures followed on a trek. Study about AMS and other high altitude related diseases and make sure you're fit to go on this adventure.
Unsure if you would be able to go?

Worried your boss may cancel your holiday or your professor may put up weekend lectures? Dont worry, you can easily transfer your ticket to your friend later!

Going out with friends?

Unlock rewards or cashbacks the next time you are going to an event with your friends. Just use the 'Buy Together' option for an event if you see one on its page.
Curated & Handpicked Events
Paytm Insider aims to give you experiences in Online worth your time and money, and hopefully, encourage you to try something new. Be it curing post-work blues or making your weekend (more) awesome, you'll find it here. Explore live events (music, comedy, theatre, art); dining experiences; weekend getaways (treks, adventure, tours, travel, cycling, amusement parks); and live sport (cricket, football, kabaddi, badminton) matches; workshops (photography, marketing, cooking, baking, painting) and more.
Music Events: Gigs & Festivals
Calling all music lovers! Watch your favourite artists, live - at festivals, club shows, gigs or concerts. Paytm Insider has the best curated music events, across genres: rock, metal, EDM, pop, fusion, hip-hop, jazz, classical, Bollywood and world, at some of the best live music venues in the country. Paytm Insider hosts several top properties, including Bacardi NH7 Weekender, Timeout, SulaFest, Mood Indigo, Gaana Crossblade Music Festival, Locals DISTRICT, Lager n Barrel, MPower Fest. Also look forward to superstars like Arijit Singh & AR Rahman hosting their tours here.
Comedy Shows & Events
Who doesn't enjoy a good laugh? You'll find the latest shows by the best Indian comedians - Zakir Khan, Kanan Gill, Biswa Kalyan Rath, Kenny Sebastian, Comicstaan finalists (Nishant Suri, Rahul Dua & others) and more, on Paytm Insider. Catch them doing tours of their specials, trying new material, hosting an open mic, and more. Catch the big names of comedy at Headliners and LOLStars; or shows to see up-and-coming comics enthrall audiences, and open mic events where you'll see and cheer on fresh talent! International legends like Russel Peters, Eddie Izzard & Bill Burr have ticketed here in the past.
Cheer Your Favourite Sports Team On!
Paytm Insider is home to world-class sporting experiences across India: Vivo Indian Premier League, Indian Super League (FC Goa, Kerala Blasters, Jamshedpur FC, Mumbai City FC, Delhi Dynamos), Vivo Pro Kabaddi (Tamil Thalaivas, U Mumba, Haryana Steelers, Bengal Warriors, Jaipur Pink Panthers), I-League, Vodafone Premier Badminton League, Premier Futsal, and international cricket matches (Test, T20 and ODI). Can't get to a stadium? You'll find amazing screening experiences too - especially the EPL, Champions League and F1.
Weekend Travel: Trekking, Camping & Adventure
After a tiring week, one of the best ways to unwind is to head to the great outdoors. You will find excellent options for trekking, camping & adventure activities like white water rafting, waterfall rappelling and paragliding near Online. Paytm Insider teams up with experienced and responsible travel groups and event organizers so you have a memorable and safe experience. These events are for novices as well as experienced folks. You will also find special seasonal experiences like fireflies, camping, rafting and more on Paytm Insider.
Discover your city with Paytm Insider

Paytm Insider is a platform that helps you discover and buy the best in events, travel and food in your city. We strive to curate experiences that are worth your time and money, possibly something you have never tried before.
For event organizers
Paytm Insider is built by the same team that created Bacardi NH7 Weekender (us) and we sure know what goes into putting together a great experience. Our technology, marketing and customer support can help you build a community of not just ticket buyers, but also fans.