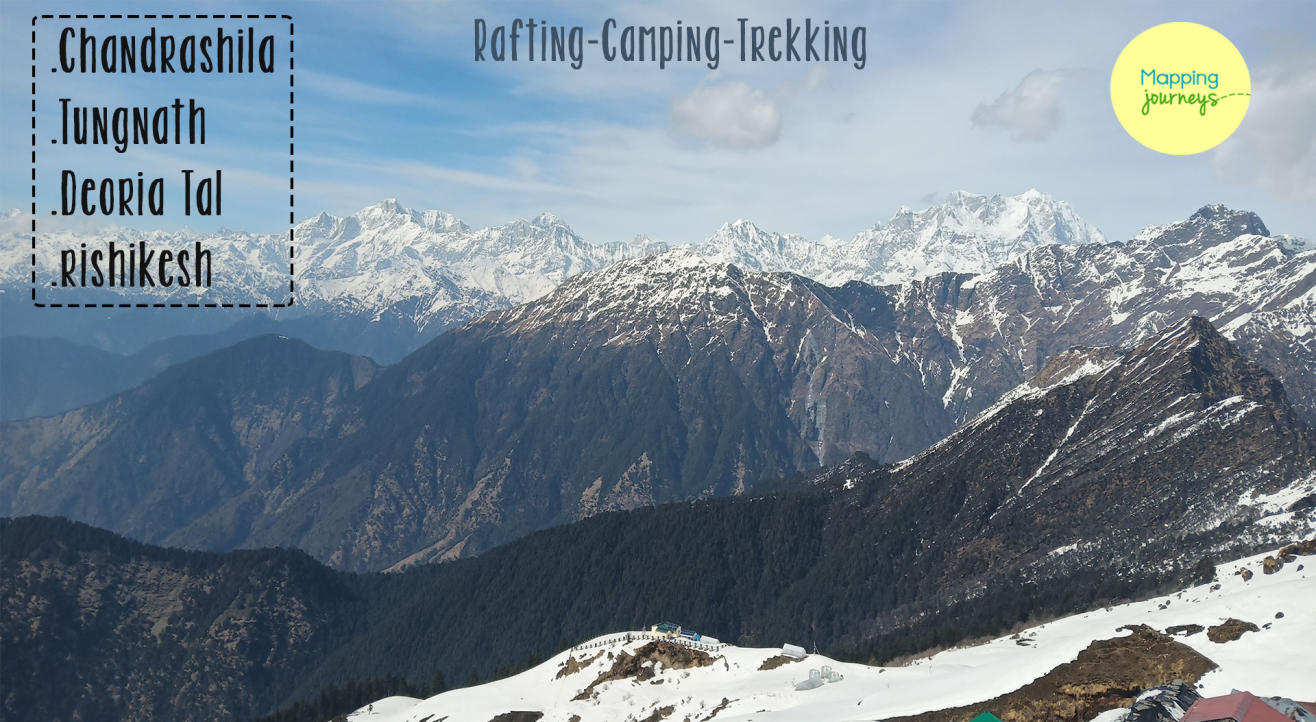 Tour
Chandrashila - Rishikesh Trek | Mapping Journeys
About
This journey is going to be all about nature's magnificence, challenging yet a magical trek along with some adrenaline rush! This trip ranges from sensational summit perspectives to warmth of the forest camping experience, building up greater interests in a wide range of mountain lovers. You could be a nature lover, enjoy bird watching, and capture some stunning shots of the beautiful peaks.
Trip Attractions:
- Riverside Beach Camping
- Watch the confluence of rivers Alaknanda and Mandakini on route
- White River Rafting at Rishikesh 16km
- River swimming
- Cliff jump (depending on the water level)
- Deoria Tal trek
- Forest Camping
- Tungnath and Chandrashila trek
- Fun games and Activities during the trip.
Itinerary:
22nd May: Day 1 - Riverside Camping!
Meet the Mapping Journeys Team at Dehradun airport/station from where transport will be arranged for the next 5 days of travel. You can also get down at Haridwar railway station from where we can help you with reaching Singhtali.
Today we reach a place called Singhtali where a secluded and serene riverside camping experience awaits. Spend the night by the breezy flowing river, let the waves kiss your feet; the sand be your seat.
Travel Tip: Reach Dehradun airport before 1pm. People opting for train can get in touch with our team and we will help you out with the train details and how to reach on time!
Activities: River swimming, a short hike, cliff dive (depending on water level), Swiss tent camping (Indian and western washrooms available), Campfire.
Meals: Evening tea/snacks, Dinner
23rd May: Day 2 - White River Rafting Rishikesh!
Wake up to the perfect view of the beautiful river cutting the mountains. Post breakfast, gear up for the adventurous day ahead! We move to the white river rafting start point, 16km of excitement awaits followed by exploring the famed Ram Laxman Jhula in Rishikesh.
The appetite levels will be soaring high after rafting, and this is where we would love to take you to the famous CHOTIWALA restaurant. Eat your hearts out after which we pick up our luggage, freshen up and move to a small village called Mastura.
On reaching Mastura, greet the amazing view of Chandrashila peak from here. The beautiful Deoria Tal is situated at a hike of 4km distance away from here. It is most scenic route you will come across. Rest in your abode.
Activities: Swiss tent camping/home stay(Indian and western washrooms available), Campfire.
Meals: Breakfast, Evening tea/Snacks, Dinner
24th May: Day 3 - To the beautiful high altitude lake Deoria Tal 7782ft
We begin our day with a hike to one of the most beautiful high altitude lake called Deoria Tal. The trek will take you from an altitude of 5500ft to 7800ft which will be a good altitude gain to get use to the terrain.
On the way comes a beautiful village called Sari. Enjoy the step farming field views and greenery all around. You will also encounter the flourishing blossoms, especially rhododendrons red and pink in the field along with some bird watching (Bring in your cameras to get some amazing shots!)
On completing the trek we will move to our next campsite which is situated inside the forest of Baniyakund and at an altitude of 8400ft. Camping here will be a mixture of leisure and raw amenities with lavish Swiss tents and forest views this will be our camping site for the next 2 nights.
Activities: Trek, Swiss tent camping(Attached washrooms available), Campfire.
Meals: Breakfast, Lunch, Evening tea/Snacks, Dinner
25th May: Day 4 - Trek to the Highest Shiva Temple (Tungnath) and Chandrashila peak!
The trek to Chandrashila peak starts from Chopta market (9300ft).
Tungnath is one of the highest Shiva temples in the world and is the highest of the five Panch Kedar temples. The Tunganath (literal meaning: Lord of the peaks) mountains form the Mandakini and Alaknanda river valleys. It is located at an altitude of 11330ft, and just below the peak of Chandrashila. The temple is believed to be 5000 years old and is the third (Tritiya Kedar) in the pecking order of the Panch Kedars.
Chandrashila is summit of the Tungnath . It literally means "Moon Rock". It is located at a height of about 11990ft above sea level. This peak provides views of the Himalayas, including Nandadevi, Trisul, Kedar Peak, Bandarpunch and Chaukhamba peaks. There are various legends associated with this place. According to one such legend, this is the place where Lord Rama meditated after defeating the demon-king Ravana. Another legend says that moon-god Chandra spent time here in penance.
The total trekking distance to be covered today will be 8km to and fro.
The altitude difference would be 2500ft approx.
Activities: Trek, Swiss tent camping(Attached washrooms available), Campfire.
Meals: Breakfast, Trek snacks, Evening tea/Snacks, Dinner
26th May: Day 5 - Farewell!
Return journey to airport/railway station and bid goodbye to this heaven that has been our home for the last 5 days.
Meals: Breakfast
Note:
- Fitness is required for any high altitude trek/outings.
- Participants can start preparing by walking daily (a good 4-5 km), climbing stairs, skipping or any other cardio exercises.
- The participant must not have any major medical conditions like blood pressure, heart problems, asthma etc. Get in touch to know more about how to go about with your preparation for the trek.
- One of the major factor that influences altitude treks is drinking water. Bring in a habit of drinking plenty of water. In getting acclimatize water plays a crucial role.
Inclusions:
- Swiss tents accommodation – 4 nights (All Stay Will Be Triple Sharing)
- White River Rafting in Rishikesh
- Meals as mentioned in the plan above
- All permits and tolls
- All entry fees
- 1 Mapping Journeys traveler (Basic and Advance Mountaineering certified from N.I.M.A.S, First aid certified from St John Ambulance, Mumbai)
- 1 Local guide for Deoria Tal and Chandrashila trek (Basic, Advance and Search and Rescue certification from N.I.M)
Exclusions:
- Day 1 and Day 2 lunch
- Personal Expenses (Shopping / Tips / Mineral Water / Beverages)
- Camera Charges
- Insurance of any kind
- Medical and Evacuation Charges
- Cost incidental to any change in the itinerary/ stay on account of flight cancellation due to bad weather, ill health, roadblocks and/or any factors beyond control
- Any cost arising due to natural calamities like, landslides, roadblocks etc. (to be borne by the clients directly on the spot)
- Anything not included under "inclusions"
Note: Lunch on day 2 is not included as participants will be getting a chance to explore Rishikesh and taste the delicious local food that restaurants provide.
Day 4 Lunch is excluded owing to the fact that we won't be reaching back down to Chopta at lunch time, but we would make sure to provide you with heavy trek snacks. Hence, they haven't been included.
Please note: The road travel cost for all 5 days is to be shared among the participants depending upon the final count of the participants. (To and fro it comes around bolero 2100-3100/ tempo 1800-2100 traveler)
Things to Carry:
– Trek shoes.
– If you are unable to get trek shoes, do get your regular shoes (no canvas, flat sole)
– Head torch, snacks (energy bars, biscuits, electral or ors etc)
– Pair of socks (cotton and wool both), full sleeves tees, rain cover, poncho, basic toiletries
– Thick winter jacket for dealing with the cold (or wear clothes in multiple layers)
– Track pants
– Woolen cap, sun cap, bandana, gloves, sunglasses
– Sun Screen
– A 2 ltr. water bottle
– Trekking pole (if you feel comfortable trekking with a pole, although you get wooden sticks as well at chopta)
– Personal medication and first aid box.
Venue
Rishikesh
Hotel Yog Vashishth, Swargashram, Near Vanprasth Ashram Part-2, Rishikesh, Uttarakhand 249304