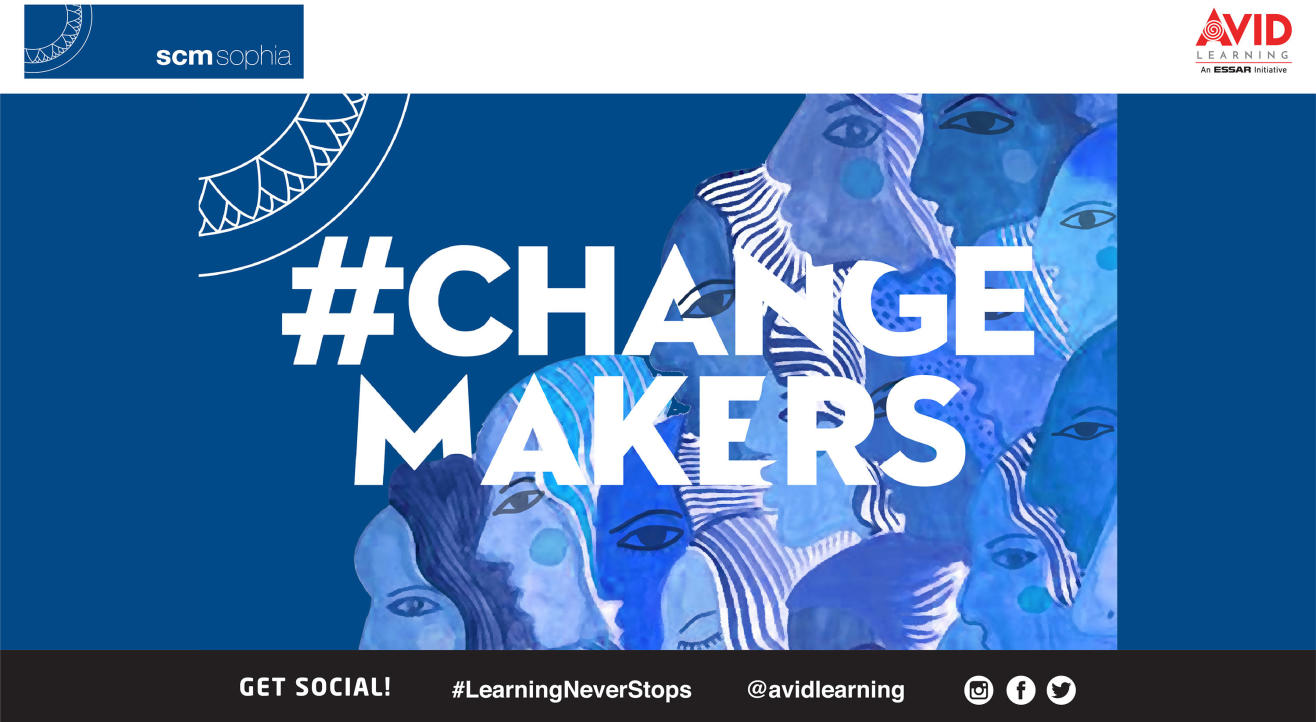 Art
#ChangeMakers: Celebrating 50 years of SCMSophia in Arts and Media
Sophia Bhabha Auditorium, Mumbai
About
To mark the occasion of the 50thAnniversary of Sophia Polytechnic, SCMSOPHIA in collaboration with Avid Learning presents #Changemakers: Celebrating 50 years of SCMSOPHIA in Arts and Media.
Please read below for more on the event:
The evening will consist of enriched and interactive presentations by 10 prominent and influential SCM alumni from across the arts and media who have been responsible in bringing about socio-cultural change by challenging the status quo and building a new wave of leaders and changemakers.
Eminent speakers include Paromita Vohra, Maya Mirchandani, Minnie Vaid, Poulomi Basu, Shalini Singh, Reema Kagti, Richa Chaddha, Dilshad Master, and Durga Raghunath, with keynotes and closing addresses by P. Sainath and Jeroo Mulla.
The event will be followed by the exclusive launch of the student book 'Lives of Women – Volume III' featuring Honey Irani, Rekha Sabnis, Madhusree Dutta and Shama Habibullah, The book is edited by Jerry Pinto.
In 2019, SCMSophia, the Social Communications Media Department at Sophia Polytechnic celebrate our 50th year. When we talk about a post-graduate program reaching that milestone, we lay claim to having empowered the first generation of women, born in Independent India. That is a powerful position and a weighty responsibility, for a mass communications program. We celebrate the empowerment of women, the breaking of stereotypes and the carving out of a non-discriminatory and non-judgmental space. 'Something Changed Me' resonates with all our alumni, and seems a fitting explication for SCM. We stake a claim to be catalysts for change if not changemakers, directly.
At AVID, we look to support initiatives that are expanding perspectives on the changing face of the creative fields in India. We also believe in the role of the arts in supporting social advocacy and feel humbly privileged to do our bit to support a wide range of social causes. We have helped raise awareness for several important issues – Autism, Cancer, Education, Women's Empowerment, Children's Issues, and Wildlife conservation, to name a few. Gender rights, diversity, parity and inclusivity are key in fuelling empowerment for women. In this light, we consciously curate programs to champion gender equality and women's empowerment. We celebrate International Day of the Girl Child and International Women's Day every year. In the recent past we have presented panels featuring influential women innovators in the workplace, women theatre stalwarts and influencers, poets and writers. We also recently premiered Vibha Bakshi's powerful gender-rights documentary, Son Rise at the Royal Opera House. We have also highlighted and championed influential female voices from the arts and culture through our successful social media campaign - #AvidThoughtLeaders.
Join us for this special evening that celebrates 50 years of this prestigious institution and commemorates the changemakers it has moulded!
Where: Sophia Bhabha Auditorium, Sophia Polytechnic, Bhulabhai Desai Road, Mumbai – 400026
When: Tuesday, 24thSeptember, 2019; 5:00 PM – 8:00 PM
About the Partners
SCMSophia, The Social Communications Media Department at Sophia Polytechnic, is a top rated, post-graduate program in mass communications. In today's convergent mass media space, narrow specializations are restrictive. The ability to quickly grasp enormous amounts of information and present it creatively in words and visuals across different media is indispensable. Our integrated course offers you the comprehensive skill sets required for today's media. Our course includes broadcast and print journalism, film, advertising and corporate communications. Beyond learning the craft, our students turn into professionals by gaining unique perspectives on issues that affect all of us including social and human issues, mass media responsibility and ethical values, which widen worldviews and encourage big-picture thinking. We are proud of our alumnae who have gone on to become successful media professionals in varied fields. The course is affiliated to the University of Mumbai's Garware Institute of Career Education and Development.
Facebook : www.facebook.com/scmsophia;
Instagram: @scmsophia
Avid Learning, a public programming platform and cultural arm of the Essar Group, has conducted over 1100 programs and connected with more than 130,000 individuals since its inception in 2009. Driven by the belief that Learning Never Stops, AVID's multiple formats like Workshops, Panel Discussions, Gallery Walkthroughs, and Festival Platforms create a dynamic and interactive atmosphere that stimulates intellectual and creative growth across the fields of Culture & Heritage, Literature, Art and Innovation.
Facebook : www.facebook.com/Avidlearning;
Twitter : www.twitter.com/Avidlearning;
Instagram: @avidlearning
Venue
Sophia Bhabha Auditorium, Mumbai
Sophia College Campus, Bhulabhai Desai Road, Breach Candy, Mumbai
GET DIRECTIONS