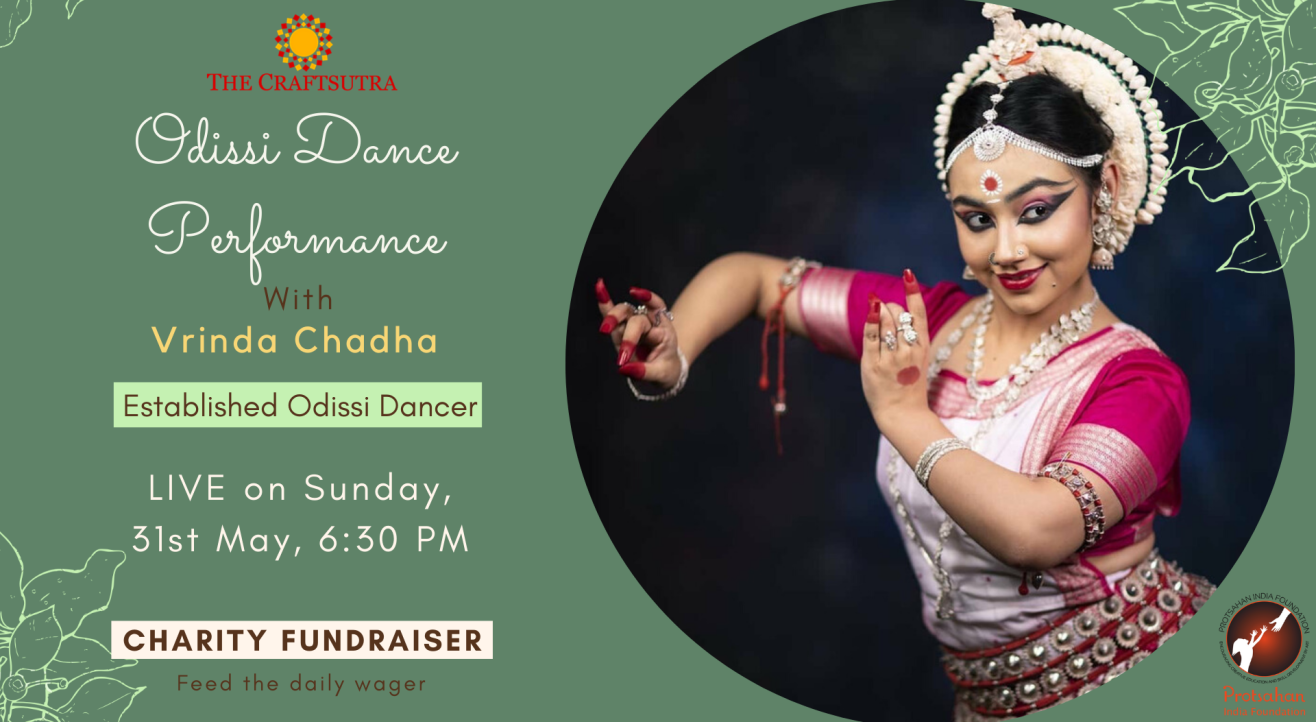 Charity Fundraiser Event -Odissi Dance Performance Vrinda Chadha
Invite your friends
and enjoy a shared experience
Invite your friends
and enjoy a shared experience
About the Event
The Craftsutra along with nine amazing artists/experts have come together to support Protsahan India Foundation raise funds for charity to feed families of daily wagers terribly hit due to the prolonged lockdown.
In this one day long event, you get to interact & learn with/from brilliant artists/mentors from different fields.
DONATE FOR CHARITY INR 100 and Upwards
Minimum donation is INR 100, choose whatever amount you wish to donate for this charitable cause of feeding the daily wagers.
You get full day access to attend as many sessions you want.
Online charity fundraising event | Live on Zoom | Sunday, 31st May | 11 AM to 8:30 PM
SESSION DETAILS:
Interactive dance performance with established Odissi dancer Vrinda Chadha| 6:30 PM
'अनुभव Reconnecting with Nature through Dance' The lockdown has given us a chance to stop and breathe. To take in subtle moments. Experience intensely the rustling of leaves, cool breeze on a hot day, chirping birds, swaying trees and the smell of earth after the first rainfall. Celebrate these joys and beauty of nature in an interactive dance performance by Vrinda. She will be expressing her passion and love for nature through traditional Odissi choreographies. Followed by engaging you in a simple activity sharing the same.
Here's the complete line up:
Session 1: 11 AM - Sound therapy session with Sound healing expert Varunika & Yogesh Sifar's sound
Session 2: 12 noon - Yoga session with Celebrity Yoga expert Sunaina Rekhi
Session 3: 1 PM - How to cook Ayurvedically with Master Chef Amrita Kaur Life Ki Recipe
Session 4: 2 PM - Talk on Managing Mental Health with International Meditation expert Ektaa Sibal
Session 5: 3 PM - Painting workshop with expert artist Nrupam.
Session 6: 4:30 PM - Basics of Phone photography with renowned Photographer, Artist Shweta Malhotra
Session 7: 5:30 PM - Doodling workshop with expert doodle artist Mamta Singh
Session 8: 6:30 PM - Interactive dance performance with established Odissi dancer Vrinda Chadha
Session 9: 7:30 PM - Ghatam music performance with one and only Ujjwal Kumar
We cannot help everyone but everyone can help someone! #ParticipateForACause #ArtistsForACause
For any other query write to us at info.thecraftsutra@gmail.com