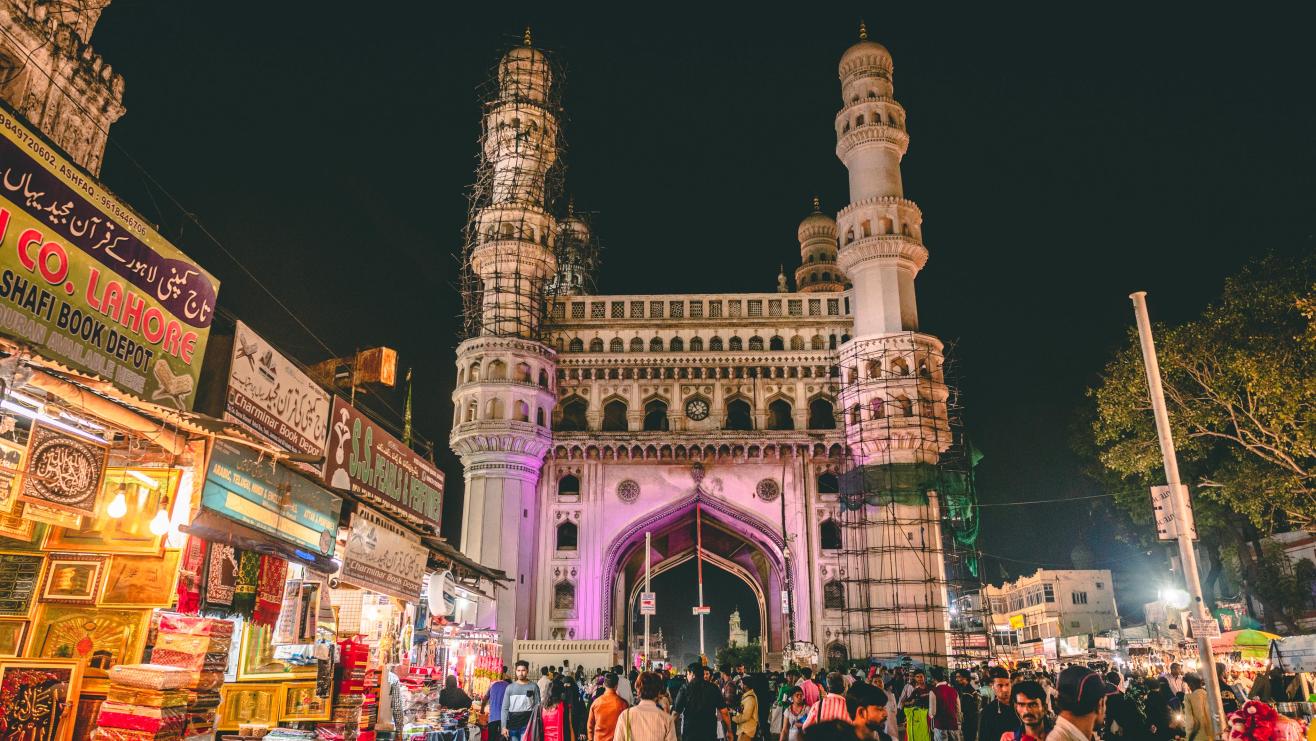 Monuments
About
Charminar is one of the most prominent landmarks of Hyderabad. Watch out for the four turrets that give the structure its name. Also, popularly known as 'Mosque of the four minarets', Charminar has four exquisitely carved pillars. This impressive arc also called the 'Arc de Triomphe of the East'; stands calmly amid the hustle-bustle of the Old City. Get a chance to experience the magnificent architecture, coupled with a chance to buy some exquisite trinkets and dresses in the Laad Bazaar.
Maintained by the Archeological Survey of India, Charminar represents the historical background of the city of Nizams, its glamour, glory and cultural richness. Built to mark the city's foundation, Charminar encourages you to discover the rich architectural design and plans of the entire city of Hyderabad, right from its epic-centre. Not only this, but the entire vicinity is a food lover's paradise with their lip-smacking dishes such as Haleem, Hyderabadi Dum Biryani and a lot more.
Get your tickets & enjoy the complete royal treatment as you visit the Charminar.
Makkah Masjid- This ancient mosque structure represents the architectural style of the Qutub Shahi Dynasty.
Laad Bazaar: Also known as the Choodi Bazaar, since the market is dedicated to glass and lacquer bangles, Laad Bazaar is a historical market for both shopping lovers and for photographers as well.
Chow Mohalla Palace is also just at a distance of 10 minutes this place.
Kali Kaman
Patthar Gatti
Shahali Banda.
The Charminar bus stop near Makkah Masjid on the Charminar Road in Panch Mohalla is the nearest bus stand to Charminar. It is about 800 metres away, and will take a brief 10-12 minute walk to get to the site.
The Hyderabad Deccan Railway Station (HYB), also known as Nampally Railway Station, at about 4 kilometres is the closest railway station to Charminar.
The Rajiv Gandhi International Airport in Shamshabad caters to domestic and international traffic to the city. It is about 20 kilometres from Charminar, and will take you approximately 45 minutes to get there.
Venue
Charminar
Charminar, Hyderabad, Charminar Road, Char Kaman, Ghansi Bazaar, Hyderabad, Telangana, 500002
GET DIRECTIONS