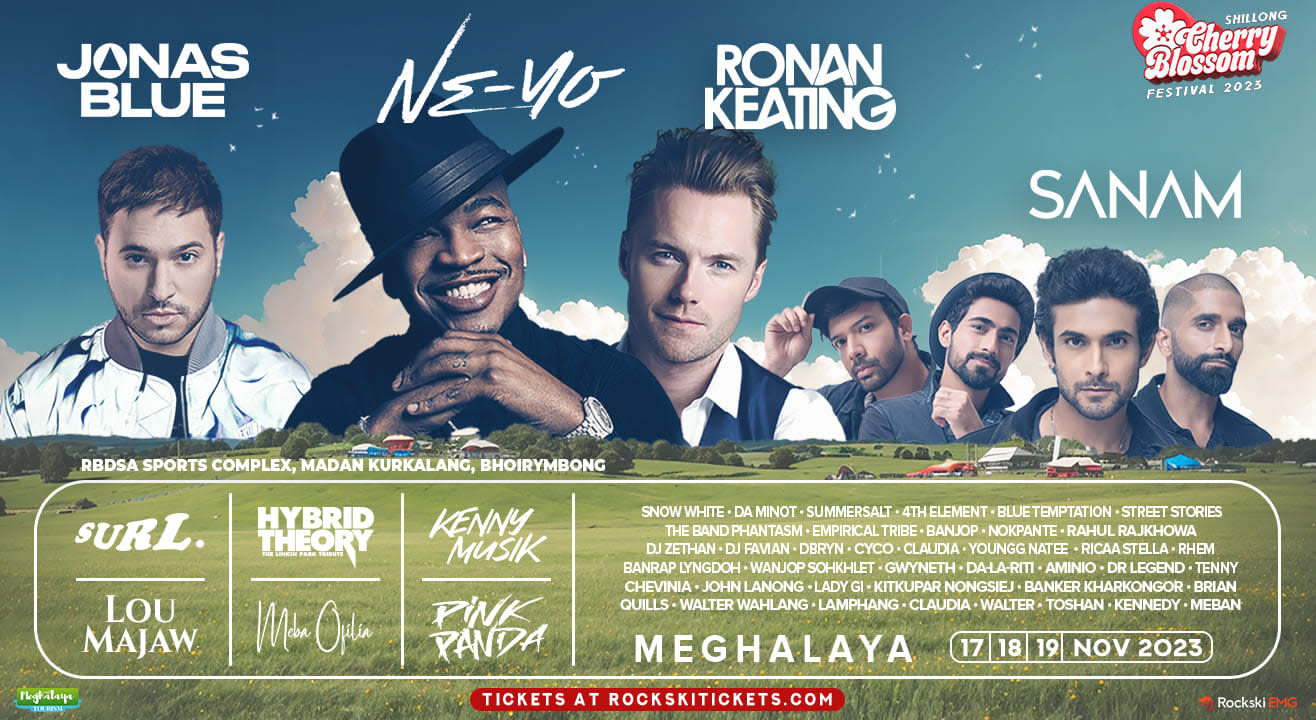 Cherry Blossom Festival 2023
November 17 | 2PM - November 19 | 10PM
RBDSA Sports Complex, Madan Kurkalang, Bhoirymbong, Shillong
Event Guide
Live Performance
Enjoy a unique experience
Invite your friends
and enjoy a shared experience
Cherry Blossom Festival 2023
November 17 | 2PM - November 19 | 10PM
RBDSA Sports Complex, Madan Kurkalang, Bhoirymbong, Shillong
Event Guide
Live Performance
Enjoy a unique experience
Invite your friends
and enjoy a shared experience
Event Guide
Live Performance
Enjoy a unique experience
Covid 19 Safety Measures
This event adheres to the following

Health & safety measures
Invite your friends
and enjoy a shared experience
Covid 19 Safety Measures
This event adheres to the following

Health & safety measures
The SHILLONG CHERRY BLOSSOM FESTIVAL over the past few editions has become the state's most loved festival concert, providing the biggest artist line-up and setup the state has ever seen. Being the first-ever Autumn Cherry Blossom Festival in the country the event has managed to garner a huge crowd of festival goes from all across the country. This year we plan to have an even better line-up and setup making it what is already the State's most awaited festival.
Frequently Asked Questions:
Q. Is this a standing or a seated show?
The concert is a standing show. There will be zones in the festival area where seating will be available.
Q. Will tickets be available at the Festival Box Office?
Not if we sell out to festival capacity.
Q. Is there an age limit to attending the concert?
Above 5+ can attend the concert. Under 5 years of age are allowed if accompanied by an adult.
Q. Will there be a parking facility at the venue?
Dedicated Limited parking for the VIP category is available at the venue on payment and for those who manage to buy parking tickets. For other guests, we will be making parking available around the vicinity of the venue. You might have to walk a bit to the venue.
Q. Will photography or videography be allowed?
No professional photography/videography will be allowed at the concert
Q. Will food, beverages & alcohol be available at the venue?
Yes, Premium Food & Beverage stalls will be present in each section. Alcohol will be available for purchase to people of legal drinking age as per state regulations.
Q. Is ticket shift allowed?
No.
Q. What is the age limit to buy a ticket?
Ticket required for 5+ age and above.
Q. When will the concert start?
The gate opens at 3 PM Onwards.
Q. Are dogs and cats allowed?
No.
Q. Does the venue have ATMs?
No. (But we may add some ATMs closer to the date)
RBDSA Sports Complex, Madan Kurkalang, Bhoirymbong
Madan Kurkalang Bhoirymbong
GET DIRECTIONS
Cherry Blossom Festival 2023
November 17 | 2PM - November 19 | 10PM
RBDSA Sports Complex, Madan Kurkalang, Bhoirymbong, Shillong
Event Guide
Live Performance
Enjoy a unique experience
Invite your friends
and enjoy a shared experience