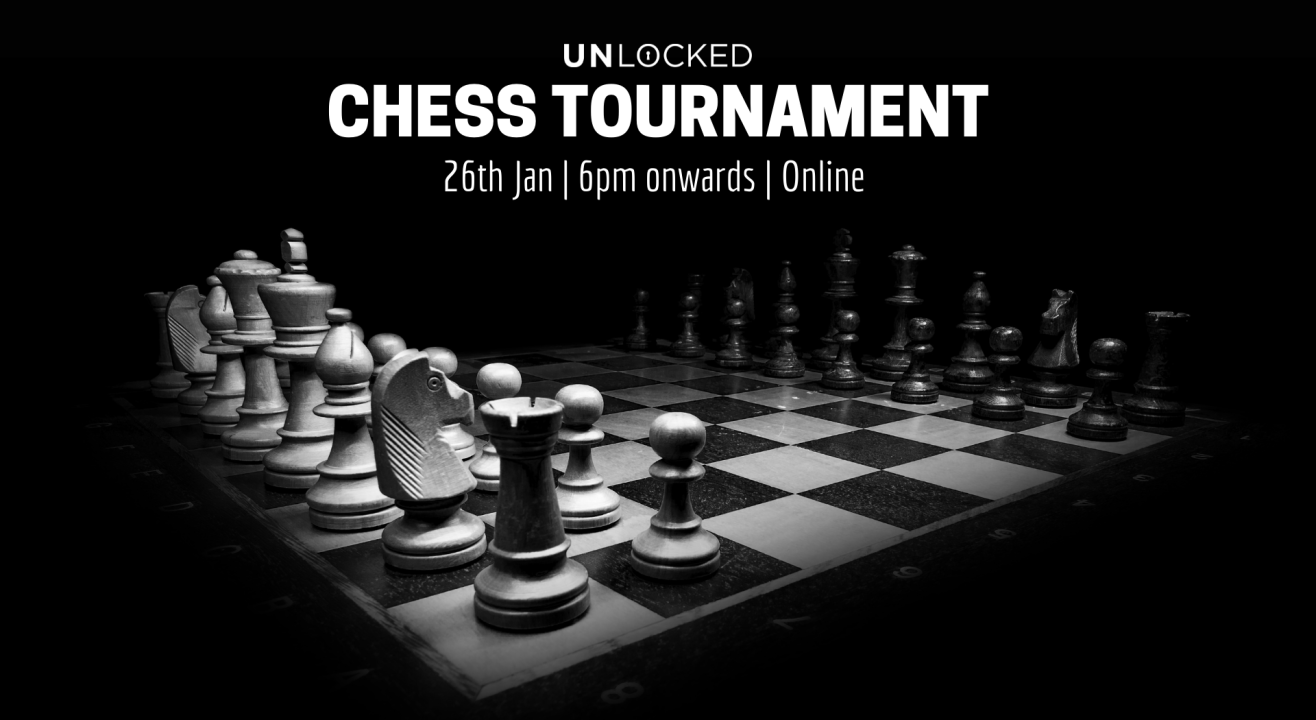 CHESS TOURNAMENT UNLOCKED ♟️
Enjoy this event from your home
Event Guide
For Age(s)
Family Friendly
Online Game
Participate and have fun
Invite your friends
and enjoy a shared experience
CHESS TOURNAMENT UNLOCKED ♟️
Enjoy this event from your home
Event Guide
For Age(s)
Family Friendly
Online Game
Participate and have fun
Invite your friends
and enjoy a shared experience
Event Guide
For Age(s)
Family Friendly
Online Game
Participate and have fun
Invite your friends
and enjoy a shared experience
Missing us during the Covid times? Don' worry, we've got you covered with yet again, a fun and exciting tournament. If you won't be able to come to Unlocked, Unlocked will come to you.
Presenting you an Unlocked Chess Tournament.
When- Postponed to 30th January, 2022 starting at 6 PM
Where- www.chess.com
Registration Fee- Rs. 99
Prizes worth more than 7500 INR (No cash prizes).
Challenge or get challenged at the comfort of your space, and if you win, you don't just win amazing prizes but also get to meet our famous Alexandra Lionheart and Prince Ahaan in our Escape room via a special voucher
For more details or any queries, you can reach out to us at:
Instagram: https://www.instagram.com/unlocked.in/
or contact us at +919821285990
Let the Chess war begin!
RULES:
It will all be a Swiss Chess Tournament, with standard games of Chess, with the standard board.
No minimum or maximum limits on the player ratings. The tournament is open to all.
The player distribution will be random.
Black and White, both, will have 15 mins in total in each round.
So each player will play three rounds.
Fee is non-refundable.
CHESS TOURNAMENT UNLOCKED ♟️
Enjoy this event from your home
Event Guide
For Age(s)
Family Friendly
Online Game
Participate and have fun
Invite your friends
and enjoy a shared experience