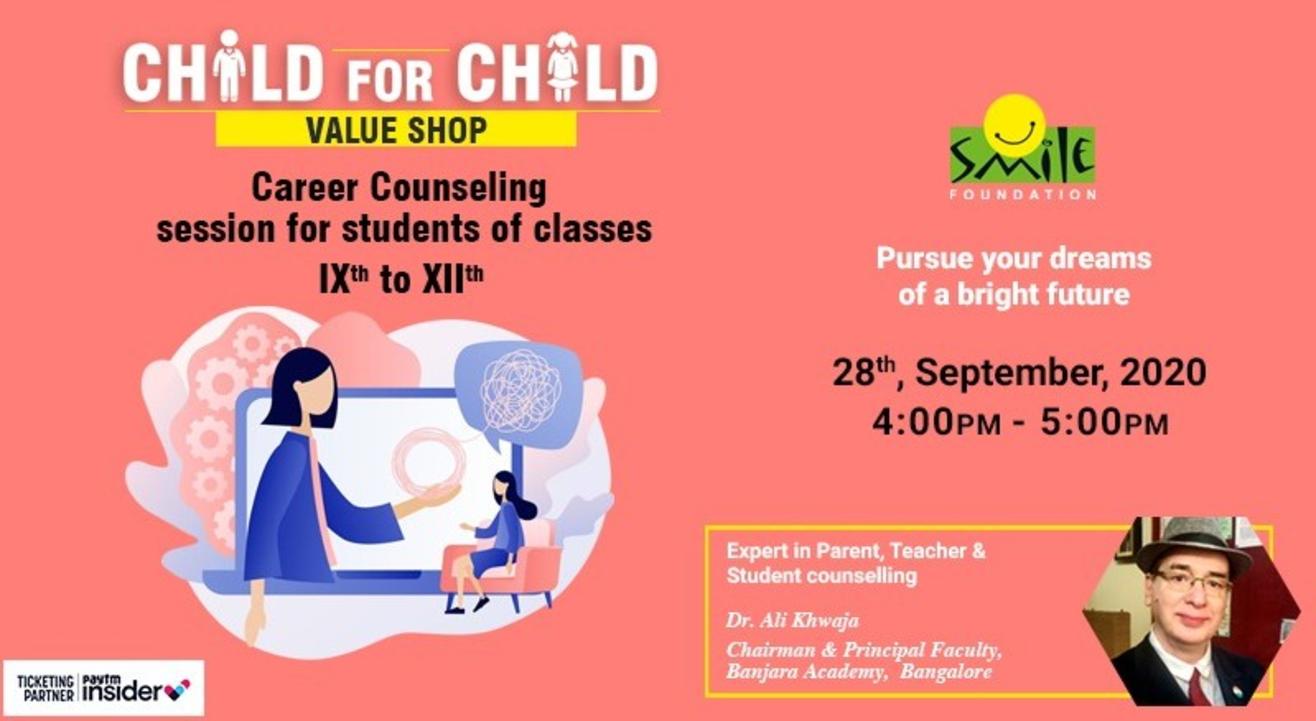 Child for Child Webinar on Career Counselling
Event Guide
Digital Event
Watch on Zoom
For Age(s)
Family Friendly
Masterclass
Learn from an expert
Invite your friends
and enjoy a shared experience
Event Guide
Digital Event
Watch on Zoom
For Age(s)
Family Friendly
Masterclass
Learn from an expert
Invite your friends
and enjoy a shared experience
About the Event
Why does someone need career counselling?
Students often find themselves on crossroads as they enter 9th grade and have start preparing for the courses they should be taking in their final school years.
Career Counselling is a process that focuses on helping one understand one's own self, as well as work trends, so that one can take an informed decision about career and education. Career Counselling helps manage a diverse range of problems such as low concentration levels to poor time management, trust issues with family to non-agreement between parents and children on which career to choose.
Key Takeaways:
· There are dreams that students have – our career counsellors will help them analyse that
· The dreams could be of becoming a chef, a doctor, a musician, a digital content creator, an artist, a philosopher, ... it's time to first understand one's dreams
· There are ways students can achieve those dreams but do not know how
· There are preps that need to be done to achieve that dream
· Parents need to be taken in confidence to achieve those dreams
· There has to be a stability in thoughts of both the students & the parent
Career Counsellors will help you process all of this & help you to remain calm when it comes to taking a career decision. Counselling helps bring about focus, and maintain that focus throughout in the activities. Through proper scheduling and planning, they try and make your life more organized.
Keynote Speaker – Dr. Ali Khwaja, who is Founder of & the Principal Faculty at Banjara Academy, Bangalore.
Dr. Khwaja is has been counselling students, parents & teachers in different aspects like Cyber Safety Awareness, Career Counseling, Anger Management and many relevant fields that have become even more vital in current Covidian times.
The teachers and mentors at Banjara Academy, their methodology has always been to be very hands on and focus on every individual and the issues that are keeping them from achieving glorious heights.
After Registering on paytm insider. The online webinar zoom link is sent immediately via an email over the registered email address and via sms to the registered mobile number.
The amount raised from this webinar will be used to facilitate the digital classes for underprivileged children in Smile Foundation's Mission Education Remedial Centers. A high proportion of these children might drop out of the education system, if they do not have access to basic devices like tablet or smartphones that enable them to partake online classes.
About Child for Child program
Smile Foundation's CFC team works very closely with school students & does sensitization programs with them and makes them aware about the issues & challenges faced by children from the underprivileged community. All funds raised by CFC team are used to support underprivileged children & ensure that there are avenues created where children from both strata of society can come together & work towards a civic driven change.
During the pandemic CFC team has been conducting sessions for schools in various thematic areas that work towards their physical & mental wellbeing. Some of the online sessions facilitated by CFC under its Value Shop vertical include mastering Penmanship, Magic of Mathematics, Cyber Safety Awareness, Musicality, Art of Storytelling, career Counseling, amongst a few.
For any query write to us at info@childforchild.in