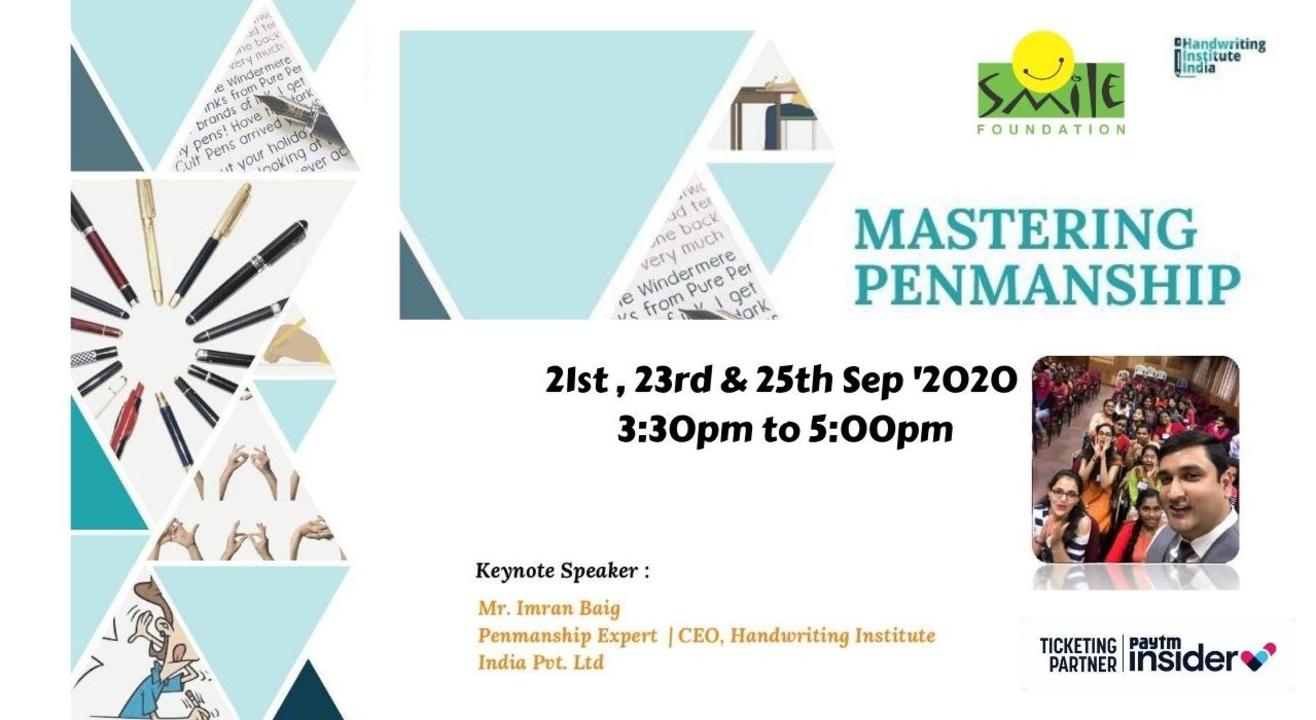 Child for Child's webinar on Mastering Penmanship
September 21 - September 25 | 3:30PM
Enjoy this event from your home
Event Guide
Digital Event
Watch on Zoom
Masterclass
Learn from an expert
Invite your friends
and enjoy a shared experience
Event Guide
Digital Event
Watch on Zoom
Masterclass
Learn from an expert
Invite your friends
and enjoy a shared experience
About the Event
A 3 Session package on
About Mastering Penmanship:
Each person has their own unique style of handwriting, whether it is everyday handwriting or their personal signature. Even identical twins who share appearance and genetics do not have the same handwriting. The place where one grows up and the first language one learns meld together with the different distribution of force and ways of shaping words to create a unique style of handwriting for each person.
Characteristics of handwriting include:
· the specific shape of letters, e.g. their roundness or sharpness
· regular or irregular spacing between letters
· The slope of the letters
· the rhythmic repetition of the elements or arrhythmia
· the pressure to the paper
· The average size of letters
· the thickness of letters
Key takeaways for Session 1:
1. Understanding and Evaluating The 5 Elements TO A Scientific Handwriting
2. How to choose the Right Pen especially for long writing hours
3. Ergonomics of Writing – The Scientific Positioning of Pen, Body & Paper
4. Finger Flexion Exercises – developing hand-mind coordination through handwriting
5. Hand Yoga - improving muscle strength
Students will be provided downloadable worksheets for their practice & reference, with an opportunity to win badges for their progressive work.
Key takeaways for Session 2:
1. Live review of handwriting samples
2. Students will be taught to correct the 5 elements that they learnt in the first session
3. Every student will receive a personal handwriting evaluation report
Key takeaways for Session 3:
1. Understanding speedwriting – learning to maintain consistent speed while writing through different modes – copying, dictation, recall & write
2. Speedwriting challange – a practical session to identify how may words a student can write in a minute's time; mastering dictation skills, and writing 20 words per minute challenge
About the Facilitator:
Keynote Speaker – Mr.Imran Baig , Penmanship Expert , CEO , Handwriting Institute India Pv.Ltd
He chose handwriting as a way to understand human behaviour. Years of dedication has led him to create a powerfully designed program on Handwriting development & Graphotherapy for students. Thousands of individuals from different walks of life have been trained & mentored. Mr. Imran specializes in "Health through handwriting".
After registering on Paytm Insider, the online webinar zoom link is sent immediately via an email over registered email address & via sms to the registered mobile number.
The amount raised from this workshop will be used to facilitate the digital classes for underprivileged children in Smile Foundation's Mission Education centers. A high proportion of these children might drop out of the education system, if they do not have access to smartphones that enables them to partake online classes
About Child for Child program:
Smile Foundation's CFC team works very closely with school students & does sensitisation programs with them and makes them aware about the issues and challenges faced by children from the underprivileged community. All funds raised are used to support underprivileged children and ensure that there are avenues created where children from both strata of society can come together and work towards a civic driven change.
During the pandemic CFC team is conducting sessions for schools students in various thematic areas that work towards their physical & mental wellbeing. Some of the online sessions facilitated by CFC include: Mastering Penmanship, Magic of Mathematics, Cyber Safety Awareness, Music as a Therapy, Art of Storytelling, Career counselling amongst a few.
For more details you can write to us at info@childforchild.in