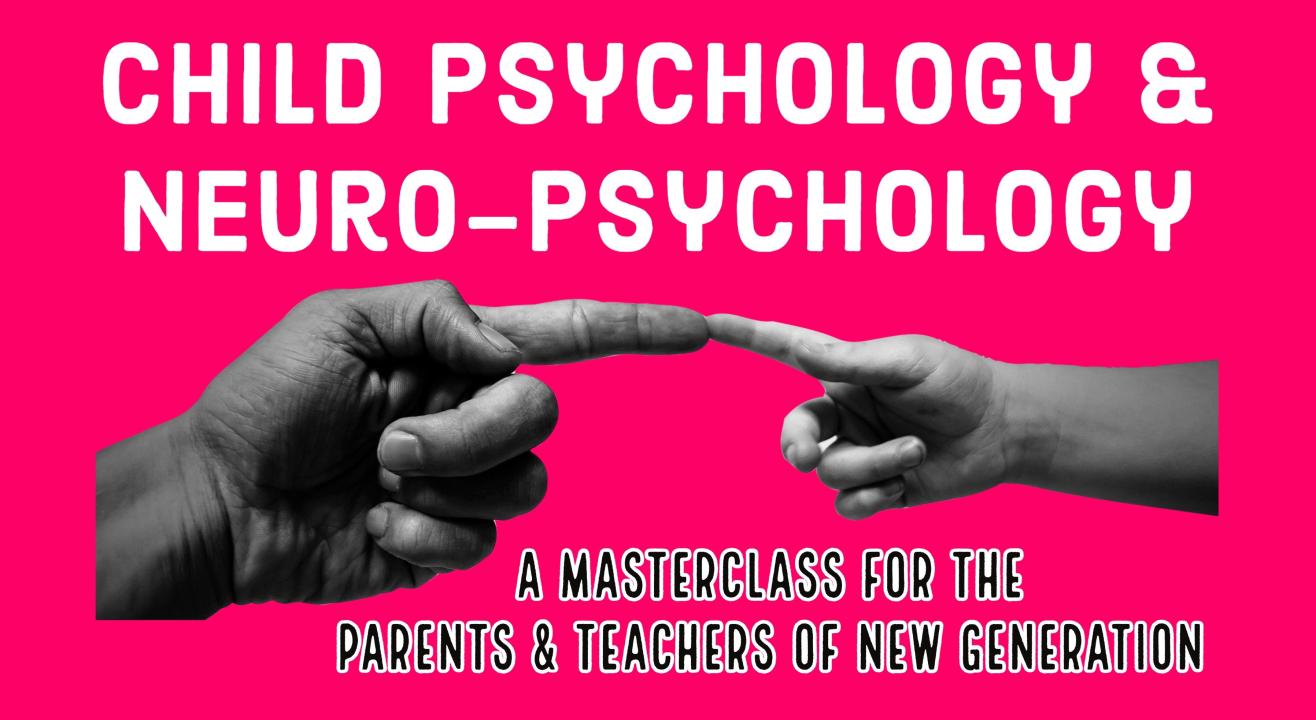 Child Psychology & NeuroPsychology - A masterclass for the parents & teachers of new generation
Enjoy this event from your home
Event Guide
Digital Event
Live On Insider
Masterclass
Learn from an expert
Invite your friends
and enjoy a shared experience
Event Guide
Digital Event
Live On Insider
Masterclass
Learn from an expert
Invite your friends
and enjoy a shared experience
About the Event
A masterclass for the parents & teachers of new generation
The psychological development of a child becomes the foundation of that child's full life - their personality, behavior, how they see the world, how they feel & react in every situation of life, their self-confidence, their self-respect, and nearly everything about them & their future. It is widely accepted by psychologist all around the world that the psychological experiences in childhood becomes the major & most important reason behind nearly all possible psychological problems in teenage and adult life.
This 2.5 hours live-interactive masterclass will teach you the fundamental mechanisms of psychology & neuro-psychology through which children learn everything - from learning how to speak, read, write; learning knowledge, language, skills, to learning habits and behaviors - this masterclass will explain in detail the basic framework/model of human brain & mind using which children learn everything.
This masterclass is intended for anyone who wants to learn in detail about child psychology - and it is especially important for parents of children between 6 months to 12 years of age, and equally important for teachers who teach children of this mentioned age group.
This 2.5 hours (150 minutes) masterclass will be live and interactive - question/answers, live discussion, and more!
This masterclass is something which every parent and teacher must & need to attend, as said above, because it will teach you how to see the world as your child sees it - it will make you understand how your child understands the world and it will make you know the greatest secret about children which you need to know - how they learn everything.
The masterclass will be given by Nitnem Singh Sodhi, an internationally renowned neuro-psychologist who has been officially awarded the title of being the Youngest Neuro-Psychologist of India as well as of whole Asia continent. He is recognized as the researcher/scientist who has developed the world's first unified and functional model/framework of mind & brain (psychology & neuroscience), which has been accepted by the international scientific community. His research specializes in detailing how human brain & mind functions; and as he is also officially recognized as the Youngest Neuro-Psychologist of India/Asia, having more than 6 years' experience in this field, he is the perfect candidate to conduct this masterclass as he understands both the children's and parent's/teacher's mind of this generation very well. He also developed his own new internationally-accepted system of treatment therapy for psychological/mental disorders named "The Unimind Therapy". He has also presented his research on neuro-physiology (non-invasive brainwaves stimulation) at the MEDINSPIRE international medical conference @ DY Patil University, Mumbai, in February 2019. He has been a speaker in dozens of international conferences and has a research & teaching experience of approximately 9 years in various disciplines.