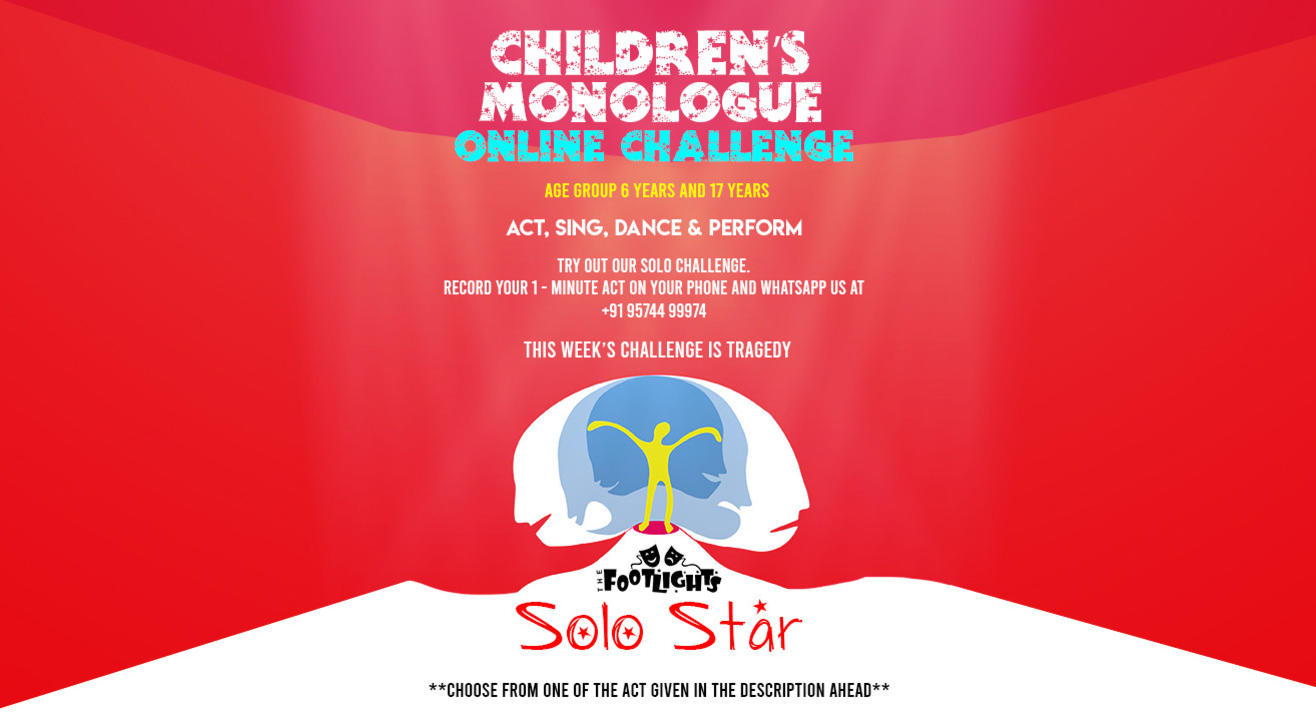 Arts and Theatre
Children's Monologue Online Challenge
Sign Up and send in your entries up till April 10 - 10PM
About
Are You The Footlights Solo Star?
We miss you. We know you miss us too.
How do we act, sing, dance and perform together in these times of a lockdown?
So, Here we are organizing an
"Children's Monologue Online Challenge" for the age group of 6 to 17 years.
Are you ready?
This week's challenge is TRAGEDY.
WHAT YOU NEED TO DO?
Choose from one of the act given in the slide above.
Record your 1 minute act on your phone and WhatsApp us at +919574499974 along with your full name and age.
Last date to send your entry: 10/04/2020
Results will be announced on: 11/04/2020
The best performers will be showcased on our Instagram and Facebook. Once the theatre reopens, the stars will perform to a live audience and receive special gift hampers.
Script Options
Option 1: Rapunzel Retold
Rapunzel's story retold:
Rapunzel was a beautiful child who was cursed by an evil sorcerer when she was born. To cancel the effects of the curse, Rapunzel had to live isolated in a tower until she was 16.
Situation for the act:
It is Rapunzel's 16th Birthday when she finally has to be released from her tower. She is excited. Just then a messenger arrives on a horse and reads out an official order. Her captivity has to be extended for another week. Rapunzel is distraught. She pleads to the messenger to help her escape. This is her monologue that you have to act out. Rapunzel: No, no, no. I do not believe in what anyone says anymore. For 16 years I've been locked up in this tower with the promise that finally today I will be released from this prison. Messenger, do you have no heart that you bring me such terrible news? I forbid you to leave from here until I am able to come to terms with the news of my prolonged incarceration. You must hear me out until my heaving heart subsides. For 16 years I've seen no face but mine own. For 16 years I've only seen the sun rise and set over the same woods. For 16 years I have waited for 'one' friend with whom I can share the joys and sorrows of my heart. Through long summer afternoons I have had no one to talk to but birds who sat on my window. I have seen the clock ticking away day after day without causing any change in my condition. Seasons have changed, years have passed, yet I, Rapunzel, remain the same...a bird in a golden cage.
Tips for Actors:
Memorize the monologue, rehearse well.
You can improvise a costume with materials available at home.
Try out a lighting arrangement using table lamp, lamp shade etc. to make the setting interesting.
Ask someone to record your act for you.
Option 2: The Bet by Anton Chekhov
The Bet by Anton Chekhov:
The Bet is one of the best known short stories of Russian master-storyteller Anton Chekhov. It is the story of two strong-headed men who challenge each other during a heated discussion on death penalty or life imprisonment – which is more suited as a form of punishment for crime in a moral society. The person in favour of life imprisonment is challenged by the other to live in solitary confinement for five years. To prove he is correct, the person accepts the challenge and even agrees to live in solitary confinement for fifteen years instead of five. At
the end of fifteen years, the person was to be set free and 2 million rubles (Russian currency) were to be awarded to him. However, at the end of the period of confinement, the person chooses not to take the money and leaves a letter behind which explains his actions.
The Letter:
Tomorrow at twelve o clock I regain my freedom and the right to associate with other men, but before I leave this room and see the sunshine, I think it necessary to say a few words to you. With a clear conscience I tell you, as before God, who beholds me that I despise freedom and life and health, and all that in your books are called the good things of the world. For fifteen years I have been intently studying earthly life. It is true I have not seen the earth or men, but in your books I have drunk fragrant wine, I have sung songs, I have hunted stags and wild boars in the forests. In your books I have climbed to the peaks of Elburz and Mont Blanc, and from there I have seen the sun rise and have watched it at evening flood the sky, the ocean, and the mountain-tops with gold and crimson.
In your books I have flung myself into the bottomless pit, performed miracles, slain, burned towns, preached new religions, conquered whole kingdoms...
Your books have given me wisdom. All that the unresting thought of man has created in the ages is compressed into a small compass in my brain. I know that I am wiser than all of you. And yet I despise your books; I despise wisdom and the blessings of this world. It is all worthless, fleeting, illusory, and deceptive, like a mirage. To prove to you in action how I despise all that you live by, I renounce the two million of which I once dreamed as of paradise and which now I despise. To deprive myself of the right to the money I shall go out from here five hours before the time fixed, and so break the contract...
You can read the full story here:
http://www.eastoftheweb.com/short-stories/UBooks/Bet.shtml
Tips for Actors
The actor will use the letter as a text for monologue.
Try to understand the character better by reading the short story available on the link
given above.
Try to think about the reason for the prisoner's disillusionment and disregard for money after gaining so much knowledge.