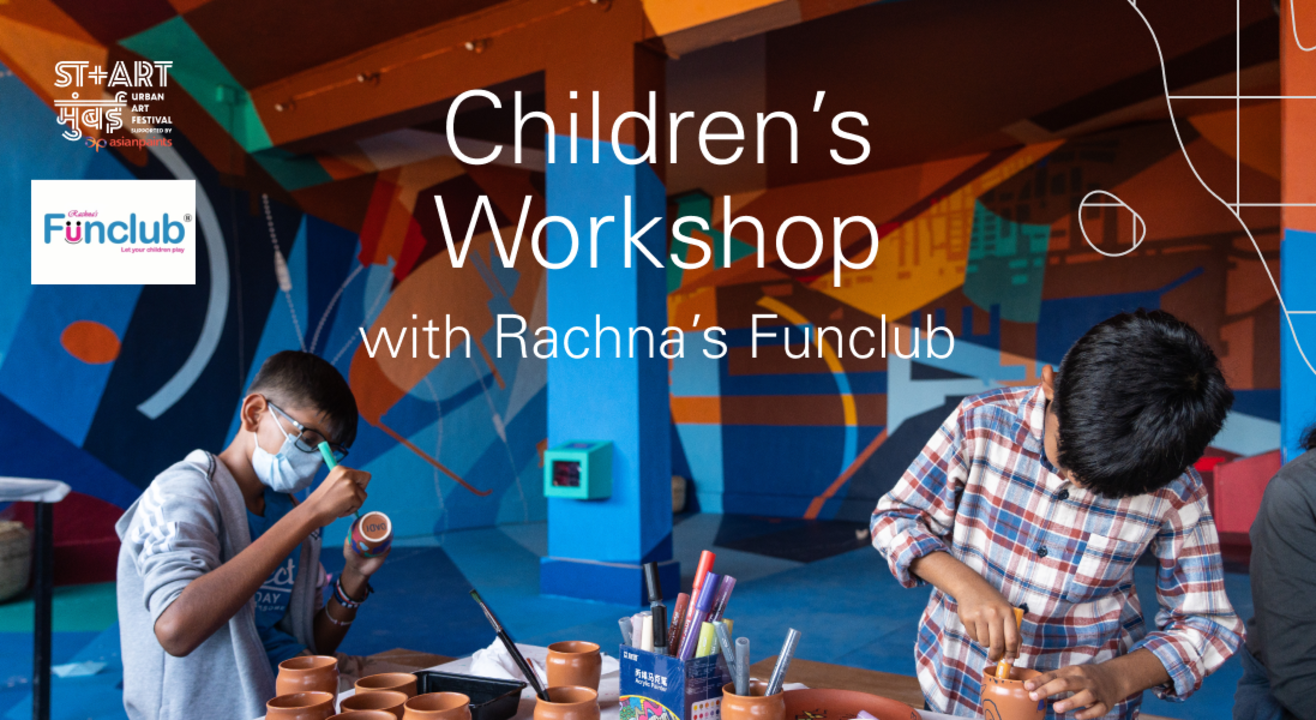 Children's Workshops with Rachna's Funclub at Mumbai Urban Art Festival
January & February | 11AM & 12PM
Registration Desk, Sassoon Dock, Mumbai
Step out and enjoy this event
Invite your friends
and enjoy a shared experience
Children's Workshops with Rachna's Funclub at Mumbai Urban Art Festival
January & February | 11AM & 12PM
Registration Desk, Sassoon Dock, Mumbai
Step out and enjoy this event
Invite your friends
and enjoy a shared experience
Invite your friends
and enjoy a shared experience
St+art India is thrilled to collaborate with Rachna's Funclub as our children's programming partner. Bring your tiny tots to Sassoon Docks for some fun and engaging workshops.
Workshops -
January 14th - Saturday | Makar Sankranti: An Activity Inspired by Street Art
Children will learn all about Street Art and its origin. They will use various street art styles to create different shapes and sizes of kites on the occasion of Makar Sankranti.
Weather permitting, we will also try flying our kites outdoors!
January 15th - Sunday | Graffiti Art on Cloth Bags
Children will learn about the origin of Graffiti art, its use, and cultivate their style to create their own artwork on cloth bags.
January 21st - Saturday | Decoupage Art on a Bottle
Children will be given used glass bottles to create beautiful artwork based on their perception of the sea.
The bottles are for the children to take home after the workshop.
January 22nd - Sunday | Warli Art - Story Time and Art Workshop
Children will listen to a story, Dancing on the Walls, following which they will create their own artwork based on Warli style on earthen pots.
February 5th - Sunday | Create Your Own Corals
St+Art India, Kalaghoda Arts Festival and, Avid Learning for a fun-filled day on creating exciting and imaginative art that represents Corals and Coral Reef. Join Educator, Storyteller and Founder of Rachana's Funclub Rachna Narwekar as she introduces you to the majestic world of Corals through hands-on activities. The session will also feature storytelling and book reading from the recently launched, Children's illustrated book, Coral Woman by Author, Curator and Founder, Peek A Book – Festival of Children's Literature Lubaina Bandukwala.
About Rachna's Funclub
Rachna's Funclub is an Experiential Learning Center and Library in Cuffe Parade. Founded in 2005, it has since remained immensely popular with parents and children from across Mumbai. In keeping with what they do, Rachna Narwekar launched Little Clubbers Festival in 2016 which is an extension of the creative and interactive activities conducted at Rachna's Funclub. Since then they have successfully curated and executed numerous events across the city for corporations, schools as well as in-house events. The most recent was the children's festival at the Royal Opera House in November 2022.
Registration Desk, Sassoon Dock
Azad Nagar, Colaba, Mumbai, Maharashtra 400005, India
GET DIRECTIONS
Children's Workshops with Rachna's Funclub at Mumbai Urban Art Festival
January & February | 11AM & 12PM
Registration Desk, Sassoon Dock, Mumbai
Step out and enjoy this event
Invite your friends
and enjoy a shared experience