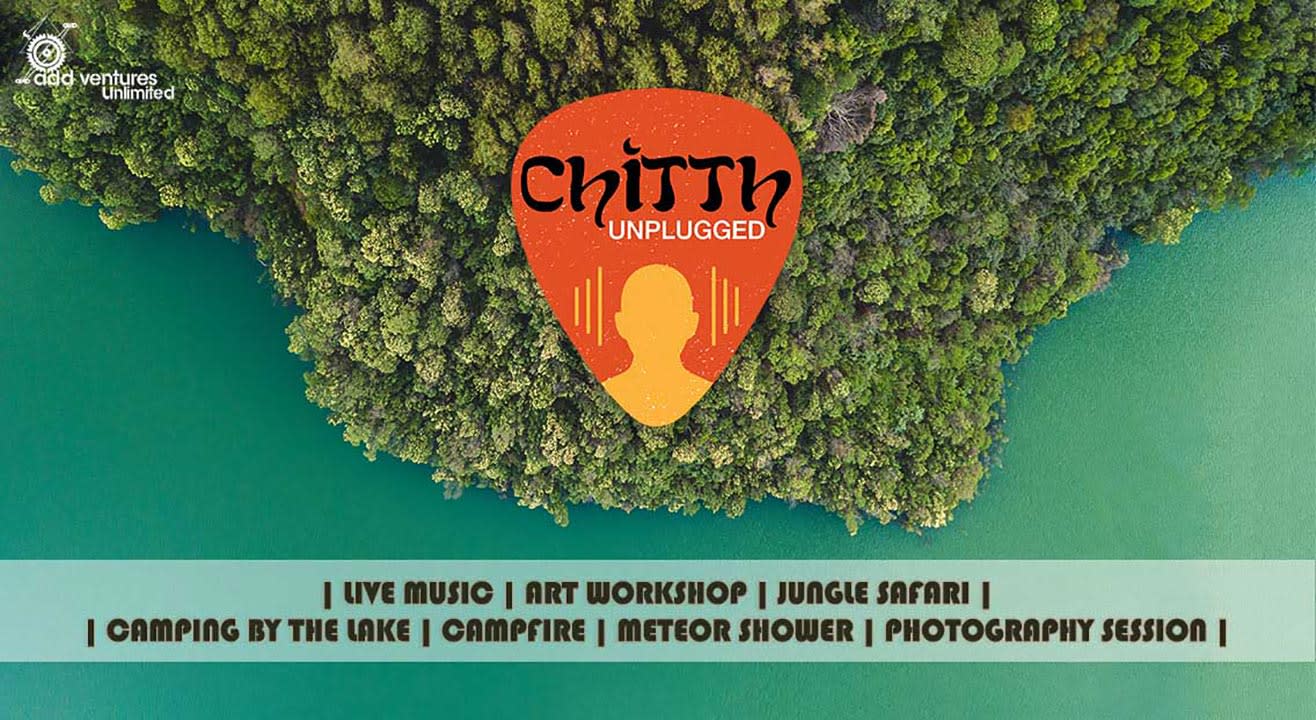 Music
About
Ahoy! Add Ventures Unlimited are a band of happy folks who come up with outdoor activities that are unique to each event. They present to you the Chitth Unplugged. This is a complete package you see. Not only do they have some uniquely vivid musicians and artists from across the country, they cover a wide genre too. How would you like to listen to a hand pan and didgeridoo jam?
Under a carpet of stars? By the lake-side? With the Geminids meteor shower above you? Check, check and check. Jungle Safari? Yes. That's on the list too! Sathya Vachana.
The festival is an effort from Add Ventures Unlimited to showcase a side live music with surreal backdrops and an array in-house activities. This year, they've ensured you have a place with minimal light pollution so you can see and photograph the Geminids meteor shower. Yes, they ensured that their festival would fall at the same time. Upto a 100 shooting stars in an hour at peak time, by the Avalanche Lake side in Ooty.
All-inclusive limited tickets only, as Add Ventures Unlimited can only accommodate a limited crowd. Why are you still reading this instead of booking the tickets already?
3 meals (lunch | dinner | breakfast)
Stay in tents with sleeping bags
Campfire & live music performance
Night photography session and discussion
Art workshop
Sunset hiking
How far is the event venue?
The venue is located very close to the Avalanche Lake. The lake is 28 kms from Ooty. Ooty is 120 kms from Mysore (4 hours) and 260 kms from Bangalore (7 hours).

How do I get there?
You can come to the venue by your own vehicle – You can ride or drive to the venue. The organizers will share exact location upon registration. They will arrange for a tempo traveller from Mysore & Bangalore, depending on the group size. The vehicle cost will be equally shared by the travellers. You can travel by Volvo (starts at 2200hrs from Bangalore) up to Ooty Bus Stand. Add Ventures Unlimited can arrange for a pick up till the venue at 0630hrs on 15th December and drop back to Ooty bus stand by 1400 hrs. You will have to bear the pick up and drop cost.

What accommodation is provided?
Add Ventures Unlimited are providing you a camping experience. They have arranged for tents at the venue and will provide sleeping bags as well. There will be limited common washrooms for everybody to freshen up.

What type of music can I expect?
The event is an unplugged version. There will ambient music with instruments like didgeridoo, hand pan, violin and guitar. The artists jam together and improvize on the music. Since you are close to the reserve forest, they will not use loud speakers.

Do I have to be a photographer to enjoy Geminids Meteor Shower?
The Geminids Meteor Shower is one of the brightest meteor showers during the year and at its peak time (14th morning 0200 hrs around), you can view upto 100 shooting stars in an hour! So it will be a great sight (of course, everything is dependent on the weather), even for non-photographers to just lie down on the back and witness the show from above!

Can we get our alcohol?
Alcohol will be served at the venue. No outside liquor is allowed.

Can we swim in the lake?
There is absolute restriction on swimming in the lake or even entering the lake. One must not venture into the lake side after dark as it gets very slippery and the water will be very cold.

Dress code?
Warm wear! December is very cold in Ooty and since you will be camping by the lake side, it will get colder. Once you register, Add Ventures Unlimited will send you proper checklist on what to pack for the event.
The organizers reserve the right to change the program as required by circumstances and conditions at any time without notice. In the event that the festival has to be cancelled, tickets will be refunded on request within seven days of such request.
Festival organizers will not refund, provide an exchange or replace any tickets when:
The ticket holder is unable or chooses not to attend the event.
The ticket has been duplicated.
The weekend wristband pass is lost, damaged, forged or stolen from someone else.
The ticket holder has been refused entry or evicted from the premises under any of the circumstances outlined in the Terms and Conditions.
The event does not meet his or her expectations.
The program lineup or schedule changes.

Festival entry conditions
You may not bring into the festival, hub alcohol, illegal drugs or dangerous items.
You are permitted to bring in your own food.
Organizers reserve the right to confiscate prohibited items and refuse entry without refund.
Alcohol served at the festival may only be consumed within the specified festival area, and may not be taken outside and near to the lake/water body under any circumstances. Entry permitted for all ages. However, children below 15 years of age would need to be accompanied by an adult.
Parking near or at the festival premises is at the risk of the vehicle owner.
Organizer will not hold responsibility for any damage or theft of any vehicles within the stipulated parking premises of the festival.
For the safety of patrons, artists and equipment, any dangerous, irresponsible, unruly, offensive, disturbing or inebriated behaviour is strictly prohibited and offenders will forfeit their ticket and be ejected from the festival.
Footwear must be worn at all times.
The event organizer has all rights to film, photograph and video record this event and patrons may be filmed incidentally during the event.