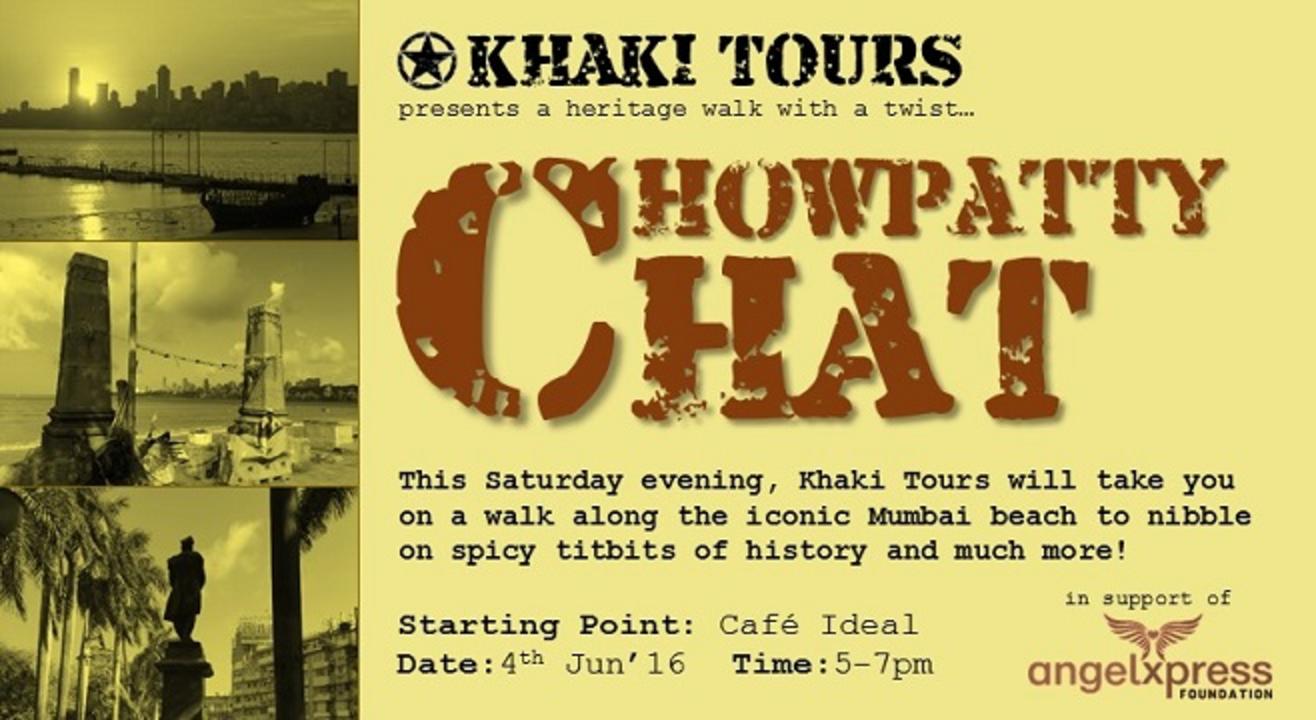 #ChowpattyChat by Khaki Tours
Cafe Ideal, Mumbai, Mumbai
Step out and enjoy this event
Invite your friends
and enjoy a shared experience
#ChowpattyChat by Khaki Tours
Cafe Ideal, Mumbai, Mumbai
Step out and enjoy this event
Invite your friends
and enjoy a shared experience
Invite your friends
and enjoy a shared experience
This Saturday evening, Khaki Tours will take you on a walk along the iconic Mumbai beach of Chowpatty, to nibble on spicy titbits of history and much more.
Starting Point: Café Ideal opp Chowpatty Beach
Duration: 2 Hours
Distance: 2 Kms
Highlights of the walk:
• Spot where Kasab was caught during 26/11 attacks
• Irani restaurant with old fashioned Coke posters
• First public escalator in India
• Gavaskar's birthplace
• A studio that has made over 1000 statues of Dr Ambedkar
• Site of the first mass funeral procession in Mumbai
• Story of the first yoga college in the world
• Erstwhile "Hindus Only" Swimming pool
• First concrete road in India
• An Indian's "flight"… decade before Wright Brothers
• Station named after a meadow
• Probably the only Footpath in the world with a name!
• Garden in which men are not allowed
• Lord Harris' gifts to India
• And of course the legendary Chowpatty Chaat!
For more information please call BharGo (9820101641). Follow Khaki Tours on Facebook and Twitter
This event supports Angel Xpress Foundation for educating slum kids!
Cafe Ideal, Mumbai
Fulchand Niwas, Dr. Purandare Marg, Chowpatty Seaface, Girgaon, Mumbai, Maharashtra 400007, India
GET DIRECTIONS
#ChowpattyChat by Khaki Tours
Cafe Ideal, Mumbai, Mumbai
Step out and enjoy this event
Invite your friends
and enjoy a shared experience