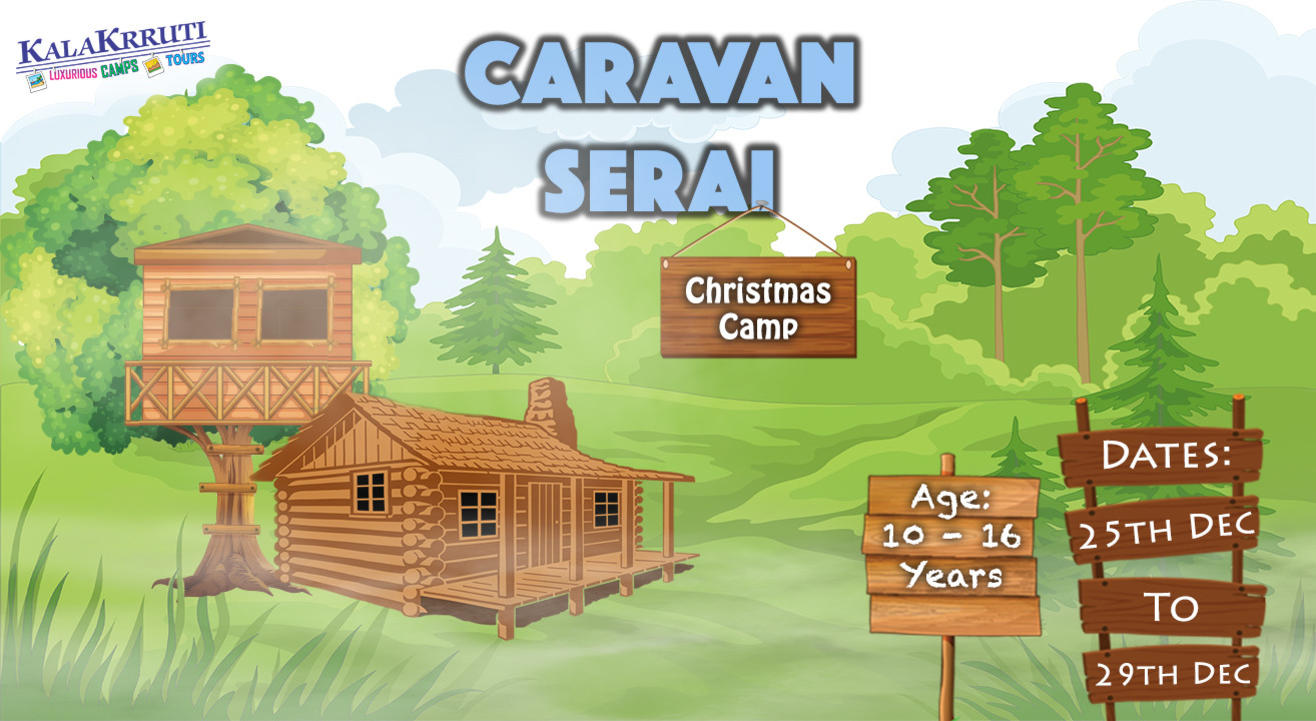 Tour
Christmas Camp for Kids: Caravan Serai, Gujarat
December 25 - 29 | 10:30PM
About
KALAKRRUTI Enterventure Holidays, Where the name itself suggest a Magical combination of ENTERTAINMENT & ADVENTURE.
Born out of Passion in 1995, has created wonders to satisfy more than 60000 participants by adding the flavour of Fun, Thrill, Entertainment, Outdoor Adventure with Safety for today's generation.
Caravan Serai is built amidst lush green jungle of jambughoda, which is home for a number of wild animals! The resort is built with all natural resources and elements without causing any harm to the nature. There is also a range of fun Actvities! Caravan Serai also includes Visit to UNESCO recognised World heritage Champaner and Pavagadh.
Day 1: Evening depart by train. Day 2: Morning reach Resort.
Day 4: Evening depart by train. Day 5: Morning reach Mumbai.
Road journey & Sightseeing's: By AC Bus ( 2 hrs )
Train Journey: By O/N Non Ac 3 Tier Reservation Sleeper Berths
*AC reservation available at Extra Cost subject to availability. Volunteer facility in Ac coach will be provided for group of 10 or more only.
Journey and other details will be provided during admission.
In the A/C Rooms of "CARAVAN SERAI RESORT" surrounded by Green foliage
Stay will be on 5 Sharing basis in room.
We provide our OWN KITCHEN'S pure veg, hygienic & delicious food (Jain Also). Prepared by chefs from Mumbai with Multi Cuisine menu.
Mineral water throughout the trip.
Balancing Rope bridge, Swinging Walk, Ari lifting walk, Team building activity, 5+ high rope activity, Core strength, Jungle trekking, River bamboo bridge, Amazing balance beam, Tyre tumble, Tyre walk, Commando Net, 5+ Tree Rope Activities, Tree Jhula, Gorilla Caves, Thrilling Snake Ladder, Hanging Bamboo, Burma Bamboo Bridge, Zip-line, Rappelling, Swimming pool.
Dune Buggy : A very unique adventurous activity which gives an adrenaline rush ! Here one drives through the off-roads at the Camp site with beautiful views!
Segway : Feel the thrill, the exhilaration, and the utter enjoyment.
Sightseeing : The Champaner-Pavagadh Archaeological Park at the height of 1500 feet is a UNESCO World Heritage Site.One of the best experiences there is the ropeway to Maha Kalika Temple, Champaner has archaeological remains that date from the 8th to 16th century. The range of ruins is enormous, including agricultural buildings, mosques, and a fortress. This site was once an important religious shrine and point of pilgrimage
Daily Campfire we inculcate into Musical games, Entertainment, Dance party, also Indoor & outdoor games conducted by Game host from Mumbai.
SAFETY OF YOUR KIDS IS OUR UTMOST PRIORITY.
8:1 Kids to Teacher ratio.
FOR MORE DETAILS VISIT:
www.kalakrruti.in
Venue
Caravan Serai, Gujarat
Post Bhat Near Shivrajpur Village, Jambughoda, Gujarat 389390
GET DIRECTIONS