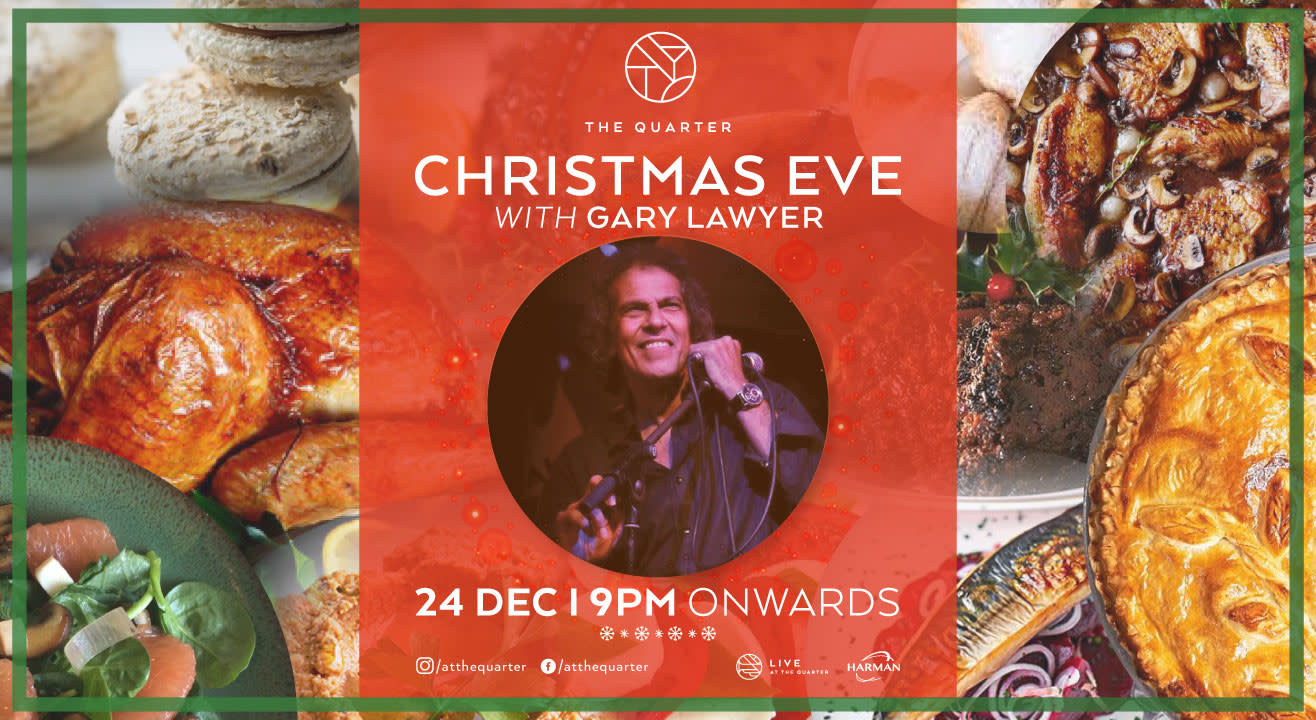 Parties
Christmas Eve with Gary Lawyer at The Quarter
Monday | December 24 | 9PM
About
It is Christmas and Gary Lawyer will take centre stage at The Quarter. Start with some fantastic 'live' music, food and drinks and as the evening progresses, make your way to our charming restaurant, as we lay out a lavish Christmas spread! Drink and dance the night away with your friends and family and make this a very memorable Christmas!

Rs. 3500 - Inclusive of unlimited food and drinks*
Please call on +918329110638 or +919326866986 for reservations.


Carving counter / Live counter
Roasted Ham Studded with Cloves & Rosemary Honey Glaze
Apple Sauce
Pink Pepper Corn Mustard

Roast Turkey with Sausage Stuffing
Cranberry Sauce

Tapas Vegetarian
Balsamic Marinated Mushrooms & Grape Fruit Salad
Herbed Roasted Red Pepper Hummus With Garlic Melba
Water Chestnuts & Artichokes Salad With Honey Mustard Dressing
Insalata Caprese

Tapas Non-Vegetarian
Marinated Beetroot Carpaccio With Smoked Mackerel Fish & Orange Tarragon Dressing Chicken Liver Pate On Toasted Brioche, Cider Jelly, Egg White Tamarind Beef Platter With Scallion & Toasted Sesame Crispy Pork Salad With Salsa Ranchero & Glazed Litchis

Mains Vegetarian
Baked Winter Vegetable Pie
Charred Tomato Risotto, Chilly Mascarpone, Tobacco Onions & Toasted Pistachios
Mushroom & Caramelized Onion Strudel With Nuts & Fruit Sauce

Mains Non-Vegetarian
Coq Au Vin (French Style Cooked Chicken In Red Wine Larden, Shallots, Mushrooms & Herbs)
Sesame Crusted Tuna With Wasabi Orange Beurre Blanc
Classical Beef Wellington With Bone Marrow Jus (Whole Tenderloin In Short Crust With Liver Pate)

Breads
Stollen, Croissants, Soft Rolls, Hard Rolls, Cinnamon Roll, Choco Chip Pumpkin Bread

Desserts
Plum Cake With Port Wine Sauce
Christmas Pudding
Marchino Cherry & Sour Cream Cheese Cake
Pistachio Crusted Rum Balls
Dark Chocolate Ganache Cake
Doughnut Christmas Tree
Dulce De Leche Macaroons
Venue
The Quarter
Royal Opera House, Mathew Rd, Opera House, Girgaon, Opera House, Girgaon, Mumbai, Maharashtra 400004, India