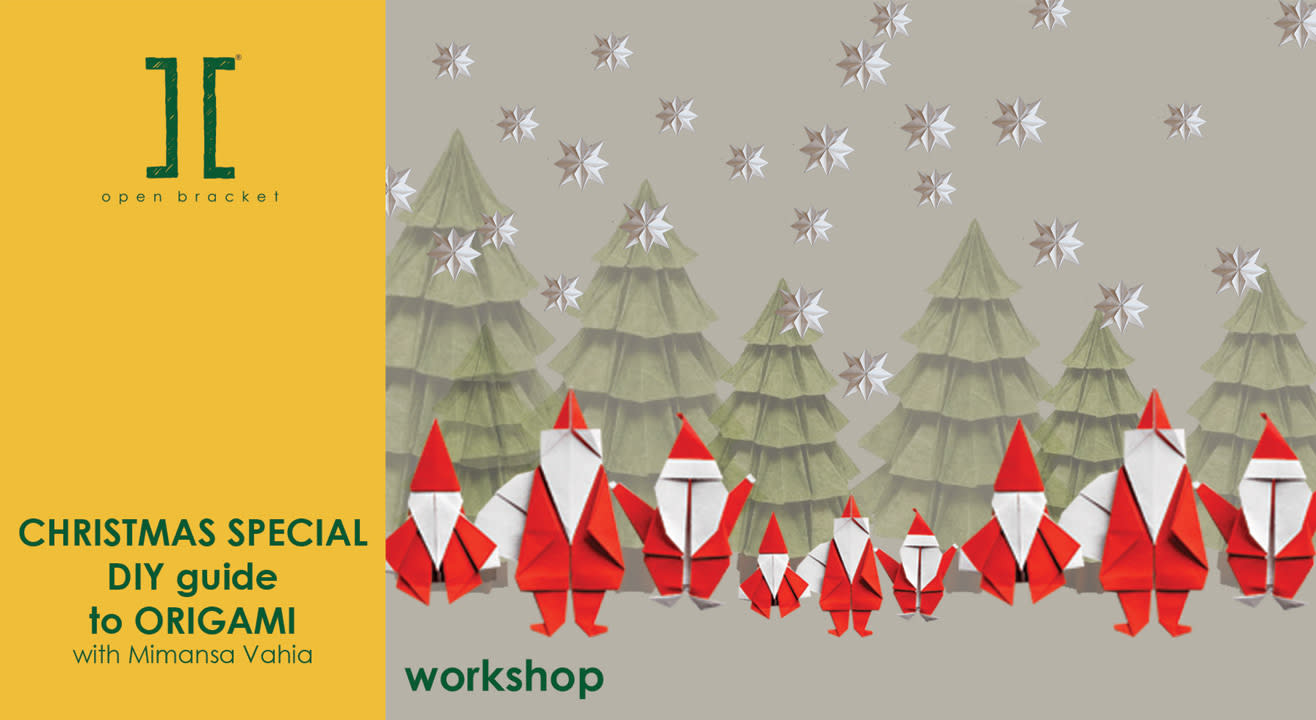 Origami
Christmas Special workshop- DIY guide to Origami
About
As you begin to feel the nip in the air that November brings with it, one can almost hear the jingling of Christmas bells right round the corner! If you have always wanted to have dazzling decorations and a twinkling tree just like they do in a holiday movie, this Christmas, we bring you some cheer!
Only this time, the festive lights, decorations and gift boxes in your home could all be your own creations! Open Bracket presents to you a workshop on the art of Origami: your own DIY hack to celebrating Christmas (and New Year, of course) in style. Using the ancient Japanese technique of folding paper to create inspiring forms, Origami helps you personalize your decorations, from the Six pointed star to baubles for the tree! You can now surprise Santa with abstract lamps that make light dance as he climbs down your chimney, and customized gift wrapping that could put his elves to shame. This workshop is your hassle-free, DIY guide to pocket-friendly, re-cycle happy and home-sourced festivity! With only a few pieces of paper, and a touch of personal creativity, you can now create wonder and joy for a very, merry Christmas!
The workshop will be conducted by our guest artist Mimansa Vahia. The necessary material for the workshop will be provided by us; though it will be perfect if you can carry your own pair of scissors and big size box to carry all the models that will be made during the workshop.
Open bracket is an experimental platform for all things creative! We organize and curate custom made workshops that stand firmly in the no man's land between classroom lectures and professional training, though never shying from mandatory hops of fun. The workshops are conducted by professionals who are invited from an extensive list of artists and creators from all over the country. To know more log on to Open BracketOpen Bracket
Venue
Bombay Connect, BKC
501 A Pinnacle Corporate Park, Bandra Kurla Complex, MMRDA Area, near Trade Centre, MMRDA Area, Bandra Kurla Complex, Santacruz East, Mumbai, Maharashtra 400051