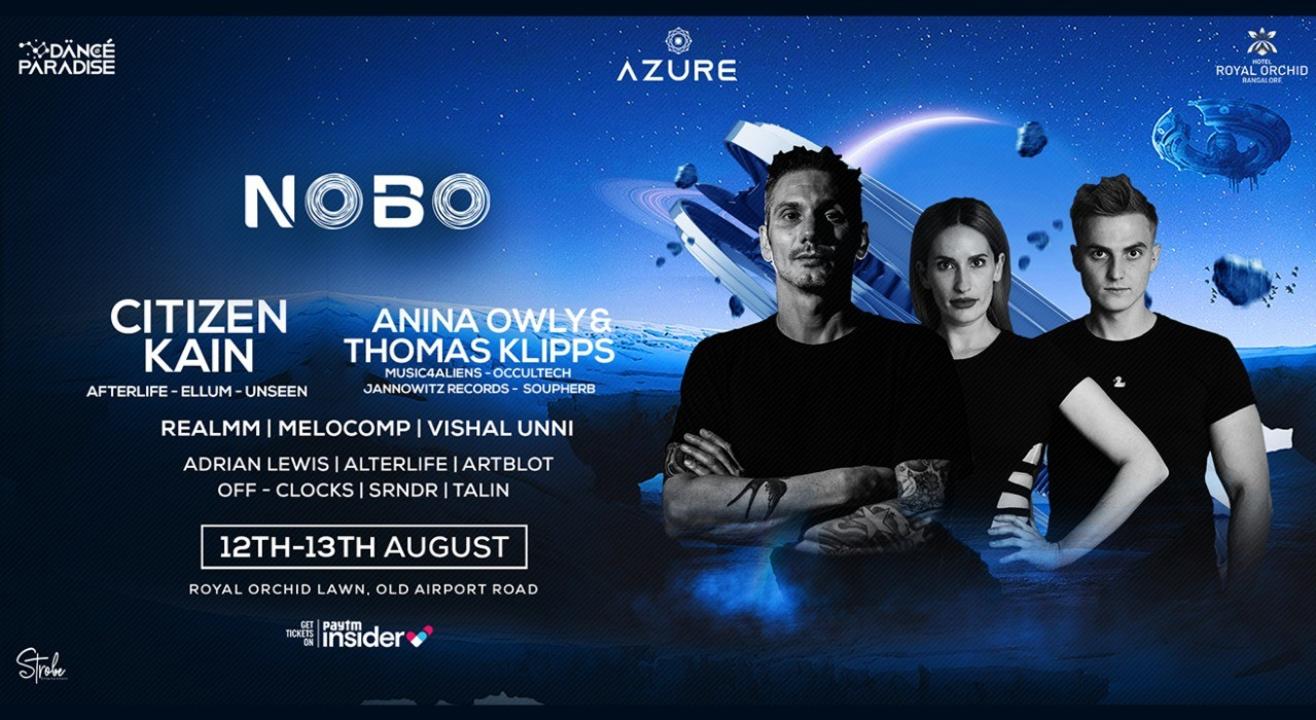 NOBO Festival FT Citizen Kain x Anina Owly & Thomas Klipps live in Bangalore
August 12 - 13 | 6PM Onwards
Hotel Royal Orchid, Bengaluru
Step out and enjoy this event
Event Guide
Live Performance
Enjoy a unique experience
Invite your friends
and enjoy a shared experience
NOBO Festival FT Citizen Kain x Anina Owly & Thomas Klipps live in Bangalore
August 12 - 13 | 6PM Onwards
Hotel Royal Orchid, Bengaluru
Step out and enjoy this event
Event Guide
Live Performance
Enjoy a unique experience
Invite your friends
and enjoy a shared experience
Event Guide
Live Performance
Enjoy a unique experience
Invite your friends
and enjoy a shared experience
We are here now, arrived, to take you with us on this cosmic trail. Everything you've known so far is about to change.
techNo, Hell yes!
The music ensemble Citizen Kain and the electrifying artists Anina Owlys and Thomas Klipps, get ready to drown in eccentricity and mania with the best of beats this August in none other than your favorite city, Bangalore!!!
BANGALORE IS CALLING!!!
Bangaluru is up with a MEGA MUSIC FESTIVAL— NOBO- NO BOUNDARIES!
With this biggest 2-days Music festival witness the stunning Line Up of Artists with headliner - CITIZEN KAIN | ANINA OWLY | THOMAS KLIPPS
Citizen kain
For over 15 years now, CITIZEN KAIN has been revolutionizing the sound of techno with his unique sensory experience. His sound is based on melody and rhythm, which are perfectly intertwined with sounds that are carefully arranged to create a composite musical whole. It is a mix of diverse musical styles that have crossed paths: Disco, Club Music and even Jazz.
From his first release onto the Neverending label in 2009 to his latest album Breakfast Miami in 2019, this long-standing techno legend has been at the heart of the electronic music scene for over three decades.
Citizen Kain has worked with some of electronic music's biggest legends. From Richie Hawtin to Nic Fanciulli the label communicate discreetly, concentrating all its energies on the work of sound, keeping away all the superficial aspects of the industry to produce the sound that bustles the clubs. The french label will celebrate its third year of passionate dedication to dance floors soo..
Anina Owly & Thomas Klipps
Form a symbiosis while playing their DJ sets. They create an undisguisable sound between Minimal and Techno. Both artists, located in the south of Germany place much value on implementing their own productions in their DJ sets. As producers, the duo has numerous releases on renowned labels such as Soupherb Records, Refused, Phobos, Subios, Music4Aliens etc. Not seldom, one find records of them on the top 10 of Techno and Minimal charts. The two artists look back on eventful years of parties with national and international bookings. They played in India, the Czech Republic, Italy, France, and Switzerland to name just a few. Punchy basslines and unique synth sounds backed by an impelling drumset are characteristics in their sets. With a combination of tracks and an external sampler, the artists create a thrilling tension and draw their audience into their spell.
Official offline Ticketing Partners: +91 99864 58021 | +91 98862 53884 | +91 81978 38373
Grab your tickets before they are gone!
NOBO Festival |Citizen Kain x Anina Owly & Thomas Klipps live
Hotel Royal Orchid
No 1, Golf Avenue, HAL Old Airport Rd, adjoining KGA Golf Course, Domlur, Bengaluru, Karnataka 560008, India
GET DIRECTIONS
NOBO Festival FT Citizen Kain x Anina Owly & Thomas Klipps live in Bangalore
August 12 - 13 | 6PM Onwards
Hotel Royal Orchid, Bengaluru
Step out and enjoy this event
Event Guide
Live Performance
Enjoy a unique experience
Invite your friends
and enjoy a shared experience