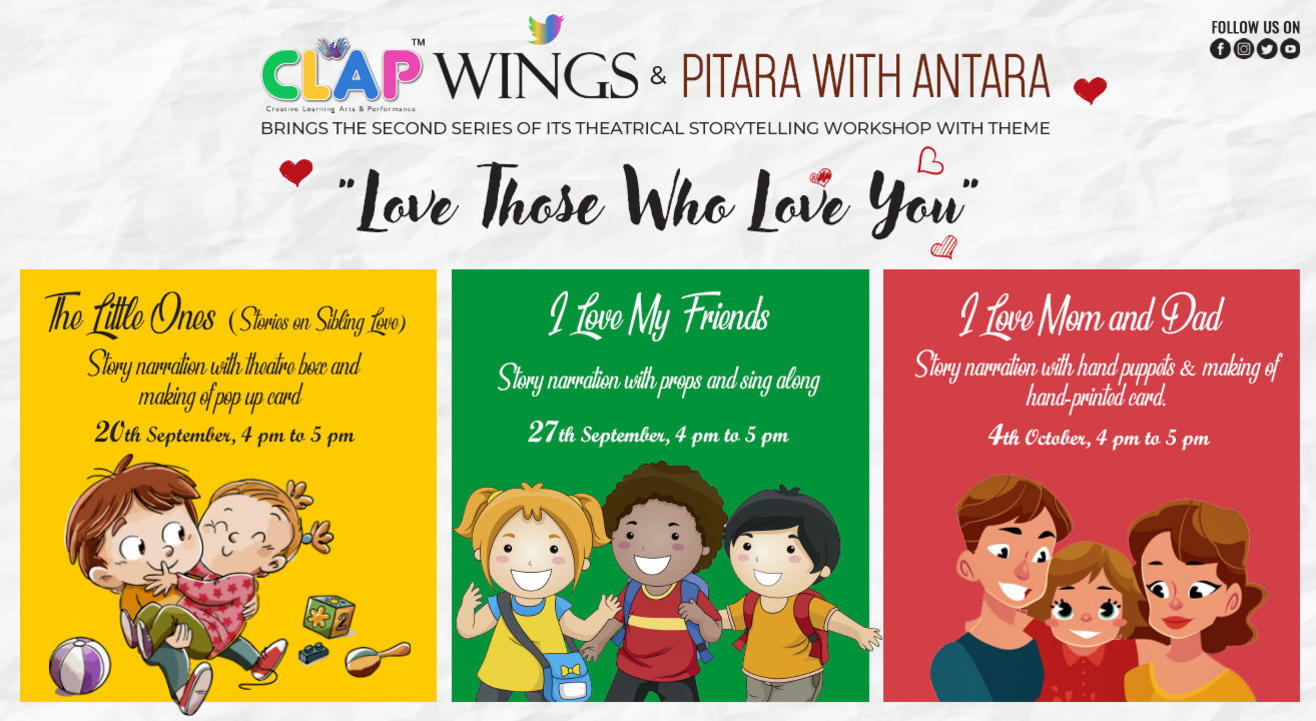 C.L.A.P Presents Pitara With Antara- Love those who love you
September 20 | 4PM - October 4 | 5PM
Invite your friends
and enjoy a shared experience
Invite your friends
and enjoy a shared experience
About the Event
To celebrate International Family Month, C.L.A.P Wings & Pitara with Antara brings the second series of its workshop with the theme "Love Those Who Love You". Please find below the details:
20th September: The Little Ones (Stories on Sibling Love)
A fun session of walking like different animals.
Story Narration:
=> Flora's Very Windy Day: Told with pop up card.
=> My Rotten redheaded Brother: Told with a theatre box.
Activity: Make a pop-up card for your sibling.
Goodbye with calming meditation.
27th September: I Love My Friends
Wiggle, Tickle and Stretch – What do the rabbits do right after they wake up in the morning.
Story Narration:
=> Duck in the Truck: Told with props, voice modulation, and rhymes.
=> One Winter Day: Told with handmade props.
Sing along (with musical instruments): FARMYARD BEAT (Lindsay Craig).
Goodbye with calming meditation.
4th October: I Love Mom and Dad
Fun Ice breaking with the movement for antonyms and superlatives.
Story Narration:
=> The Giving Tree: A touching story told with a shadow theatre.
=> Guess How Much I Love You: Story told with hand puppets.
Make a hand-print card for your grandparents.
Goodbye with calming meditation.
About Pitara:
Pitara – a box that opens you to new things each time you look in! Explore, imagine, make, move, do, dance, sing, speak, and get as adventurous as you wish! From the unpredictable chaos comes new learning, so be prepared for a surprise each time! Pitara desires to bring the magic of Thematic Theatrical Stories. A story well told can enliven, the senses, stimulate imagination and encourage curiosity.
Let us recreate stories with props, puppets, music, dance, role-play and movements.