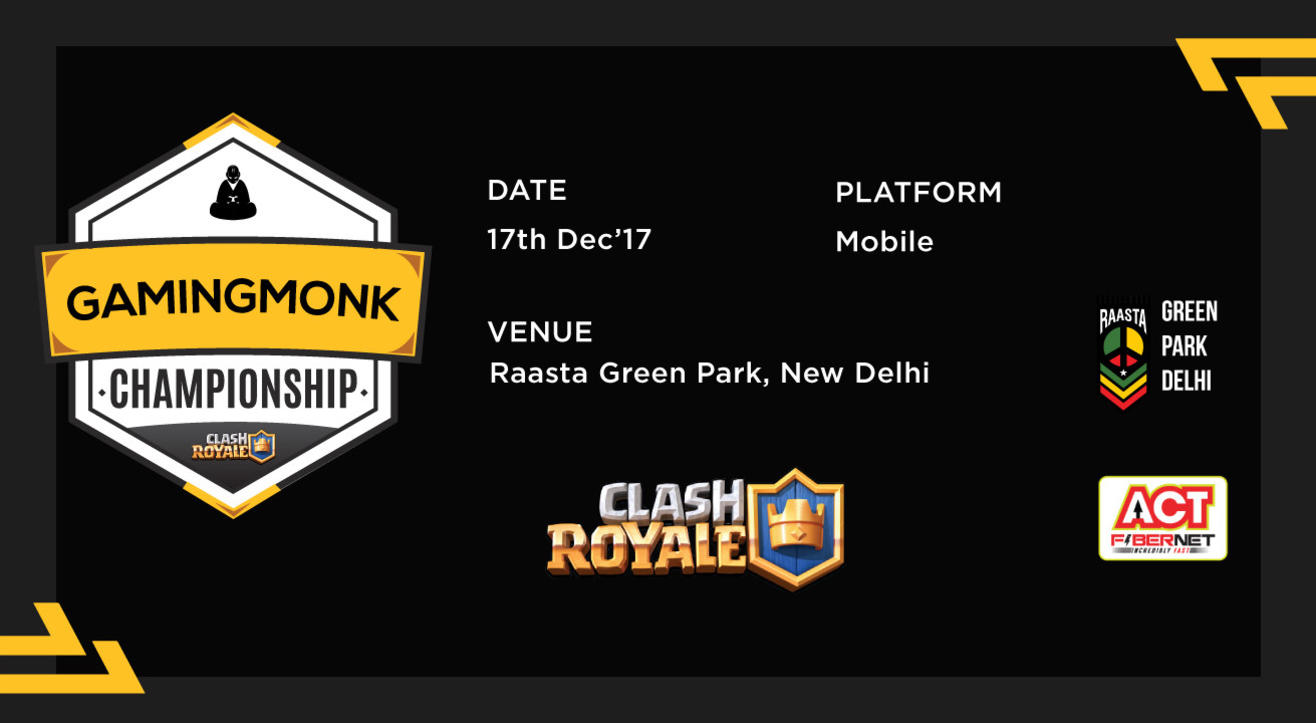 Games
Clash Royale Tournament, Delhi
About
GamingMonk Clash Royale Tournament will challenge the Clash Royale gamers in India to compete against the best in the country for cash prizes and much more!


Compete with other skilled Clash Royale players and pave your way to victory, with no remorse for the fallen or lack of pride! Do you have what it takes to be the very best?
What are the timings of the event? When will the matches start?
Event Timings: 11:00 AM - 8:00 PM, Saturday. Your name will be called out depending on your batch. GamingMonk will be announcing your name as soon as your batch starts.

How are the matches/fixtures decided?
Matches are decided via batches, a batch contains 32 participants; once a batch gets filled, they randomize all the names in that particular batch and fixtures are shown as to who plays who. As you progress through the tournament, you'll be facing different opponents.

I have pre-registered, what do I have to do next?
Once you come to the venue, approach the registration desk and your entry will be validated.

How many matches do I get to play?
At least 3 depending upon your wins/losses, the more you win, the easier you progress up the brackets. Since the tournament is structured in a best of 3 format.

If I win my batch, when will my finals be held?
Sunday after 5:00 PM

Can I bring a friend / parent along? Do they need to pay for entry?
Yes, you're free to bring your friends/parents as spectators and they don't need to pay for the entry.

What arrangement has been made for the F&B at the venue?
Food and beverage will be available at the venue

How will I know when my batch is about to start?
The organizers will be calling out your name as soon as the fixtures are made.

Where do I have to report my scores? And do I need to take a screenshot?
You can report your scores to the staff members present in the playing area.

Which platform will the tournament be held on?
Mobile (Android/iOS)

What happens if I lose my first match?
Since the tournament is structured in a best of 3 format, you will have 2 more chances to save your tournament run.
Match type: 1v1
Match time: 3 Minutes
Mode: best of 3 (Clan tournament rules apply)
All matches have to be played as a normal match and not as any other game mode or special challenge

These are the official GamingMonk Clans:
GMK eSports 3: #89C822YQ9
GMK eSports 4: #8RRGRQUP

The admins at the venue shall assign a clan to you at the tournament on registration.
Decks & Cards:
Players can use any cards they wish in their deck.
Players can change their decks in between battles.
Friendly Battles:
For a best of 3 match, each player needs to send a friendly battle invite. The top seeded player/1st player must start first.
The top seeded player/1st player in each fixture creates the first friendly battle request.
The bottom seeded player/2nd player in each fixture creates the second friendly battle request.
The top seeded player/1st player in each fixture creates the third friendly battle request.
In case of any conflict, the decision of GamingMonk is final and binding. Rest of the game settings to remain default.
GamingMonk is an eSports company based out of New Delhi, India. eSports - competitive gaming tournaments across PC, console & mobile. Offline tournaments & a subscription based online eSports portal.
Raasta is the funky Caribbean lounge which pays tribute to the legendary talents of Bob Marley, Bob Dylan, Jimi Hendrix and Jimmy Cliff among others.