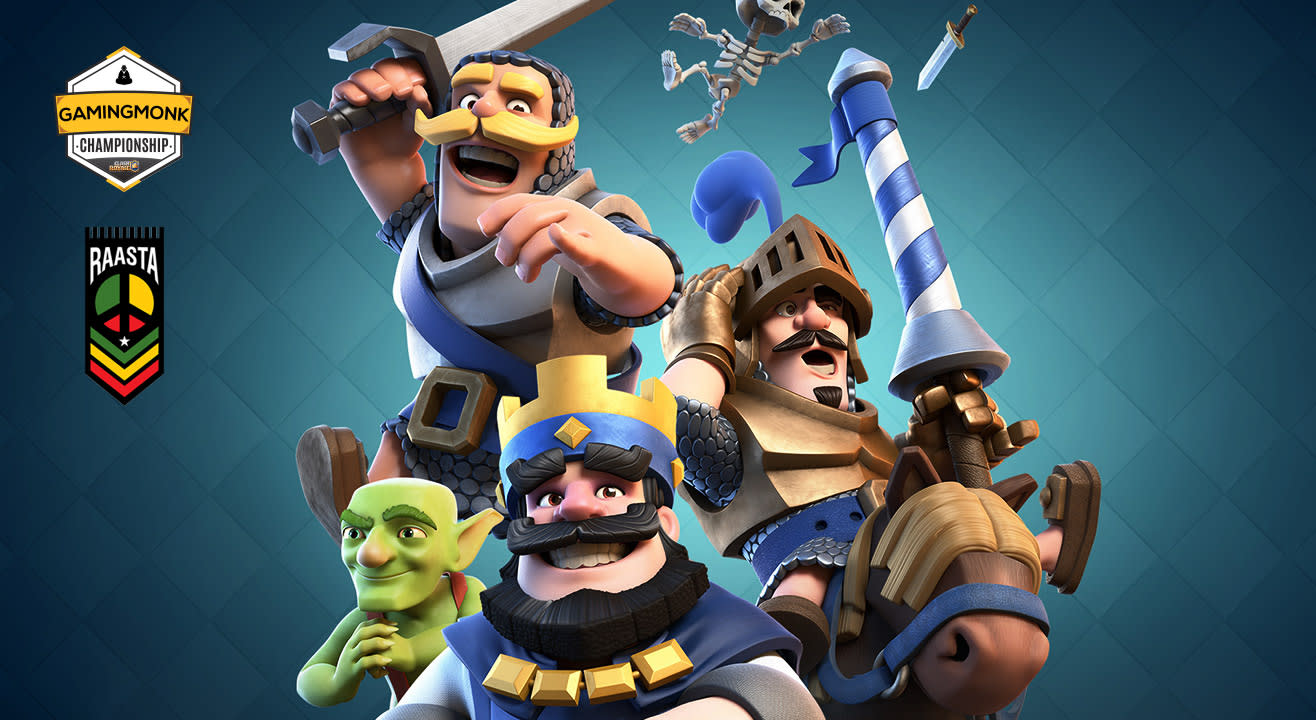 Games
Clash Royale Tournament - Mumbai
About
GamingMonk Clash Royale Tournament will challenge the Clash Royale gamers in India and provide them a platform to showcase their skills, compete for cash prizes and much more.
Q1.What are the timings of the event? When will the matches start?
Event Timings: 11am -5pm Sat, Sun. Your name will be called out depending on your batch. We will be announcing your name as soon as your batch starts.

Q2. How are the matches/fixtures decided?
Matches are decided via batches, a clan tournament will be created for specific time slots. All the player have to join that clan and play their 1v1 Friendly Battle, top players will qualify for the Finals Sunday 4 PM.

Q3. What is the format of the tournament?
Game Mode : Clan Tournament Based Qualification
Match Type: 1v1
Mode: (Clan tournament rules apply)
All matches have to be played as a normal match and not as any other game mode or special challenge
The admins at the venue shall assign you a clan after your registration

Q4. Is it compulsory to come on both the days?
No, it is not compulsory to come on both the days but if you come on Saturday and qualify (Batch Winner), you'll have to come on the 2nd day as well for the next stage

Q5. I have pre-registered, what do I have to do next?
Once you come to the venue, approach our registration desk and we will validate your entry.

Q6. How many matches do I get to play?
That will depend on your wins, the more you win, the more you play. Since the Tournament is structured Clan tournament format in a Single Elimination Format, a loss will lead to a knockout.

Q7. If I win my batch, when will my finals be held?
Sunday after 4:00 PM

Q8. Can I bring a friend / parent along? Do they need to pay for entry?
Yes, you're free to bring your friends/parents as spectators and they don't need to pay for the entry.

Q9. What arrangement has been made for the F&B at the venue?
Food and Beverage will be available at the Venue at extra cost. (Sold Separately)

Q10. How will I know when my batch is about to start?
We will be calling out your name as soon as the fixtures are made.

Q11. Where do I have to report my scores? And do I need to take a screenshot?
You can report your scores to our staff members present in the playing area.

Q12. Which platform will be the Tournament held on?
Android/ iOS

Q13. What happens if I lose my first match?
Since the tournament is structured in a Single Elimination Format, loss in any match will lead to a knockout, you can re-enter if you want to participate again.


Tournament format
Custom Tournaments
Eligibility
Only Players with King Tower Level 8 and above are eligible to participate.

Venue
Raasta Bombay, Khar
4th Floor, Rohan plaza, Ram Krishan Nagar, Road no. 5, Khar, Mumbai, Ram Krishna Nagar, Khar West, Mumbai, Maharashtra 400052