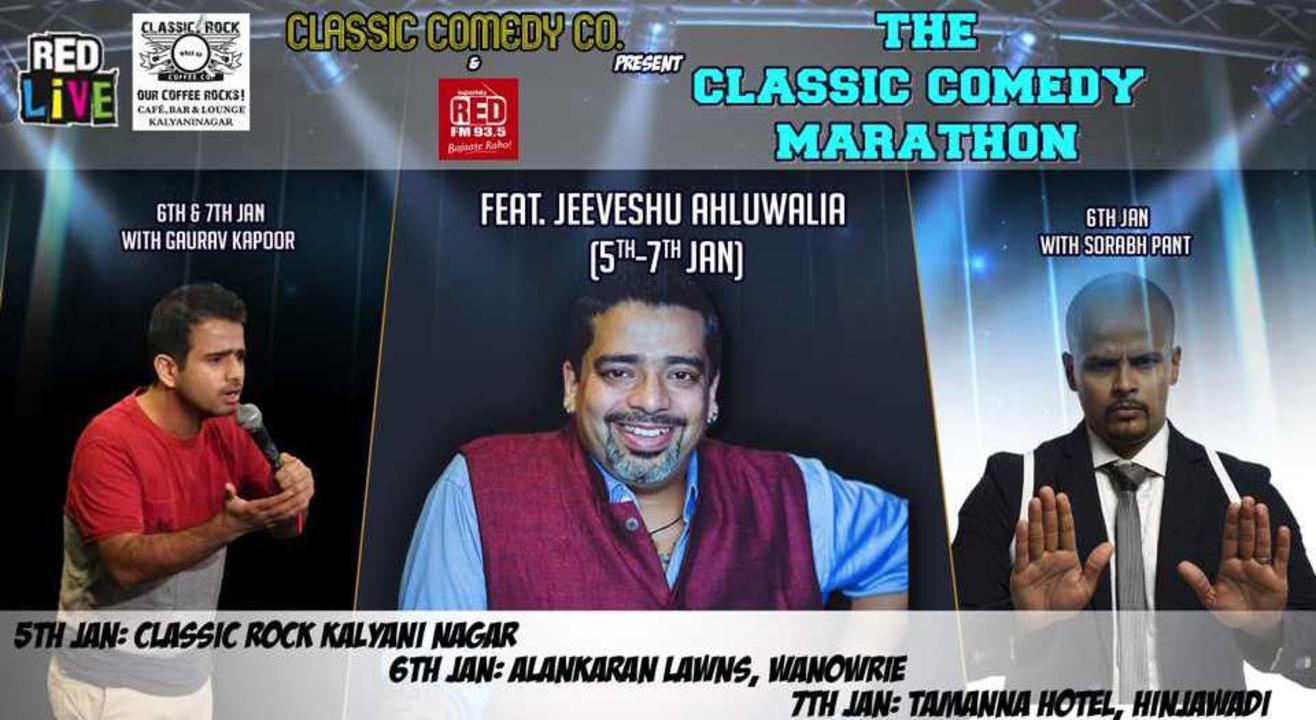 Comedy
Classic Comedy Marathon
472 - 1000 (Inclusive of GST)
About
Classic Comedy Co. and Red FM 93.5 bring to you a brand new concept and event series - The Classic Comedy Marathon. For the first time ever in Pune you will see your favourite comedians perform 3 shows over 3 days back to back in 3 different parts of the city.
We understand that as comedy fans you sometimes have to miss out on a show of your favourite artist since the venue was too far or you were busy on the day of the show it kills you to have to miss that show.
To make sure this doesn't happen we are now bringing comedy to your doorstep so that you don't need to travel across the city to watch a show. If you can't make it to the show near you, you still have 2 more shows to catch so you don't have to miss your favourite comedians perform live.
In the first of this series we have one of India's funniest, Jeeveshu Ahluwalia performing live on 5th, 6th and 7th Jan at Kalyaninagar, Wanowrie and Hinjewadi respectively.
The show on 6th Jan at Wanowrie will also feature another top comedian, the master of the rant, Sorabh Pant.
The shows on 6th & 7th Jan will also feature Delhi funny man, Bullet enthusiast Gaurav Kapoor
With such great flexibility of locations and dates and with such an awesome line up of comedians you now have no reason to miss out on watching your favourite comedians perform so book your tickets now before they get all sold out.
Show Details:
Friday Jan 5 2018:
Jeeveshu Ahluwalia
Venue: Classic Rock Coffee Co. Kalyaninagar
Satuday Jan 6 2018:
Jeeveshu Ahluwalia, Sorabh Pant and Gaurav Kapoor
Venue: Alankara Lawns, Wanowrie
Sunday Jan 7 2018:
Jeeveshu Ahluwalia and Gaurav Kapoor
Venue: Hotel Tamanna, Hinjewadi.
Classic Comedy Co. is a venture of FoodJockeys LLP, the India Master Franchise for Classic Rock Coffee Co. USA.
The two Classic Rock outlets in Pune are the most popular venues for live performances, especially stand-up comedy.
Contact us if you want to own a franchise of the coolest coffee shop/pub/bar with great food and drinks and having the best artists in comedy, music and magic performing regularly to be the most talked about and visited place in town.