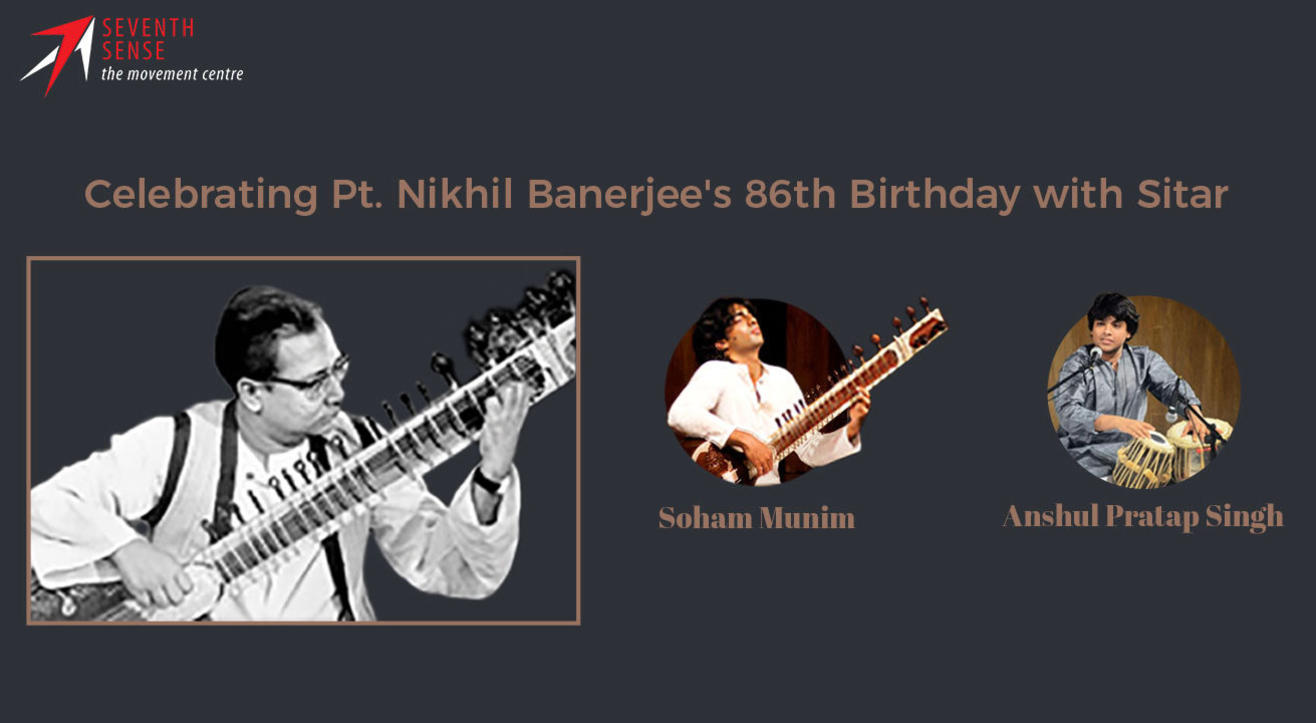 Music
Classical Music Night
The Seventh Sense Movement Centre, Chowpatty, Mumbai
About
Tune into this evening as we celebrate Pt. Nikhil Banerjee's 86th birthday with a Sitar concert by Soham Munim accompanied on Tabla by Anshul Pratap Singh - two extremely gifted and promising artists in today's younger generation. An event that shall not only keep you enthralled with the Sitar performance but also keep you in bliss long after it has ended.
Soham Munim
- Son of the legendary Smt. Aarti Mukherjee
- Learnt Sitar under Shri Basab Sen (disciple of Pt. Ajoy Sinha Roy) and took further guidance under Pt. Kartick Kumar (Mumbai) & Pt. Shyamal Chatterjee (Kolkata).
- Performed in a number of Hindustani Classical Concerts/Festivals including venues such as Mumbai Univ., NCPA, INT Birla, IIT-B etc and is a recipient of Sur Mani.
- HE am i(2014)/Hindustani Classical, accompanied by Pt. Abhijit Banerjee on Tabla. Begin TP (2017)/World-Fusion, along with his band Taargenic Praxis.
- Also collaborated in the Tamil single Oruvaney (2016) composed by Ujjayinee Roy, a lead vocalist in Chennai and was written by Mathan Karky, the famous lyricist from Chennai (#Bahubali etc).
- Created his own instrument, the SiGui, after some considerable research in uniquely adding to the existing Sitar techniques and their implementations through an original approach.

Anshul Pratap Singh
- An Indian classical & fusion artist, disciple of great Pt. Yogesh Samsi, who has been awarded with National BAL SHREE by Smriti Irani & finished 1st in A.I.R. competition 2014.
- Learnt from grandfather and guru Thakur Harishchandra Singh and his father Thakur Uday Pratap Singh
- Currently under the guidance of Pt. Yogesh Samsi.
Venue
The Seventh Sense Movement Centre, Chowpatty, Mumbai
17, Morvi Ln, Chowpatty, Girgaon, Mumbai, Maharashtra 400007