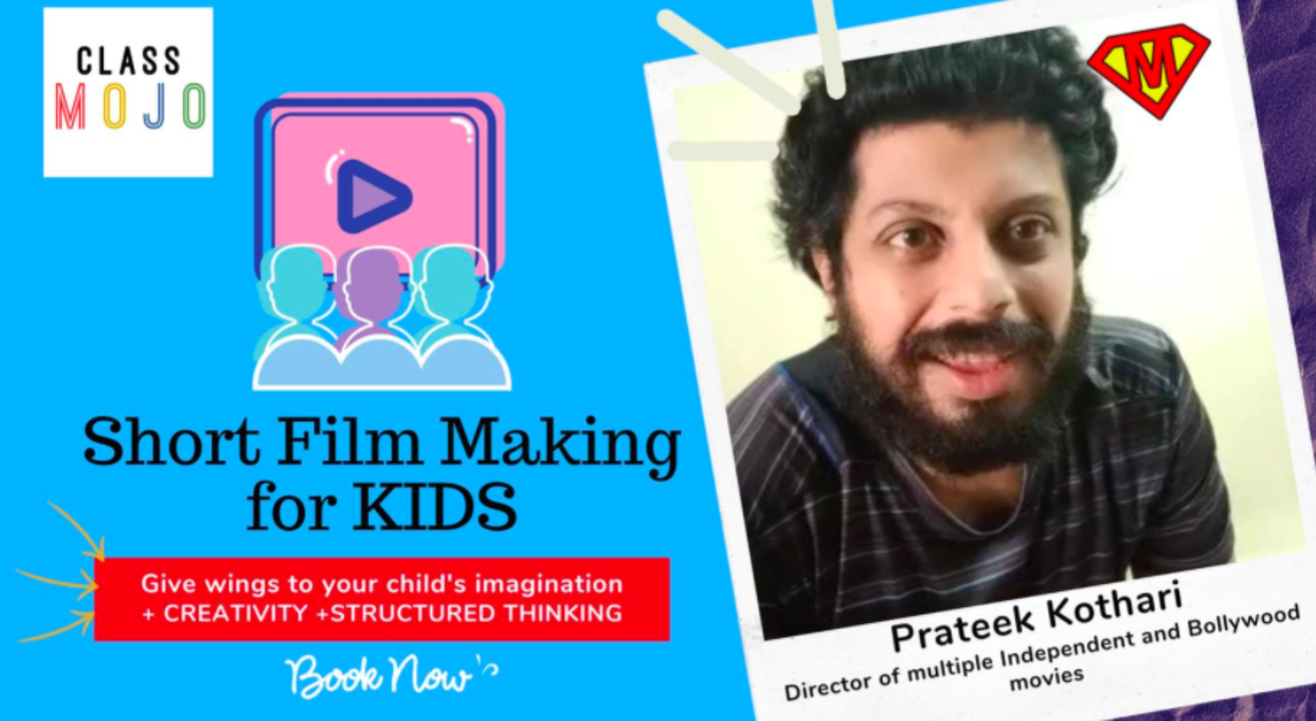 ClassMojo : Short Film making for Kids
July 25 | 5PM - October 11 | 6PM
Invite your friends
and enjoy a shared experience
Invite your friends
and enjoy a shared experience
About the Event
Transform your kid into a future Steven Spielberg or Satyajit Ray or Steve Jobs. You may say Steve Jobs wasn't a film-maker. A good movie is a reflection of creativity but needs immense planning, patience and a keen eye for detail for it to come alive and stand-out. All of these are qualities which make leaders like Steve Jobs fascinating. Unlock an expressive creative mind like him.
With this course they will learn how to take an idea and translate that into a short film. This course is divided into three modules -
Module 1: Film Appreciation, Story-boarding & Planning
Getting to know the medium and the language of films. Looking at some films as examples of what makes us love films. Selecting an idea which will eventually become the short film, how to write a script, breaking down the story into smaller scenes. Putting the other things in place like casting, forming team, scheduling etc.
Module 2: Filming the content
How will the actual filming happen shot by shot. Which shot will be shot first and which last. Focus from extracting performances from actors to making sure everything is shot the way it was envisioned. Kids will use known film-making techniques to make the videos more interesting by lighting, camera movement and other techniques.
Module 3: Post production
Participants will edit the video and string them together to execute per plan in module 1. Kids will be exposed to easy to use software to do this. Editing table is make or break of the film and her the short film will come alive!
During the 3 month, 24 session course, kids will work on creating a short film end to end. By the end of the course, selected videos will be showcased on ClassMojo social channels.
This course would greatly enhance
+Creativity
+Storytelling skills
+Planning
+Execution
+Patience
+Leadership
+Teamwork
This would be a 3 month course with classes happening on weekends through zoom sessions. Course would be activity based and would entail lot of creations from the child ultimately leading to a short digital film.
About the Mentor: Pratik Kothari
Pratik is a renowned filmmaker and the co-founder of White Wall Screenings. Pratik started his journey on stage with Gulzar's Lakeerein. Pratik went on to assist the legendary filmmaker Shyam Benegal on his series Samvidhaan. Post that Pratik made several short films, and has recently directed a independent feature film.
Still have questions ? Drop an email at booking@classmojo.in and we would get back to you.
Classmojo : Making Short Films by Pratik Kothari