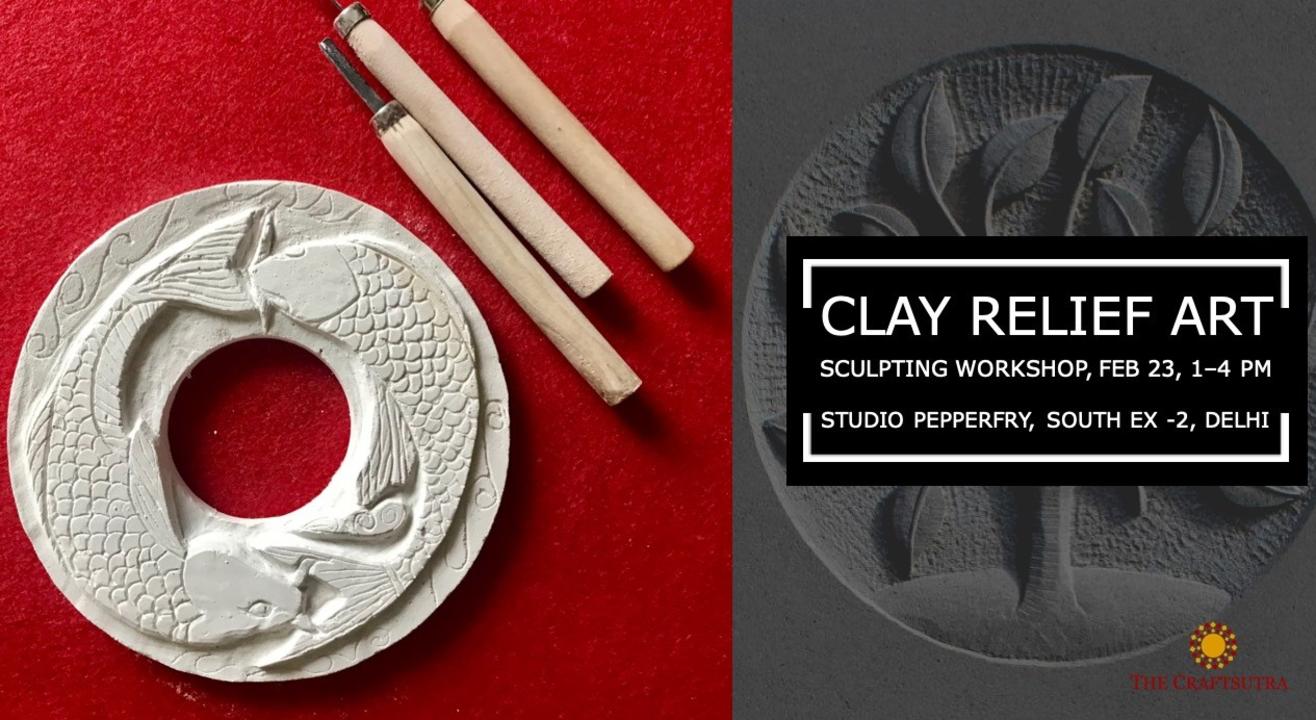 Art
Clay Relief Sculpting Workshop
Studio Pepperfry, South Extension
About
Spend your Saturday afternoon exploring something new and unique in this hands-on Clay Relief Sculpting Workshop.
Learn the most fascinating of all sculptural art forms - Relief sculpture with the guidance of our expert mentor Roseleen. Through a hands-on approach, participants will create figures that protrude from a background while still being attached to it. Participants will work through the process of drawing onto the clay, and building up to high or low relief while being able to develop sculpting skills.
So, come enjoy trying your hands at this aromatic playful dirt. While our hands are busy in the process of bringing our imagination to this earthy art form, our brains remain focused and engaged on the details of the craft. Don't you feel zen already?
This whole journey of working with simple material in a natural tranquil surroundings is therapeutic.
It is triple bonus, we clay sculptures together, bond with other art enthusiasts and take home the masterpiece we created.
About Clay Relief Work -
Relief is a sculptural technique where the sculpted elements remain attached to a solid background of the same material. The term reliefis from the Latin verb relevo, to raise. To create a sculpture in reliefis to give the impression that the sculpted material has been raised above the background plane.
No prior Arty experience is required. It's perfectly fine if it's your first time with clay sculpting.
Date: Feb 23, 2019
Time: 1:00 pm - 4:00 pm
Venue: Studio Pepperfry, SouthEx-2 Gurgaon
Price: Rs 1,499 (material provided)
About 'The Craftsutra' :
'The Craftsutra' is a platform for people to engage in Arts, discover things about themselves and awareness for increasing art appreciation through a wide range of mediums. We believe that anyone can paint and look forward to offering you the opportunity to paint, create, learn and explore art in a way like never before.
- Share our love for art- bring it alive with us
- Create a memory that brings with it warmth and contentment
We also believe when a bunch of people creates art together, it creates a positive environment & bond of understanding. The act of creating something together is the best way to build harmony in a diverse group of friends, co-workers or even relatives!
You can find us on Facebook, Instagram by 'The Craftsutra'.
Venue
Studio Pepperfry, South Extension
No. D14, 2nd Floor, Above Croma Retail, South Extension Part II, Block D, South Extension II, New Delhi, Delhi 110049